WEST PALM BEACH – Every once in a while I'll come out with a list of goodies for those who look for website owner tips. Below is a list of these including the top ten best and/or most popular ways (in my opinion) to market your small business on the Internet including both do-it-yourself strategies and for those which aren't, reasons why you might be better off hiring a fully managed solution provider or Internet marketing company to do it for you.
Some of these ideas you may have already heard of but I'd bet there is at least one that you didn't know about (or just didn't think of), so if you're looking for ways to market your small business, take a moment and read these tips and ideas to see which strategy makes the most sense for your business. Enjoy, and if you get something out it, feel free to share it below.
Email Marketing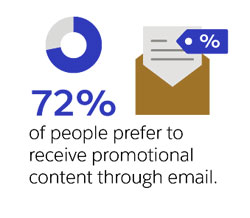 Email marketing can be done in many different ways and is very similar to what is usually referred to as bulk mail or every-door-direct where postcards would arrive to your home in the physical mail via USPS, only it is in electronic form. Here we will discuss two of the most popular ways to deliver your message via email.
The first way to deliver email solicitations is through your own newsletter where you solicit your own list of customers by collecting email addresses over time. You might already have a list of your customer email addresses however these addresses should be used by those who have specifically opted in for your email messages. Using your own list is the most economical way for you to do 'email marketing' as you will be using your own data containing people you already have a relationship with and grow that list over time. You will also be sending the emails yourself to your subscribers which can save you money on the labor of doing it. There are plenty of inexpensive services you can use to send emails through and view statistics such as who opened your email and what they clicked on. Most services can be purchased for under $50/per month based on the number of subscribers you have. This is a "hands-on" solution, which means you will be doing all the work.
Your second option when considering email marketing is to utilize a third party service to mass email opt-in subscribers who are on marketing lists which in most cases you will not control. Companies that build these lists put great effort into maintaining the addresses and keeping them compliant so they will rarely offer this data for sale as it is just too valuable to them. These companies will help you target the type of people you're interesting in reaching and these lists can be organized in near limitless ways, right down to a subscribers zip code, interest or political affiliation. Keep in mind that when you're not using your own list, you will spend more money for the third party's expertise, reach and subscriber base including their proficiency with delivery and open rates. Oftentimes these companies and service providers will be able to use whatever graphics or information you provide them or they will offer to design the entire campaign for you. This unlike the first option of doing emails yourself, will be more of a "hands-off" solution where the business owner will do little to nothing, however, keep in mind that with new lists its could take a few blasts (and good timing) to get the attention of faces who may have never heard of you previously and some consistency may be required for your campaign to build momentum.
[Vertical Response] [Constant Contact] [Mail Chimp]
Sponsored Search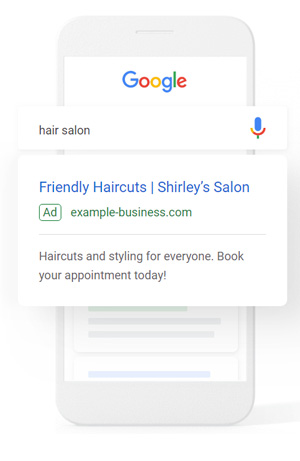 There is nothing like the purchase intent behind someone who uses a search engine to find something they need as they are actively searching for a solution to a problem. For example, A) they are hungry and looking for a local restaurant, B) they have a leaking water pipe and need a plumber, or C) their vehicle broke down and they are looking for a tow-truck. These types of searches are being performed by people who need something, and more often, these searches are being performed on a mobile device.
People will search for solution and use a search engine such as Google, Yahoo, or Microsoft to skim through results, of which, 9 times out of 10 contain 'sponsored ads' or 'search engine advertisements' which will appear first and are generally more noticeable then other "organic" or ordinary listings. This is intentional and earns search engine companies the majority of their income. These ads attract as much as 89% of clicks and businesses can be on top of these results and pay only when people click on their link or call their business; an extremely effective advertising medium that has literally changed the advertising business over the last decade or so.
Search engine companies such as Google (Google.com) and Microsoft (which owns both Bing.com and Yahoo.com) have search engine advertising programs where small businesses can create advertiser accounts and set up ads to appear on top of these types of search results. Business owners can create their own ads, choose their own keywords and keyword phrases and pop-in their credit card watching their ads go live in just minutes. These search engine companies have also partnered with other lesser known search engine companies (such as Ask Jeeves or AOL) and businesses can opt specifically to be included on these additional search engines widening their reach. The entire program is available online and a business owner can create and set up their own account, or put someone else at their company in charge of it. This person will be responsible for managing the ad account including creating and editing ad campaigns, ad groups, inputting different links and different keywords with all sorts of settings that help target the ads to the right people during certain days of the week, certain hours of the day, or for ads to only show to certain demographics or regions; all of these options are provided in these search account panels and all you need to do to sign up is have a valid credit card and email account. You can even tell your ads to show up when someone types in the phrase "cheap running shoes" but to not show up if they leave out the word "running"; there is near limitless control of how and when your ads can appear to search engine users.
With all of these different features and functions to manage, many businesses will hire a company to "optimize" these ads and ad accounts for them which not only saves time but often saves money as search engine companies have best practice guidelines and suggestions for optimization of the ads which lowers the cost of clicks which will greatly improve the return on investment. Search engine marketing companies are experienced at creating and optimizing these ad accounts and can often save the business money by increasing ad quality while lowering ad cost. It is not uncommon that hiring a company to run the ads for you, on your behalf, will be cheaper and more effective even after paying them their management fees, which varies greatly from company to company, and could be a percentage of spend or a predefined minimum monthly management fee, or sometimes both. Amazingly, in most cases, unless the business owner is a very experienced Internet user, or has an employee that is, it's almost always going to yield a better ROI (return on investment) to hire a professional.
[Bing Ads Network (Includes Yahoo!) ] [Google Ads Network]
Search Engine Optimization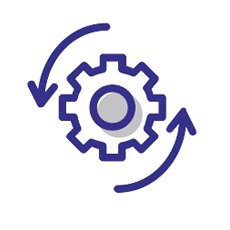 Getting to the forefront of search engine results is far from easy, but SEO, or search engine "optimization" can help. Search engine optimization is a computer coding and examining process including making architectural changes to a web site to allow better search engine crawling and processing of the information found on the web site. It's a process where tweaking certain elements of the website design improves a search engines comprehension or the hindering of readability of the site for the search engines' computer program. Basically, pieces of computer code, or certain elements of a web page that do not identify themselves well for search engines or do not allow search engines to access them for inspection, or give a clear understanding of what exactly an element on a web page is can be removed and replaced with other elements that a search engine better understands.
For instance, if there is a rich-in information PDF document on a web page and it is contained inside a piece of computer code that a search engine cannot read or understand, the "Search Engine Optimizer" or the "SEO technician" would remove that piece of code which contains the PDF file and reinstall it in a cleaner way so that the search engine can see the PDF file and read it, better ranking the page, and file, for someone who might be searching for it. As an example, it could be a tutorial document for someone that wants to purchase something like it and without the search engine knowing the file is there, the website might never be visited by that person likely to buy the tutorial or product. Improving the SEO of the website will create more opportunities for the web page and web site to be found.
However, there is more to search engine optimization then just web site fixes and improvements. Search engine optimization has become more about measuring a website from the outside, then from within. As search engine optimization has grown in popularity, so has the manipulation of search engine results by savvy SEO marketers and this is something that search engine companies do not want; they want to control their search engine listings and display only the "best of the best" results. Over the years, search engine companies have found better and more reliable ways to evaluate web pages than just looking at the site itself.
Search engines, over the years, have become more and more interested in offsite signals or valuing a websites usability and importance by measuring how visitors react to it, how often users visit the website, reference it, or how many times content or web-pages are mentioned on social media. This has leveled the playing field between the "search engine optimizer" and the "search engines" themselves, as the more offsite signals a search engine can measure, the more accurate a score will be assigned to the website and web-page based more on true social value and less on what is deemed "manipulable data". Therefore, today's search engine optimization program will involve all aspects of "optimization" from website architecture, website references (links from other sites), social media activity and other complex practices such as the measurement of a true brand's value and recognition.
Unlike sponsored search engine advertising, SEO is rarely something a business owner can do on their own and will most often have to hire someone to do it for them. There are many solutions that can provide ways to cut-corners with SEO such as plugins for simple WordPress sites or optimization software, but high quality SEO will require a decent mind behind it as different sites, different software and different programs will be required to realistically access a solid SEO strategy, sort of like visiting a clinic or an emergency room verses a doctor; the clinic might bandage you up, but for a full and throughout understanding of your overall heath, they will always send you to your PCP (primary care physician) who has a better understanding of you, you're overall makeup and your history.
[SEO Software, Tools & Resources] [Basic SEO Tool] [WordPress SEO Plugins]
Business Directories
Business directory advertising might seem insignificant, but it isn't. Business directories, those which typically act as Yellow Pages where a business is listed within its service type category accompanied by its physical address, phone number, and often its website, are important places to have a business included, especially large and popular directories such as Yelp, Yellow Pages and Super Pages. Google and Bing also maintain their own business directories which are super important to be included in as they influence how your web site and business can come up when people are searching for "local" services, a hugely growing trend. Most business directories will offer basic listings for free and then attempt to up-sell you on certain bells and whistles included with claiming the listing; however, some business directories must be paid for either one time, or on a
monthly or yearly basis.
Business directories are important not only from a visitors or phone call perspective, but they also contribute to an overall score assigned to your business by search engines where the more times your information is found and that information matches everywhere it increases and builds something known as citations, or improves your businesses citation score explained simply like a probability of accuracy. If your business is referenced often, and all of the information found always matches, your local citation score increases which improves how search engines may display your business information when people search for it. Businesses which have a low citation score, or businesses which are not found, or are found, but the information doesn't match across multiple sites creates a likelihood of inaccuracy or could be unreliable information and search engines prefer to show businesses with better citations scores and will resort to the most accurate and most likely to be accurate listings.
Business directory sites can be submitted to one-by-one or they can be submitted and controlled all at once through third party services which charge to provide a central control panel where all these listings can be handled simultaneously. While business directory listings are far from a "be-all end-all" solution, they certainly should not be forgotten or left out of your marketing mix. Most business directories will allow the inclusion of additional information about your business such as operating hours, descriptions, videos, logos, images, and most importantly, a link to your website. Web links to your site are also very important as they build something referred to as "link popularity" where the more relevant links a site has, the more important the site is believed to be when it comes to search engines. In addition to your local citation building efforts, these web links will help build that link popularity and enhance the citation value.
[Google My Business] [Bing Places for Business] [Listing Scanner Tool]
Social Media Marketing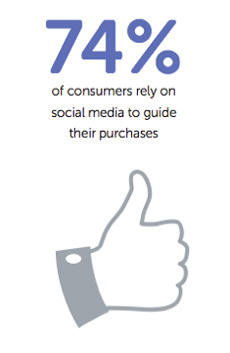 Social media is probably one of the easiest and cheapest ways to promote your business if you are willing to put a good effort into it as you can do the entire thing yourself on platforms which are built and designed for the average person. Although social media platforms also provide opportunities to advertise and spend money on ads, you do not need to do this if you are actively engaging with an audience and you can post good, meaningful content that other people enjoy and share. Social networks are meant for sharing and they are designed, for the most part, to link to other outside content with near limitless opportunity.
The best way to use a social media platform such as Twitter or Facebook is to post content from your own website and bring people from the social media site to your own site which increases your website traffic. Social media sites are becoming more productive for traffic building then even search engines and can be a very effective way to get information about your business, as well as bring visitors to your site, completely free. The only time you'll need to hire someone to do social media for you is when you aren't willing to spend time on it yourself. As far as ads, the only time you'll need to spend money would be to make up for shortfall efforts or to "boost" content which lacks its own momentum.
Social media activity also ads to search engine optimization efforts as it builds offsite activity (as mentioned in the section on search engine optimization above). Adding social signals to your website is probably one of the leading influencers when it comes to site ranking outside of link building and link popularity. Social signals are important and show search engines that your content is of importance when circulating among social media audiences and indicated that content being shared is likely of high quality. It is not difficult for a search engine algorithm (computer data processing system) to measure a page which does well in social circles verses one that doesn't, as it is data being recorded by all sorts of statistics platforms including basic web browsers such as Chrome, Firefox, and Internet Explorer. Building social signal activity and traffic to your site from social networks is something a small business owner should be taking seriously and every business, small, medium or large should be using social media.
If a business is not able to create and maintain its own social media pages it should hire someone to do it for them. There are limitless companies that will build, design and maintain your social media pages for you, but again, this can all be done in-house or by the owner of the business. If a business owner decides to spend money with ads on social networks they are offer many ways to build your following, capture leads, advertise your site, etc., all of which can simply be hooked up to a credit card. Although these campaigns can take some time to setup, they will help make up for you not spending your own time and effort. If you do decide to hire a social media company to run your social media ads, they will most likely be able to get more of a return on investment as they generally have more experience from running past and current campaigns, tracking them creating conversions. Either way, social media should not be left unchecked in your marketing arsenal checklist of excellent ways to promote your business.
[Facebook Ads (Includes Instagram)] [Twitter Ads] [Hoot Suite Dashboard]
Display Advertising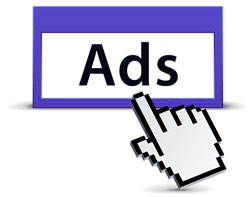 The use of banner ads is one of the first types of advertising used on the Internet with the first banner displayed in 1993. Banner ads and banner ad networks offer opportunities to create graphic ads and upload them into a system to be shown on potentially millions of websites across the Internet. A significant downside with banner ads however has been A) "banner blindness" a belief that people subconsciously ignore banners, and B) the growing trend of "ad blockers" and/or software that automatically removes ads from web pages based on browser settings, software or mobile apps intended to do just that, remove them from view, improving the user experience. Not only can banners be annoying, they also tend to slow down the time it takes to load a web page. According to report in 2018, 26 percent of desktops use ad-blockers to remove ads from websites and 15 percent of mobile consumers use them. Still, banner ads can be effective for both branding and traffic as computer programs will adapt to these ad-blockers and display the ads only to users who do not use blockers and who are expected to see the banners.
Several ad networks are available for display advertising. The major difference with display ads verses sponsored search ads mentioned above, is that they will cost money not only when someone clicks on them but they have costs based on impression (the amount of times the ads appear or load) in addition to direct clicks. These costs are much lower than click costs but can ad up fast and are measured on something called "CPM" which stands for "cost per thousand impressions", so even if there are no one clicks on the ads, there remains a cost to display them within the network. To give you an idea, during a report in 2018, advertisers spent, on average, $2.80 per thousand impressions (CPM), and $0.75 per click (CPC). While this will likely cost less than sponsored search ads cost, user intent is expected to be lower than the intent of a searcher (outside of re-marketing which we will get into next). There have been many improvements with banner technology over the years saving advertisers money. For example, some ad networks require banners to be within view of a users screen (without any scrolling necessary) prior to loading the banner which eliminates wasted impressions which were not in view at the time the banner loaded. To run your own display ads you will need to set up a display ad campaign and hire a graphic designer to create your ads. However, if you do not have your own designer, Google Ads contains a feature which will automatically build simple visual ads for you, however, if you are very particular about ad style and design, you should opt to hire your own designer to create your ads.
[Google Display Network] [Bing Display Network] [Google's Auto Image Ads]
Visitor Remarketing
Consumer remarketing, or retargeting, has been, in my opinion, one of the most interesting and innovative technologies I've seen in the last decade when it comes to targeting users. Re-marketing allows you to capture user interest and then target those users, usually for thirty days or less, in order to convert them into a sale based on the users "initial interest" indicator. For instance, if a user visits your website but does not take action on something by either filling out a lead form or making a purchase, re-marketing technology allows advertisers to place a cookie on the browser of that user which creates the ability for ad networks to continue to target these users after they left your website. This can be extremely effective as users who have already indicated that they have an interest in your products and services can be influenced over time to eventually take action when revisiting the site again from the continuation of seeing the same ads over and over again. This is the exact technology that creates the situation where once you have visited a website about, say, gold clubs; you would continue to see golf club ads to being you back to the site.
One of the most fascinating aspects of re-targeting or re-marketing, is that once a predefined action (by the advertiser) is taken and that user becomes a conversion, the re-marketing campaign will discontinue targeting that user eliminating any further ad spend on that person as they have now converted and the desired action has been successfully acquired. This technology works by installing a piece of code that will load only when the desired user lands on a web page or triggers an event that would only happen after the desired action has taken place such as landing on a "thank you" page, or clicking on a phone number to place a call. This entire process creates the ability for the advertiser to target its likely customer, continue to serve advertising to them until they convert, track the actions that created the conversion, and then cease spending resources on that user. When set up and monitored properly this is extremely effective and something that could never be done with traditional advertising mediums such as television, radio or print, and is an additional example of why ad dollars have transitioned so rapidly to online advertising technologies.
[Remarketing Made Simple] [Google Remarketing] [AdRoll Network]
GEO-Fencing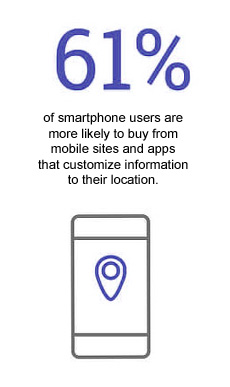 Next on my list of most fascinating technologies is something called "GEO-Fencing", a new and extremely interesting way of targeting users based on where they have been. GEO-Fencing is used mostly to target mobile devices through the use of mobile applications and other mobile based technologies which keep track of users physical locations and movements. GEO fencing is particularly popular in the automotive industry due to its cost and potential return on investment, however, it is growing in popularity and being used by more industries over time as advertisers learn of its availability, what it does and as they understand and appreciate exactly how it works. It is indeed amazing delivering a competitive edge for those using it, against those who are not.
GEO-Fencing works by targeting a user who enters a pre-defined fence, a "GEO zone", or a perimeter of a location. For example, we'll use two fierce competitors in our example, Ferrari of Palm Beach and Ferrari of Fort Lauderdale. The advertising agency for Ferrari of Palm Beach can set a geographic zone or "GEO Fence" around the perimeter of Ferrari of Fort Lauderdale; when a users' device indicates they have entered into the predefined zone, such as entering the parking lot and/or the location of Ferrari of Fort Lauderdale, Ferrari of Palm Beach can begin targeting that user with ads showing their best deals on new and used Ferrari's as they know they are targeting someone with intent to make a purchase in the near future. This becomes Ferrari of Palm Beach's opportunity to 'steal' away a customer who was identified as a good candidate and high potential prospective buyer due to their location and entering a competing store.
Other industries are learning of this new technology and competitors such as Home Depot could use such technology to target visitors of Lowe's Home Improvements and vice versa, displaying deals on home goods and store wide discounts. This type of technology is a good example of why so many apps and mobile device software companies are expanding their terms of services and privacy disclosures for the use of location monitoring, not only when an app is being used, but all the time; to build these consumer interest lists and location databases. This information is extremely valuable and necessary to build pools of consumers to target with advertisements, and by using these apps, in most cases users are opting into the distribution and use of this valuable data.
[Geo Fencing Explained] [GeoFencing Marketing Company]
Video Advertising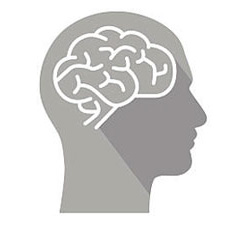 With services like Netflix, Amazon Prime, Hulu and YouTube, online video advertising is delivering more targeted advertisements then television and are highly influencing trends in media-buying. A recent study predicted that by 2019, the number of YouTube users in the U.S. will rise to 187.8 million, up from 170.7 million in 2015. This is while traditional television consumption is declining rapidly. Other numbers reflect much of the same as viewing TV is down 9%, personal computers is up 57%, tablet based viewing is up 68% and mobile phone use is up a whopping 100%. With the ability for viewers to record and DVR television shows and skip commercials television is a model that no longer makes sense to advertisers. Without question, if you have a message it should be in video and that video should be on your website, on search engines, on YouTube and other free platforms.
Want to go further with your videos? Google, Facebook and many other venues can help promote your videos in a multitude of ways and have those videos syndicated just about anywhere you can think of. While social media sites are powerful when it comes to online video, advertiser display networks can send your video to major sites like CNN, Fox News, the Food Network; anywhere you can think of. Recent improvements with online video advertising have made it even more economical such as Google's YouTube ads which, for example, will charge you only when your video has been watched for a minimum amount of time. In some cases the entire video must be watched or you are not changed anything for that viewer. This is unheard of when in comparison to traditional television airtime. The targeting ability is also second to none with a site like YouTube only showing your video or commercial to users who are already viewing similar videos and are highly likely to find interest in. Bear minimum, businesses should have a video that explains what their business does and look to get even more creative after that.
[YouTube Advertising] [Google Video Network] [Hulu Advertising]
Website Acquisition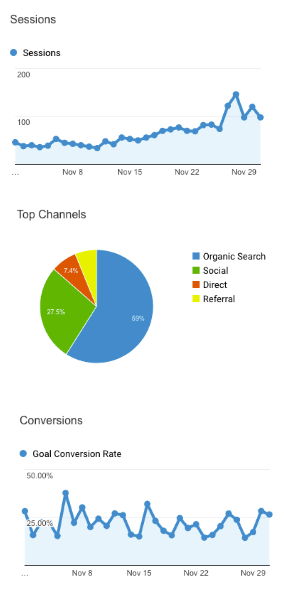 This is an extremely aggressive way to advertise your business and the money you spend will help you promote and market your site for years to come with most of the expense being made in a single purchase. Often times, websites are for sale, domain names expire, or businesses go out of business and no longer have a use for their website. These websites will often have existing traffic similar to how a physical location attracts a following and an amount of foot traffic over time that will return to the store even when the original store has closed; only to find that the location is no longer there, but these visitors have true purchase intent. The same thing happens with websites when sites go offline. Purchasing a website or domain name of a past business when replaced with an existing business, online store or similar service can increase customer acquisition, especially if the old website has a lot of existing traffic or inbound links pointing to it. Returning visitors will arrive at the website, and if the site remains similar to the old one, chances are they will find exactly what they were looking for anyway, and buy, signup, or use the site or service regardless of its new look, feel or name.
Buying websites and domain names, an often overlooked strategy, will increase traffic to your website and in most cases where inbound links are acquired through this practice, will help boost search engine traffic as the more links that point to a website the more important the site is perceived by search engines, especially if the site and resource is of the same purpose and theme as the old one. Some believe that once a domain name expires or once a website owner cancels their domain that search engines such as Google devalue the links, but even if so, there remains a degree of benefit, even if reduced in some capacity, however this means nothing when it comes to existing traffic. In today's competitive landscape, purchasing other business websites once they have gone offline is a great way to add a competitive edge to your Internet marketing plan and is a practice not to be underestimated or ignored.
[Flippa Marketplace] [Expired Domains] [DropCatch] [Backlink Checker Tool]