It's a time where new generic top level domains are taking a lot of the lime-light in domain circles, sales charts, and buzz; but is the entire thing just a huge distraction from what domainers should really be focused on?
I stumbled upon a case-in-point scenario that no domainer should ignore, and I cannot believe no-one is talking about it more. It's got me questioning even my own enthusiasm for these new, right of the dots. And please do not get me wrong; I myself have also purchased many of them. I have at least, $9,000.00 per year in renewal fees, minimum, for new gTLD related domains. I like them too! They're fresh, new, cool and fun. They present opportunity and while all domainers are investors, it's our nature to gamble a little.

In early 2011 Overstock began a massive re-branding campaign spending millions re-branding itself as "O.co" but a few months later backpedaled citing consumer confusion over the new name.
Look at their comments after being interviewed:
"We were going too fast and people were confused, which told us we didn't do a good job. We're still focused on getting to O.co, just at a slower pace…We're not flipping back, we're just refocusing."
That was in 2011.
Five years later and they're not doing squat with it.
It's not that they did a bad job; they didn't…. They did a FANTASTIC job…. It's just that they were trying to do the impossible as it was. They weren't just changing a name or brand; they were forgetting that what they were actually trying to do was change an entire way of thinking… An entire understanding of the internet. That's why it didn't work. People were instead going to O.com.
A total catastrophe!
Take a look at what Overstock.com, Inc. Chairman and CEO Patrick Byrne told investors for a Q4 2011 Earnings Conference Call: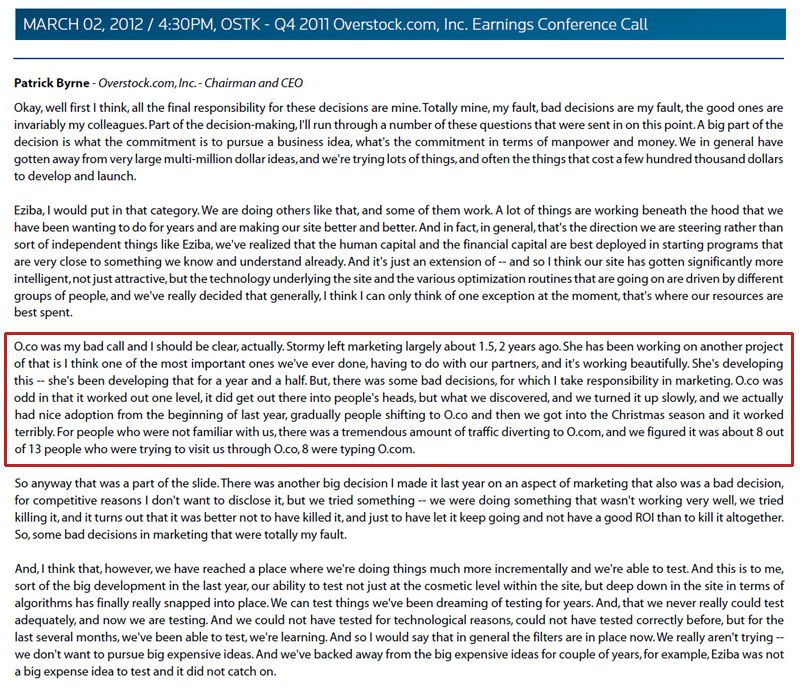 Here is a simple analogy for you.
The way it worked out in the end, was that they weren't just changing the name brand, or the manufacturer, of the computer. They were changing the way the ENTIRE COMPUTER WORKED.

It's like telling your next door neighbor that you got a new phone number, and then you realize you forgot to tell them that not only did the phone number change, but the area code changed too. You dope!
In my opinion, all domainers need to consider how critical it is when building your business to have the .com version of your domain name, and if you have a .net or a .org, its just never as good, never the same, and not a solid-enough foundation for the competitive world we all live and work in.
These new gTLDs are likely even worse.
The jury will still be out for many years on this one, but as I have said before, I predict that the initial buzz on gTLDs will simmer down some in a few years just like .mobi, .biz, .ws, .co – I mean, you almost can't even give them away for reg-fee these days. Domain name values will follow the 1-800 phone numbers business where 1-800 is, has and always will be recognized as the premium (.com) number everyone wants, although there are many alternatives such as 855, 888, and 866 – everyone wants the 1-800 unless it is not available; then, they look for something else catchy with a 1-800, then, if all else fails, they settle for an entirely different beginning exchange such as 855, 888, and 866 as the last resort. While other new gTLD extensions will create additional opportunity, .com will remain king. By the time that eventually changes, anyone even reading this will be long out of the business anyway.
What say you?? How many more will you pick up while the jury is still out??

Search our real-time database of available domain names to register.