NEW YORK, NY – It started way-back years ago when business directory owners noticed that Google looked like it may be starting to get into the local directory game. These cool little listings with pointers on helpful maps started to show up on Google with phone numbers, addresses and links to websites. After a while webmasters started to say "Hey, this is diverting traffic away from my business directory… what's going on here?"
Further down the road, Google began to use not just addresses and phone numbers it gathered from around the web, but other sites content too such as reviews – without attribution of any kind and would hold stance that site owners who don't want their content used, well, Google can just remove the site completely from its search engine. Golly Jee Willikers! – Thanks Google!
The Federal Trade Commission investigated Google's practices and after a very lengthy investigation (about 19-months) determined that Google did in-fact utilize its search algorithm to boost its own products' placement as well as scrape competitors content, yet ultimately, regulators decided against prosecution. This was, by the way, around the time that then Google CEO Eric Schmidt was hanging out at the White House all the time.
Fast forward to today and it's not just business directories Google is going after; it's everyone with a website – so long as that website provides an answer to a question that Google has means and know-how to answer. For instance, the screenshots below are an example of the types of websites where Google is putting out-of-business, a practice becoming common place. Each service, which typically ranked number 1 in Google search for the query typed into the search box, will now rank number two – that is, underneath Google's handy answer.
---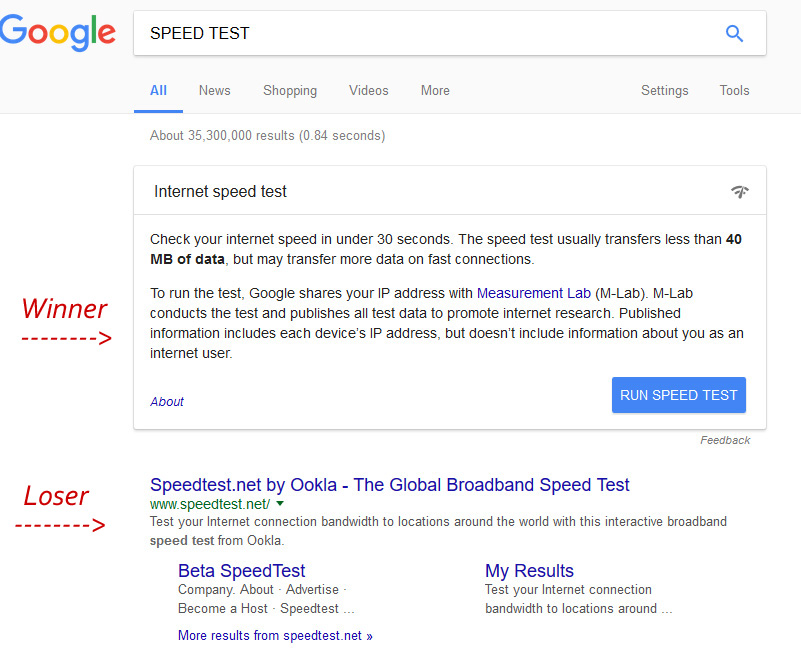 ---
---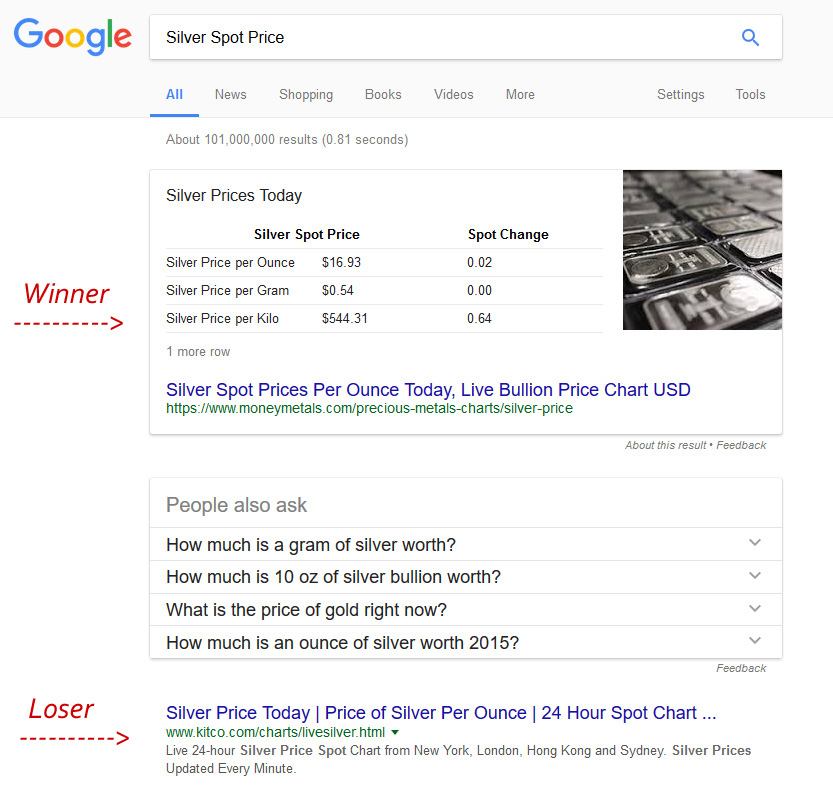 ---
---
Now you're probably thinking, well, spot number two's really not that bad. But let me tell you why it's not good either; because the question the searcher had is now already answered and there is no-longer a reason to visit the website anymore. The searcher now has the answer they were looking for without even having to visit a website, thanks to a giant ever-changing database of the webs information + Google.
So you might want to take this into consideration when you're building your next project or website. Try and build something that doesn't rely entirely on search for Traffic, or at least relies on it as little as humanly possible – because as you can see above, search is a very risky business.
Discover your perfect web address with all the tools to get started.