There are several ways of contacting the author of material you find on this site. Please use either the mailing address, phone number or social profiles to contact the author, John Colascione.

Internet Marketing Services Inc.
515 North Flagler Drive, Suite P-300
West Palm Beach, FL 33401
United States of America
561-370-7366
SEARCHEN®, SEARCHEN NETWORKS® and SERIOUS ABOUT SEARCH® are trademarks of  Internet Marketing Services Inc.
About The Author
The opinions found on this site are the opinions of the individual author John Colascione and should not be held as an overall opinion of any of the businesses or Corporations of which the owner may participate in, act on behalf of, or own.
The author, John Colascione, is Chief Executive Officer of Internet Marketing Services Inc. and specializes in Business Consulting, Search Engine Optimization, Maximizing Revenue, Website Monetization, Internet Domain Names, Hosting, Marketing and Business Management. Colascione is also author of the paperback, digital and audio book "Mastering Your Website: Insider's Guide to Fully Understanding Your Website, Search Engine Optimization and Building Your Brand".
DomainSherpa Interview

Michael Cyger's DomainSherpa Inrterview; From Brandable to Exact-Match Geo Domain Making $1.5M Per Year with John Colascione
Reader Engagement

Typical Reader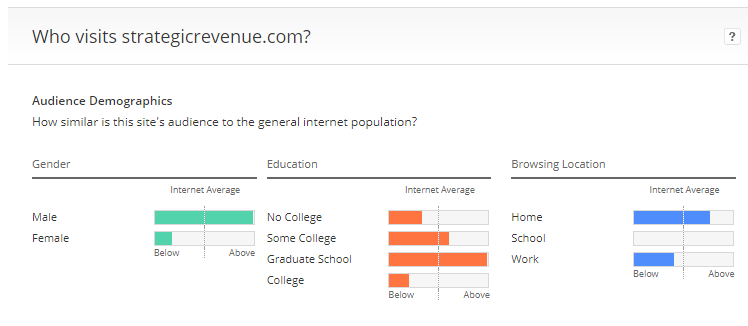 Make Payments
Receiver of advertising rates:
Internet Advertising Inc.
President, John Colascione
617 West Montauk Highway, #5005
West Babylon, New York 11707
Phone: (631) 587-7050
Support This Site
If you enjoy reading this site like many do, you can support its existence by advertising your business or website here on StrategicRevenue.com
This website receives the majority of its traffic from people interested in the domain industry as well as the Internet marketing and advertising industry. This is a great and inexpensive way to receive targeted traffic for your business.
All advertisements are just $99 a month, which are paid via Paypal subscription.
Please note: Search engine guidelines require machine-readable disclosure (nofollow tags) on paid links in the same way that consumers online and offline appreciate disclosure of paid relationships (for example, a full-page newspaper ad may be headed by the word Advertisement).
More information on Google's stance on paid links.
There are no sponsored articles on this site.
Other Ways to Contribute
Don't have a business to advertise but still want to support the views and commentary found on this site?
Here are some other ways to support this site: