NEW YORK – With another 'out of the ordinary' new Generic Domain Name sale publicly announced by Donuts Inc. for Vacation.Rentals (reportedly acquired for $500,300.00 in an all-cash deal) this becomes their second earth-shattering alternative-dot transaction in the last twelve months of which many will agree, appears to be sent straight from the heavens above. In fact, all of their employees should vacate the Kirkland, Washington premises immediately and purchase lottery tickets; luck and good fortune is abound.

 Vacation.Rentals now becomes the second earth-shattering alternative-gtld transaction by Donuts Inc., in the last twelve months, which many will agree appears to be sent straight from the heavens above.
The first colossal sale which rattled the domain industry hit the wire back in January when new gTLD domain name Home.Loans was reportedly purchased for $500,000.00, in yet another all-cash deal. You may remember that I highlighted that transaction in 'sheer disbelief', which opinion was greeted with a small flurry of comments that also questioned the legitimacy of the sale.
One industry veteran commented that in his opinion questions are indeed proper in such scenarios:
This is exactly the reason I posted the story of my Whisky.com sale on dnjournal back in 2014. I put the Escrow document in the article showing the names and email addresses of those involved. Transparency is key. People are investing their hard earned money and need to know the truth in order to make sound business decisions. Be careful of manipulators", said Michael Castello, owner/CEO of CCIN.com
One industry veteran commented on StrategicRevenue.com, article "Does the Domain Industry Suffer From Own Versions of Trumpted Fake News Stories?" that in his opinion questions are indeed proper in such scenarios.
In my first observation and I reiterate to you today, we must keep in mind – and hold the industry accountable as there is and continues to be the potential that many deals will be based on these sorts of – most often – unverifiable reports.
Let's make 'em verifiable, or at least a small select portion of them, as many bets will be made and lost, and we are in a time of great-many questions, especially when it comes to new GTLDs.
Which is why, today, I am making a public call and request for Donuts Inc., to release variable financial transaction data, for the general good and transparency of the industry, from ITS SALE IN 2017, OF HOME.LOANS, AN ALL-CASH DEAL, which buyer and seller were equally delighted to light-up-the-industry with just prior to the live NamesCon auction; dynamite timing I might add.
Did that original transaction of Home.Loans in any way influence or lead to the price and/or value determination of this new second record breaking transaction?
Have new gTLD domain prices, or any domain prices for that matter, changed, either positively or negatively, from that initial report, or will they in the future, with this new one?
Does the domain industry suffer from its own version of "Fake News" stories?
These are all very fair questions and if you think I am alone in this assessment or my objectivity, you are sadly, sadly mistaken.
I will not mention names specifically, but I am pleased to be able to enlighten you that many-a-domainer (industry veterans), quietly whispered words of encouragement and approval at NamesCon for having raised these very important questions – which is why I invite you and anyone with an opinion to agree or disagree publicly in the comments below, as we wait to see if Donuts Inc. will step-up-to-the-plate and release verifiable proof of its original transaction of Home.Loans announced earlier this year – yet closed in 2017; a new gTLD transaction now off its books, and made public and disclosed by both buyer and seller prior to any significant questioning being risen.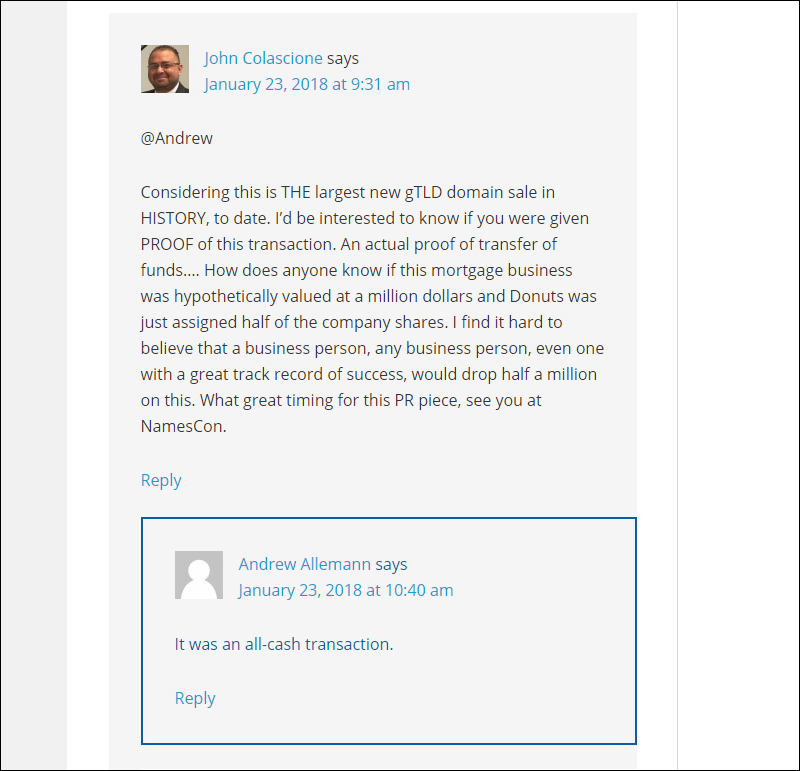 A screenshot of my very initial comments and questions on DomainNameWire.com when news of the Home.Loans sale first broke in January of 2018, days before the 2018 NamesCon event and live auction. Nothing verifiable has come about.
I bet not one reporter ever saw any actual proof, yet these transactions are reported as gospel; what say you?
Related: Does the Domain Industry Suffer From Own Versions of Trumpted "Fake News" Stories?