PALM BEACH, FL – Finding a good, short, ".com" domain name nowadays is much harder than it was in the past, but it certainly isn't impossible. What you don't want to do, is listen to bad advice from someone who tells you to go ahead and register an alternative, such as ".net", ".biz", or ".info".
Whatever you do, don't make that mistake, because you will very likely regret it at some point in the future. Unless your business is an 'organization" you could get a ".org" domain name, but even if you do that, I still recommend getting a ".org" along with the matching ".com" name in case people make a mistake or forget that you are using a ".org" – which will cause your customers – or potential customers – to wind up on someone else's website, and that is never a good thing.
So how the heck does someone go about finding a good domain name when so many of them are already registered?
Basic Domain Search
First of all, wherever you go to register a domain name, the basic search system to find a name will likely make recommendations of other names if the name you want is already taken. These search systems generally 'suggest' similar, unregistered or available domain names, which closely resemble the name you were trying to find, such as showing plurals and non-plurals, or close variants which are available for registration. They also suggest alternative URLs such as ".net", ".biz", or ".info" or other newer domain names based on almost any word you imagine, such as ".ninja" or ".legal", these are, for the most part, nonsense name choices which will just lead to problems, so just skip those for the absolute last resort.
Here is an example of a search for "ShoeWarehouse.com" which is already taken. The system will suggest similar names such as "myshoewarehouse.com" and "shoewarehousing.com" as other potential choices which are at least somewhat related to your first choice. As you can see, they also suggest ".info", ".us", – even ".shoes", etc.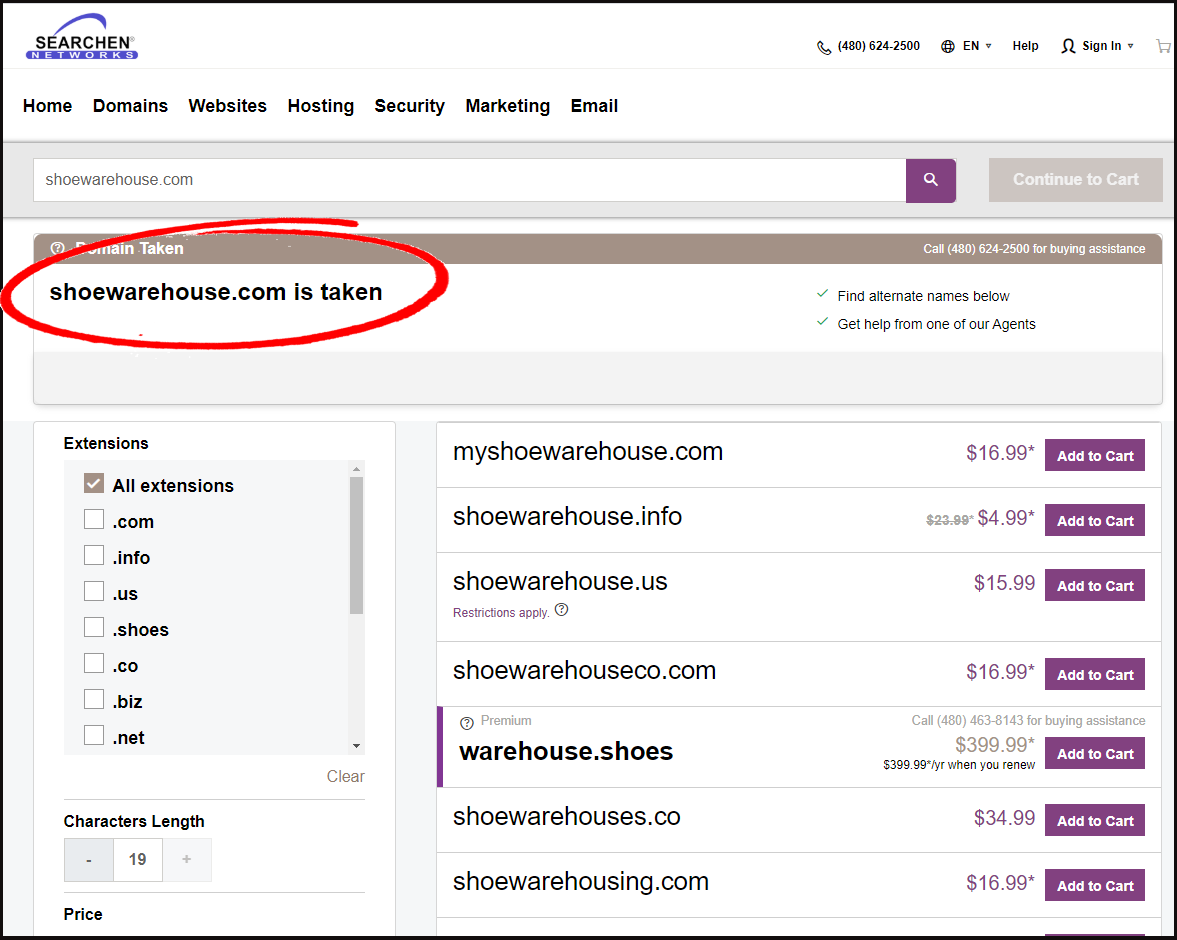 You can try searching for as long as you need to in order to find a decent name. The searches are pretty much limitless and free, so spend some time thinking about your brand, your company, and some ideas of names you think will be easy for your customers to remember, or a name which benefits your business in some other way. For instance, your domain name does not 'need' to be the exact name of your company. If you have a shoe store in San Diego called Shoe Warehouse, your domain name does not absolutely need to be "ShoeWarehouse.com" – you could also go for names which are considered, generic, such as "shoestore.com", "discountshoestore.com", "myshoewarehouse.com" or geographic names such as "sandiegoshoes.com", or "sandiegoshoewarehouse.com" – all of which will help you come up in search engines a little better since they have matching keywords in the domain name.
Expired Domain Names
If you can't seem to find anything good, there are still plenty of options to find a great domain name without breaking the bank. First, let's take a look at something called 'expired domain names', those of which have become available due to someone failing to pay their yearly renewal fee, or they went out of business and they just do not use the domain name anymore. If you are lucky, you can find a good one which someone else hasn't yet discovered. This too can still be a little tricky as domain name collectors or investors sometimes pick up expired domains specifically to resell them on the 'aftermarket' which is a place people use to sell already registered domain names. Sometimes these collectors or investors use computers to scan for characteristics of good domain names that expire, and automatically register them, but they can't 'all' be purchased, so often you will find some good names leftover in the mix.
For instance, ExpiredDomains.net is a great site to use for finding expired domain names and I personally use it pretty much all the time. I would say about 100% of the time I'm looking for a domain name, I'll check here and about 60% of the time, I find one, sometimes a very good one.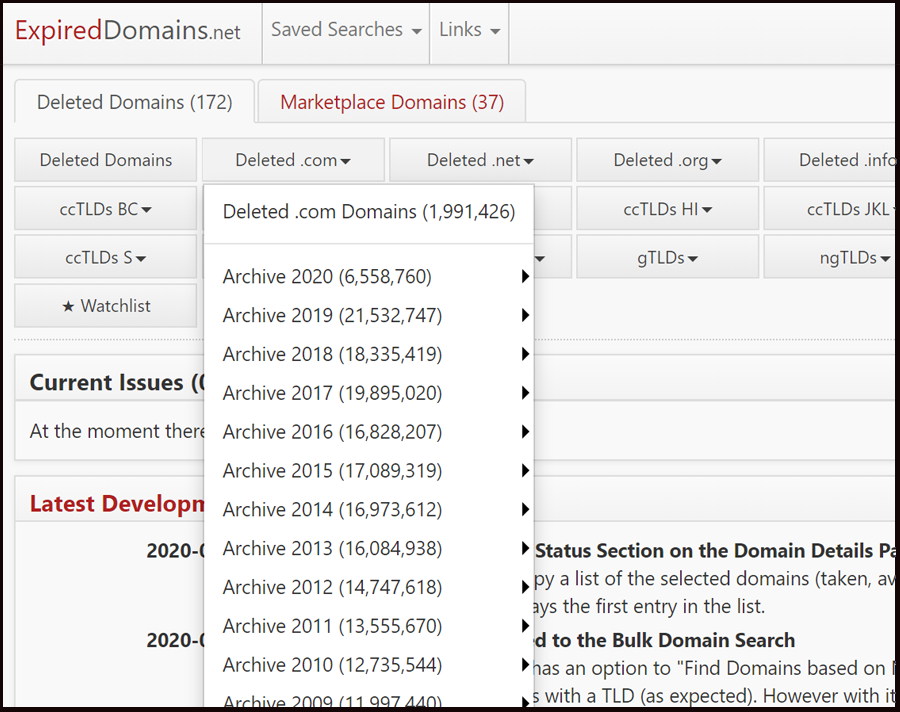 ExpiredDomains.net let's you sort through the most recently expired domain names as well as roughly 15 years of historical records on domain names which have expired – and you do not have to sift through all of it, just the ones you want based on keywords, extensions and a long list of other options including the ability to automatically filter out names to not waste time. For example, if we go back to that example of "ShoeWarehouse.com" (which is already registered), we could use this tool to look for any domain names which have expired that also contain the word "Shoe" as a keyword. We can even rule out domain names which contain numbers or dashes, and then we can sort them by a long list of other criteria using the sites advanced "filter" options.
Here is how to do it (you will need to register for a free account to use the advanced search filters).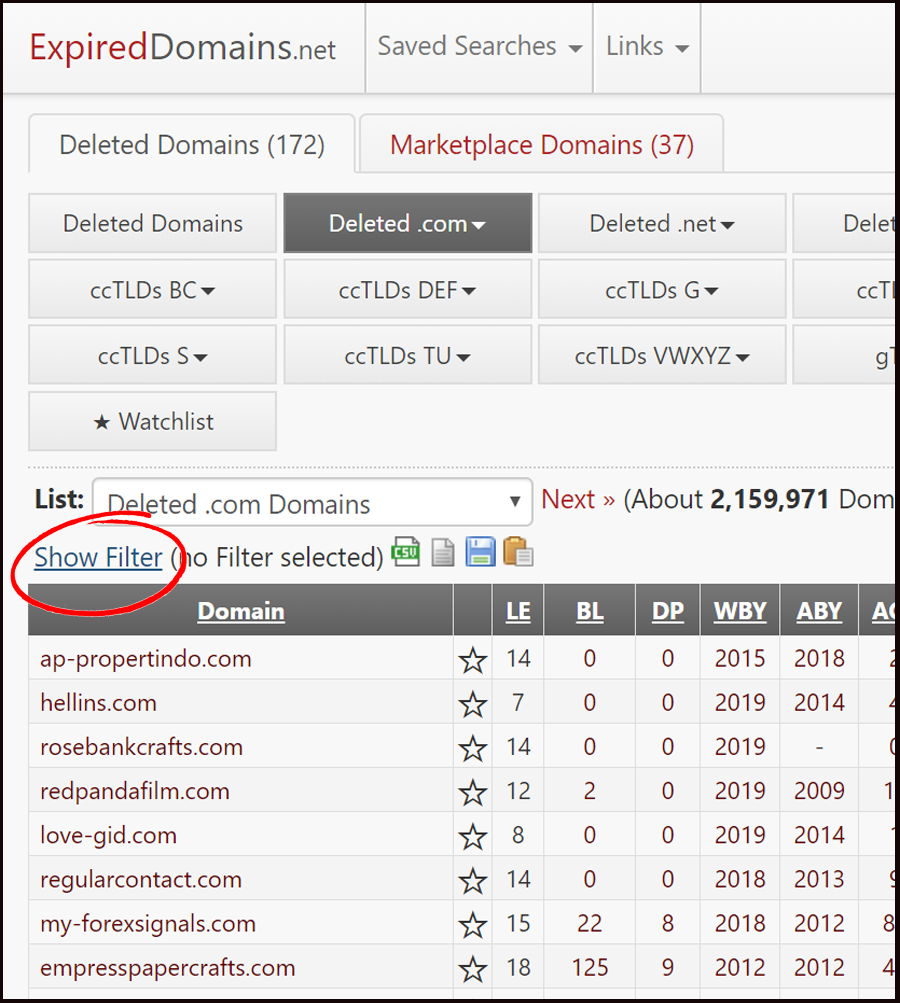 After you have chosen the search filters you want, which in this example we used any ".com" domain names which are expired, contain the word "shoe" but do not contain any numbers or dashes (-) in the name. After we have those selected, click "Apply Filters" and you will be returned a list of domain names which have expired recently and details on whether or not you can grab it and register it before someone else does, as well as information on how the domain name ranks based on statistics, including if the domain is considered to have any value or existing traffic – just to name a few things you can see from the results.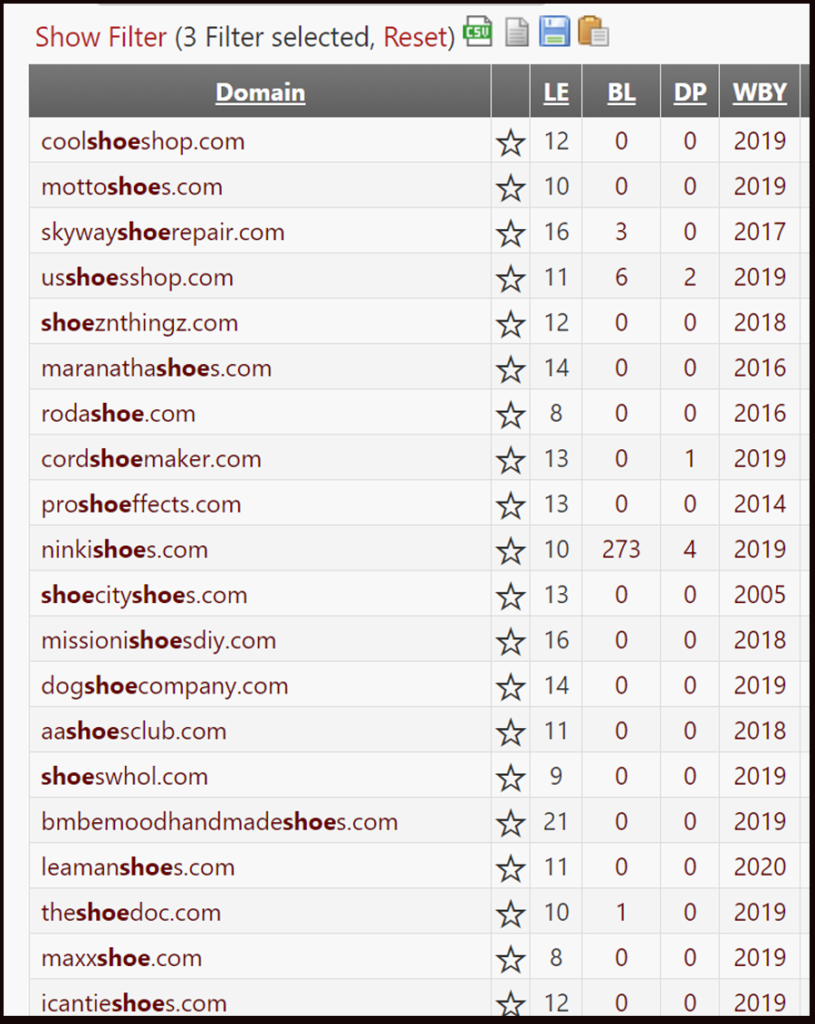 Each domain name shows when it expired and whether it is available for registration. Most names which are expired – if already re-registered, will disappear after 24 hours, so you will only see names appear that aren't actually available, if they were registered within hours of your results being returned. This site can be very helpful in finding a domain name to register and it is only one example of an expired domain name list; there are several sites out there to find expired domain names; this is just one that seems very good.
Domain Name Generators
Although I do not find them as valuable as expired domain lists, I do sometimes use domain name generators – or suggestion sites and services, but for the most part, these are only doing what the standard search tools tend to do anyway, by suggesting similar names, plurals and popular add on words, but I do check them from time to time, so we don't want to leave them totally out of the equation. One of the tools I use, maybe just because I happen to remember the name "mesh", is NameMesh.com (I sometimes refer to it as Domain Mesh and wind up searching and finding it).
NameMesh.com is very easy to use; you just enter the name you want, and it will scan the registries and return lots of similar domain names which contain instances of the word or words entered. You do not need to signup or login to use this site. We'll go again with the same example domain we used before – the 'shoe warehouse' example. Let's see what this tool will tell us about available domain names related to shoes.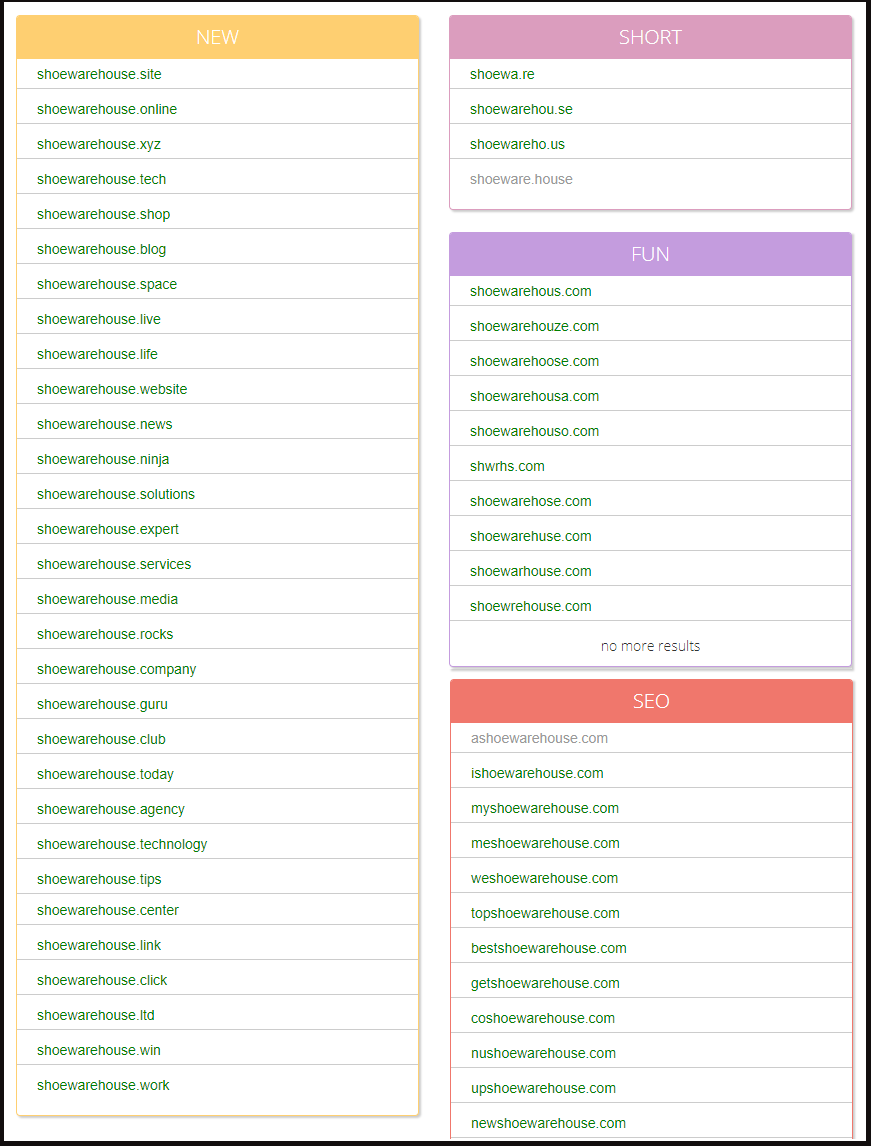 This is a small sampling of what the site will return based on those two words "Shoe Warehouse" but it's pretty much all junk. But it can give you ideas of different word combinations to go after. Unfortunately for this site, I've got to be really, really hunting for a domain name for me to use this site. I would say about 30% of the time I am looking for a domain, I use a domain name generator tool, and only about 5% of the time will it give me an idea which changes my word choices or selections. So overall, not the greatest. So far, this site is the only generator tool I remember to check.
Aftermarket Sites (Instant Buy)
After I have explored some ways to register a domain name at 'reg fee' which means very cheap (basic registration fees – $10 – $20) by finding a domain name not already registered, I'll then go to the aftermarket which are places where domain names are still currently registered, but they are expiring soon, have already been caught by a drop catching service, or are otherwise for sale because their registration period is not over, so the owner of the name still has the ability to sell it before it is expired.
GoDaddy Auctions
One of the cheapest ones is probably GoDaddy Auctions, where you can look for domain names which are listed at "closeout" or "bargain bin" prices. Now, there are plenty of other domain name auction sites to use to participate in auctions trying to be the winning bidder for domain names for sale, but right now we'll concentrate on places we can find a name and buy it or register it right away, as sometimes auctions can take skill and patience; not something every shopper has when they are looking to get started and secure their own domain name as an 'end user' of the domain. Godaddy Auctions also requires a membership to participate in the auctions, while closeouts and bargain bin deals do not.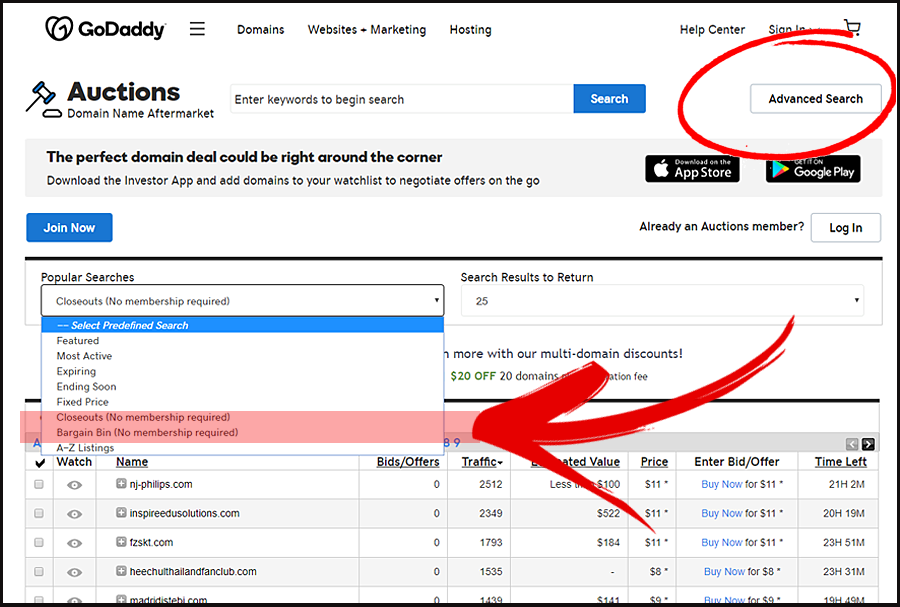 Again, when you use Godaddy Auctions you'll want to focus on the "closeout" and/or "bargain bin" domains which will allow you see inexpensive names which can be purchased immediately. You might not be able to control the domain for a few days until the transfer of ownership takes place, but you can purchase the name and move on to other things such as setting up your hosting account while your name is being assigned to you. Here too you can use the advanced search to look for specific names that are "closeouts" while still searching by keyword.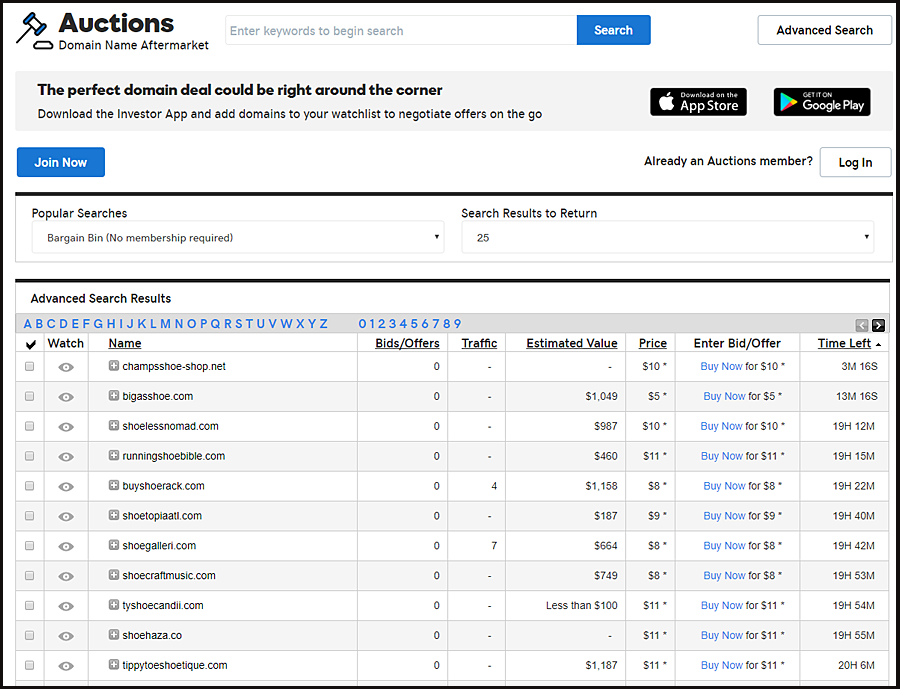 You will be able to see a list of domain names which can be purchased for as little as $5.00 (plus the standard registration fee of about $10 – $20) as well as the time left to make the purchase. You will also see some statistics on some of the names such as any existing traffic the domain receives (if any) and what their estimated value is. Godaddy offers its own free valuation tool (Domain Name Value & Appraisal) which offers free appraises which can also be helpful when you are considering purchasing domain names (that is where those figures are coming from).
HugeDomains.com
Another great place you can look for domain names which are for sale and get them like it were right off the shelf is HugeDomains.com, although they will be a little bit more expensive. This site I really like because the purchases are very simple, and you can get access to the domain name quickly. I have purchased some of my best domain names using Huge Domains, which even offers a payment plan where you can have access to the domain name to set it up and configure it for use, even before it has been fully paid for (while a payment plan is in process if you use it). This can help you get a very good domain name, far better than your average name, because many people who need domain names, A) don't know about the website, and B) if they find it because they typed a domain in and were redirected there, are weary about using the site because they may not have ever heard of it, but it's a good reputable service, so if you find something good on this site, which should be fairly easy to do, you can confidently purchase it here. You should expect to pay about $2,000 or more here.
Again, this site will have you spending a few thousand dollars on your domain name, but it's a small price to pay for the foundation of your business, so even if you are new at this and looking for a good domain name, the simplicity, ease of checkout, and payment plans make this store one not to miss, because having the right domain name can be the most important part of your business, online or off.
Side note: There is actually a trademarked phrase called "The Right Domain Name Can Change Your Life" coined by domain visionary Frank Schilling. The term is owned by his company Uniregistry, which Godaddy just purchased, so ownership will likely be transferred. The moral of story is it is true, the right domain name can, in fact, change your life.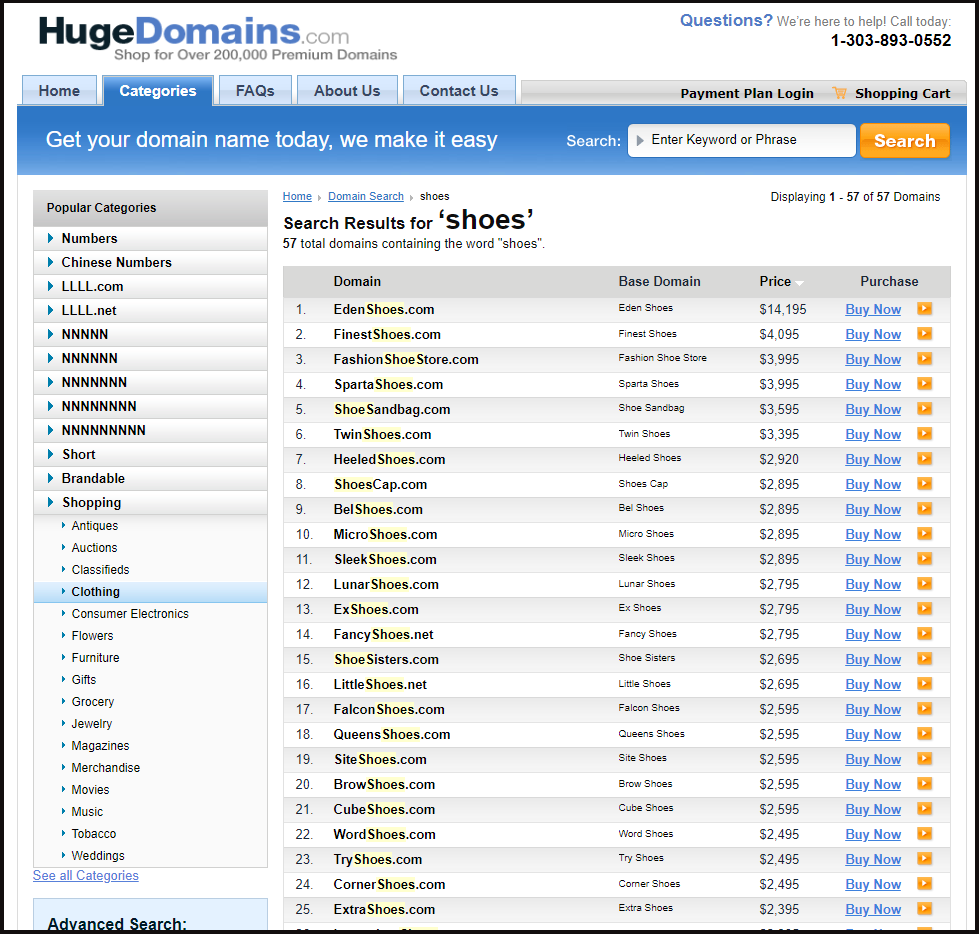 This site has lots of good advanced search features such as keywords, domain extension, categories, etc., to help you find a good name. As you can see, these prices are substantially higher, but you'll also notice that the names tend to be a little better. HugeDomains.com is a good place to grab a better than average domain name quickly and use it quickly.
Search Engine for Domain Offers (sedo)
Widely regarded as one of the largest aftermarkets for domain names is 'sedo' which many might not know stands for "Search Engine for Domain Offers" or SEDO. It is a close equivalent to what a multiple listing service does for real estate, but it serves for domain names.
As the list grows with options to acquire meaningful and good domain names, you should expect prices to go up yet again here as you will find some of the most desirable domain names at sedo which serves as a sales venue for many domain name investors and domain brokers who use the site to list domains for sale within a global market of buyers. Sedo is highly regarded as one of the largest domain name sales venues in the world.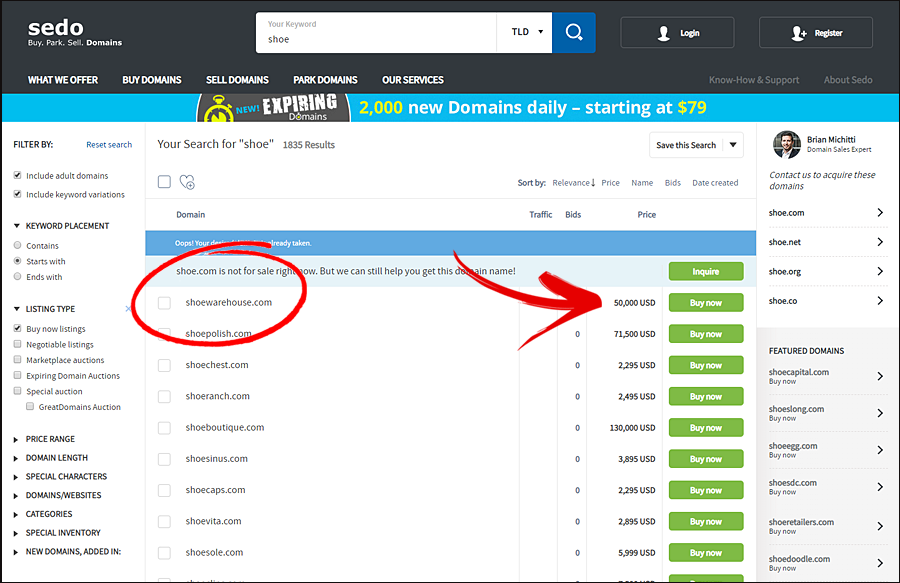 Now, which is not too surprising, this site actually has the exact match domain name for sale "ShoeWarehouse.com" for $50,000.00, which might seem like a whole lot, even way too much, but this type of name could easily serve a franchise or tremendous shoe company. In fact, it might be a better price than you think. The domain name "shoes.com" as well as its website and some shoe inventory was purchased for nine million dollars ($9,000,000.00) by Wal-Mart Stores, Inc., back in 2017. "Shoes.com" and "ShoeWarehouse.com" both sound pretty good to me, for a major shoe store, so if you think about it, fifty-thousand isn't all that expensive for a name which can serve as your global location.
Takeaway
The above sites and services are just a few of the search systems and tools out there you can use to find the best domain name for your business at the lowest price possible. There are plenty of other sites and services out there, but these few should serve as a good example of some popular sites used for businesses trying to secure a viable domain name for their business. Just because the domain name you initially choose is not available doesn't mean you can't get it, or at least one very much like it.
If after all of these thoughts and tools you still find yourself stumped with finding the right domain name or you have a dilemma which you don't know what to do, you should then contact an experienced domain name broker or domain name consultant to help you figure out how to make the best decision for your business so that you can acquire the best name, at the least cost. There may be a solution you just haven't thought of – one that only an experienced domain professional would think of.