NEW YORK, NY – According to domain name industry news publication DNJournal.com, Wal-Mart Stores, Inc., owned subsidiary ShoeBuy, has acquired the Internet domain name Shoes.com in a $9,000,000.00 transaction which included the domain name from a bankruptcy of now defunct operator "Shoes.com Technologies".
A spokesperson for ShoeBuy told Footwear News that the move was part of the company's larger digital goals.
We plan to maximize Shoes.com as the gold standard of category websites," Shoebuy.com spokesperson Alex Proelss said. "We have made a commitment to modernize how people shop for shoes, and this is [an extension] of that."
Credit is due to Elliot Silver at DomainInvesting.com and George Kirikos who found the details and exact sales price from a receivers report to the Bankruptcy Court of British Columbia which was handled by global CPA firm Alvarez & Marsal Holdings, LLC.
According to the proceedings documentation, the domain name Shoes.com received 25 million visitors in 2016. It also appears that within this same transaction, identified as "Parcel 2" Wal-Mart Stores, Inc., acquired information, domain names, social media accounts and potentially any available historic sales data for up to 900,000 previous customer transactions, so this sale is not just a domain, but other intellectual property of the previous operators.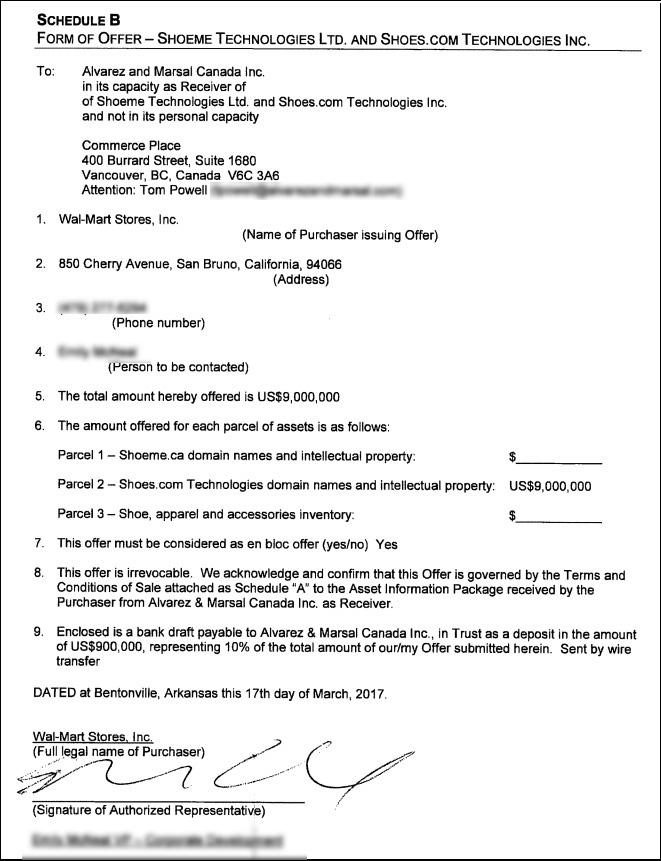 ShoeBuy.com will now become Shoes.com; much better. Way to go Wall-Mart.