PALM BEACH, FL – Richard Lau, it's a name many in the domain industry will be familiar with, as he was a Co-Founder of NamesCon, the domain industries "main event" so to speak, now owned by GoDaddy.com through its acquisition of  World Hosting Days. Richard is also known for his long-term support of WaterSchool, a global nonprofit organization bringing clean and safe drinking water to people in developing countries. It was a staple at NamesCon events – at least that is where I first learned about it.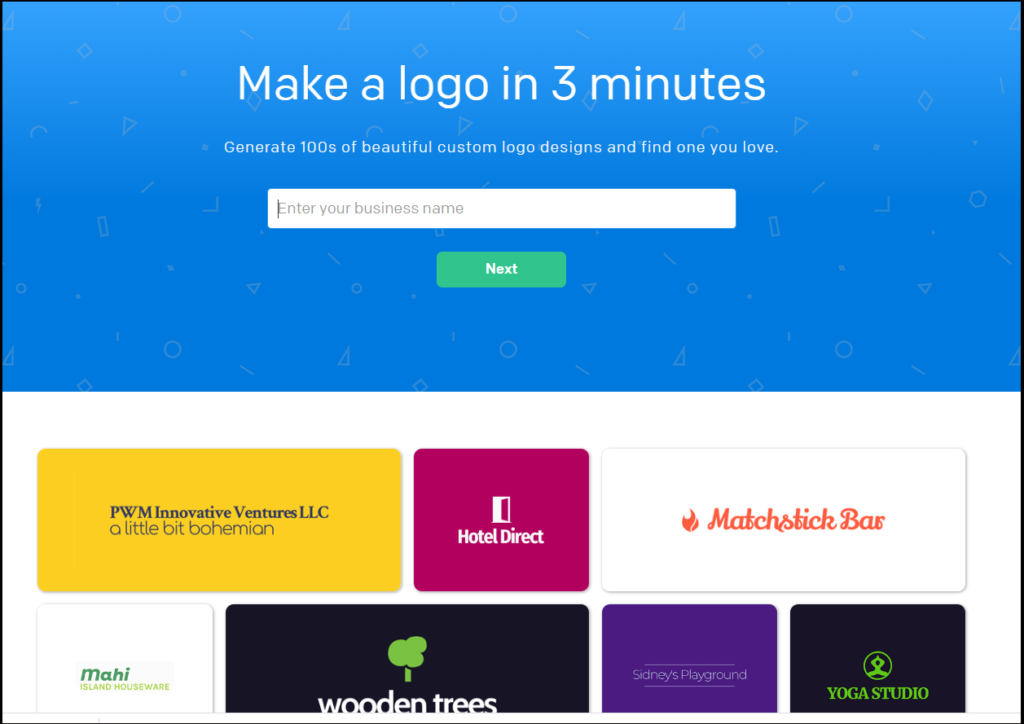 Lau has a new business, built on an extraordinary domain name called "Logo.com" – an online service which helps business owners create and design — drum-roll…. You guessed it, a logo, which fits their business plan and enables them to launch their brand identity, in three minutes.
I had a chance to check it out last week, and I also had a chance to ask its founder a few questions about the business including what it took to make the project a reality as well as what he feels sets it apart from the competition.
Using the site, I was able to easily create a logo and it couldn't have been simpler to use. One of the features I liked most about the service is that once you enter in a basic name and tag line, the site suggests a seemingly limitless amount of suggested styles and designs in a never-ending loading page of sample logos. Once you choose your favorite, you can modify and expand on it. Here are some questions and answers I was able to have Richard elaborate on.
QUESTION: When did you acquire Logo.com?
RICHARD: We've owned Logo.com for about ten years now! In the early years we did try putting on a logo maker but the software was from a third-party. It was quickly evident that the quality wasn't going to be up to our standards, so we shut it down and shelved it. We kept the idea of an amazing logo maker percolating in our minds – keeping track of what we would want it to do, what were other people coming up with and missing the mark on. Only after we sold NamesCon and Resume [Resume.com] did we dust off the domain and apply all of the ideas that we'd been collecting.
QUESTION: How long did it take from the initial build of the site to launch?
RICHARD: Taking the ideas that we'd put together, hiring our own local development team and writing everything from scratch, meant that we were prepared for a long timeline. But I'm a true believer in launching before you are ready. If you are not embarrassed by the code then you are waiting too long. Having said that we had a soft launch about nine months after the initial build of the site. We've done several major improvements since and continue to build out our team as well as new features, algorithms and designs. We've learned a lot in the process and the space is constantly evolving so there is always more to do.
QUESTION: Is development, bug fixing, and site improvements basically a full-time job now? I would imagine it is with a healthy user base.
RICHARD: Absolutely. There are five of us working full-time on Logo.com and we expect to grow to 10 people within a year or two. Our product can always be better and we're always watching trends and listening to customers to try to create the best product and experience possible.
QUESTION: What do you feel is the most unique feature of the service that sets it apart from the competition?
RICHARD: We strive to provide everything you need to brand and launch your business online. We want you to come and enter your business name and then present you with hundreds of unique, professional logo designs within seconds. Some of our competitors can also produce designs quickly, but we feel that we provide a more automated and easier solution. You know what you like when you see it and there's a certain X factor that separates what we at Logo.com are able to produce from our competition. We don't want you to have to spend 2 hours editing your logo, we want you to find an identity for your brand in just a few minutes and be focused on building your business.
QUESTION: What's one thing you would like people to know they can do with the service that you feel they may not realize until they signup and use it?
RICHARD: It costs nothing to try out our system as you only pay after you have fully designed and refined your logo. People are generally very surprised at the high-quality that our automated logo maker achieves and the number of images and formats that they receive with even our most basic package. Our challenge is getting people to try our product, once they do, we're confident they'll love our product. With our prices starting at less than $20 and the process taking just a few minutes, it's incredibly economical and makes Logo.com the easiest way to get a professional logo design on the Internet today.
QUESTION: It appears you may be using Amazon hosting services for the site. If so, how happy are you with that service?
RICHARD: We're extremely happy with AWS. We've been using them since the start and we utilize a full suite of AWS services, mostly serverless, to deliver our product and site to our users.
If you need a logo and are not experienced with creating one yourself with Photoshop or some other graphic editor, I feel confident you'll just love Logo.com. In the event you do have that design ability, I'll still suggest you try it out first because it's a great way to generate ideas for how you might want to design a logo, or modify one based on some of its suggested styles.
It's also been added to my "ultimate list of online tools" which help me create, design, save time and optimize my business.