If you operate a small business and focus on client acquisition there are certain industries or 'niches' which generally do better than others. In-other-words, some niche businesses may be more likely to signup for tools to increase profitability, simplify their business processes, for services poised at increasing their own client base, or services including advertising, and/or promotional opportunities. Listed below is a group of industries in the United States which are the most profitable or have the largest profit margins. What is different about this list verses almost every other list I could find during my research is that I included the reasons which contribute to this profitability.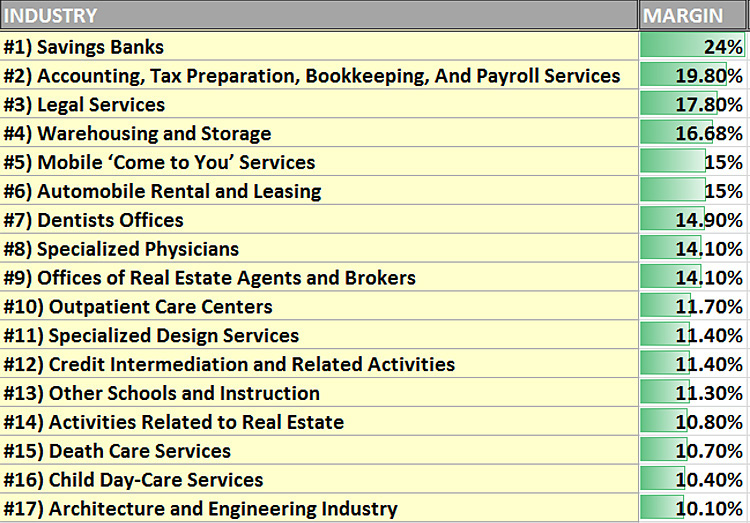 The 17 industries in the list with at least a 10% profit margin percentages are:
---
#1) Savings Banks (24%) [Major 22.9%] [Regional 23%] – Despite increasing regulatory burdens banks logged record profits for the second quarter of 2016. You would tend to think that banks prefer high interest rates so that their revenues would be higher. However, in the medium-to-long term, interest rates are largely unrelated to their margins as when market interest rates fall, banks funding costs usually fall more quickly than their interest income, and thus net interest margins actually rise.
---
#2) Accounting, Tax Preparation, Bookkeeping, And Payroll Services (19.8%) – Accounting professionals and financial services can earn up to $100 per hour and their businesses require minimal start-up costs. These services also tend to weather any storm the economy can through at them; whether business is up or down, companies still need to report, account for and otherwise record their profits (or losses) as well as pay staff.
---
3) Legal Services (17.8%) – Lawyers and Attorney's are profitable businesses due, in part, to the large fees their services warrant. They are also profitable due to the additional fact that, in most cases, the actual work is done by 'equity partners' or 'owners' of the firm. Although owners, these highly skilled professionals are also 'workers' who often adsorb the majority of their actual labor costs which would usually have to fall into a companies expense list.
---
#4) Warehousing and Storage (16.68%) – The popularity of the self storage business is evident with over 50,000 self storage establishments in the United States. People and businesses looking for a place to store their belongings can find the exact amount of space they need. In 2015, storage units averaged a 90% occupancy rate. Although the profit margin on these businesses is marked at roughly 16%, this is in the businesses first year. Year over year renewals can increase profitability up to 41.70% by year three.
---
#5) Mobile 'Come to You' Services (15%) – Companies in do-it-for-you industries generate net profit margins, on average, that exceed 15%. This would include businesses that come to you for services such as Auto Repair, Window Tinting, Glass Repair, Food Trucks, Detailing Services, Electronics Repair, IT Support, Personal Trainers. These companies can and do charge access fees for their convenience.
---
#6) Automobile Rental and Leasing: (15%) – The demographic and psycho-graphic composition of those that use car rental services are obviously higher than average. They are generally corporate executives, tourists, travelers, government agencies and field managers. Where rental companies really tend to push for profits is the add-ons. Ten percent of revenue comes from car seats, gasoline, insurance, GPS — stuff opted-in-for at the counter because of convenience.
---
#7) Dentists Offices (14.9%) – Dentists generally deal with consumers who view dental care as an essential service and are reluctant to cut back on it even during an economic downturn. Dental clients, especially when it comes to Cosmetic Dentistry, are often willing to pay even without insurance coverage and value their general health and wellness while understanding that service, convenience and value can be more important than price.
---
#8) Specialized Physicians (14.1%) – Personal Wellness, Therapists, Nutritionists, Chiropractors, Orthopedics and Cosmetic Surgeons often charge high fees which insurance generally does not cover. Clients are relatively affluent and want to improve their appearance and well-being with Consulting, Fitness Training, Breast Augmentations and reductions, Rhinoplasty, Liposuction, etc.
---
#9) Offices of Real Estate Agents and Brokers (14.1%) – The real estate industry is one of the many industries that is a major contributor to the growth of the economy of many nations. As a matter of fact, a real estate agent can become a millionaire 'overnight' from just one real estate deal. It is little wonder that the industry is responsible for making many instant millionaires in the United States of America, as well as the rest of the world.
---
#10) Outpatient Care Centers (11.7%) – Outpatient surgery centers provide surgical procedures that don't require an overnight hospital stay. Advances in technology have shifted many procedures previously done in the hospital to the outpatient setting. Some provide a broad range of surgeries; others specialize in procedures such as endoscopy, vein ligation and stripping or eye surgery. These services are expensive and can be done in the outpatient care setting rather than a hospital where there is much more overhead and expense, yet the fees for such services are the same.
---
#11) Specialized Design Services (11.4%) – Specialized design services comprise companies that are involved in planning, designing and administering projects as per client requirements. This industry is primarily engaged in providing services such as Interior design, Clothing design, Fashion design, Floats, Textile design services.
---
#12) Credit Intermediation and Related Activities. (11.4%) – Credit Intermediation establishments lend funds raised from depositors and credit market borrowing; facilitate the lending of funds or issuance of credit through mortgages and loan brokering. This includes mortgage brokers, stock brokers, mutual fund companies, asset managers, etc. These industries are not easy but can be quite lucrative. Deals that go through can equate to huge paydays, especially for mortgages, and sometimes deliver as much as several months salary working a minimum wage job.
---
#13) Other Schools and Instruction (11.3%) – The education sector is strong as their is always a need for people to be educated. Also serving the affluent, clients seeking education will invest to bring them better success in Acting, Business Startup, Computers, they will attend Dance Academies, Driving Schools, Employee Training, Fashion Design, Martial Arts, Music Schools, Pre-School, Sales Training, Self Defense Training, Tutoring.
---
#14) Activities Related to Real Estate (10.8%) – Real estate agents and brokers take a top spot in this list, so it should be no surprise other activities supporting the Real estate industry are all also worth-while businesses to seek. Such industries which align themselves with real estate are: Appraisers, Title/Escrow Agents, Real Estate Attorneys, Contractors, Real Estate Accountants, Real Estate Marketers, Property Managers.
---
#15) Death Care Services (10.7%) – The funeral industry accounts for about $20 billion in annual economic activity. Caskets alone have an average mark-up of 289% and even cremation, which avoids the entire burial process, including transportation, is still many thousands of dollars. To make matters worse, grieving customers, often not in a healthy state of mind, rarely compare prices.
---
#16) Child Day-Care Services (10.4%) – The number of child care facilities has increased greatly over the last several decades as demand has been driven by increased numbers of working women. According to the government, 61% of mothers with kids under the age of three are working or looking for work. Keeping costs low, a whopping 90% of Child Day-Care Services don't even have employees other than the owner and these businesses, many of which are operated in-homes, require less financial investment to get started.
---
#17) Architecture and Engineering Industry (10.1%) – The last five years have been a financial roller coaster ride for most A&E firms, but the good news is that many have climbed from a low caused by the problems in the sub-prime mortgage market. Utilization is rising. Overhead rates are falling. The average collection period declined, and net revenue is growing. On the balance sheet, the current ratio is up, and debt-to-equity is down.
---
References: