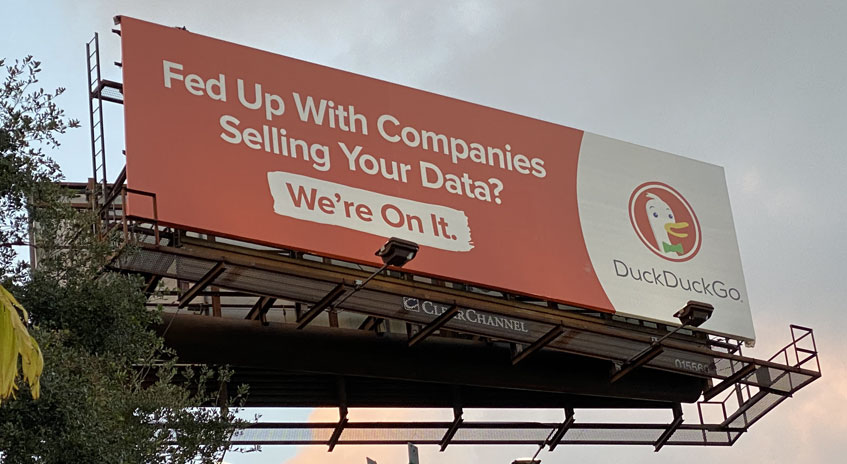 PALM BEACH, FL – A couple of days ago I looked up and saw a highway sign and thought to myself, 'great search engine, horrible name.' That was after seeing a sign off I-95, in West Palm Beach, Florida advertising what is a better search engine then Bing and Yahoo, but still far less use. Also sort of odd, there was no web URL on the sign.
Back in 2018, the domain name "Duck.com" was seen to have changed hands according to domain registrar details pointed out by domain industry website DotWeekly.com.
At the time, it was speculation that the acquisition could have been, and likely was, the search engine provider, DuckDuckGo.com, who had been accusing Google.com, the owner of the Duck.com domain, of confusing its users by redirecting the domain to its own search engine.
Google's anti-competitive search behavior has long been controversial, although the Duck.com domain was acquired when Google picked up On2 Technologies, previously known as The Duck Corporation, in 2010.
Soon after the news broke, a confirmation came (from a NamePros user) that ownership of the domain name had been transferred, but no purchase price was mentioned. It is still not known if there was any money involved in the transfer, but Google's ownership of the name was becoming risky (still viewed negatively despite Google gave in). Weinberg was becoming the new 'go-to' for discussion and news commentary against Google when it came to anti-competitive behavior.
Gabriel Weinberg is a direct competitor to Google, as the CEO of DuckDuckGo, the privacy-focused search engine. In 2018, he called out Google for owning the domain name Duck.com, which was redirected to the search giant.

CNet.com July 29, 2020
DuckDuckGo.com, which has been growing its user base by leaps and bounds the last few years, mostly due to Google privacy policy changes and surveillance revelations, provides an excellent search engine service, but its domain name seems long, unusual, and not what you would expect from a serious contender in the search space.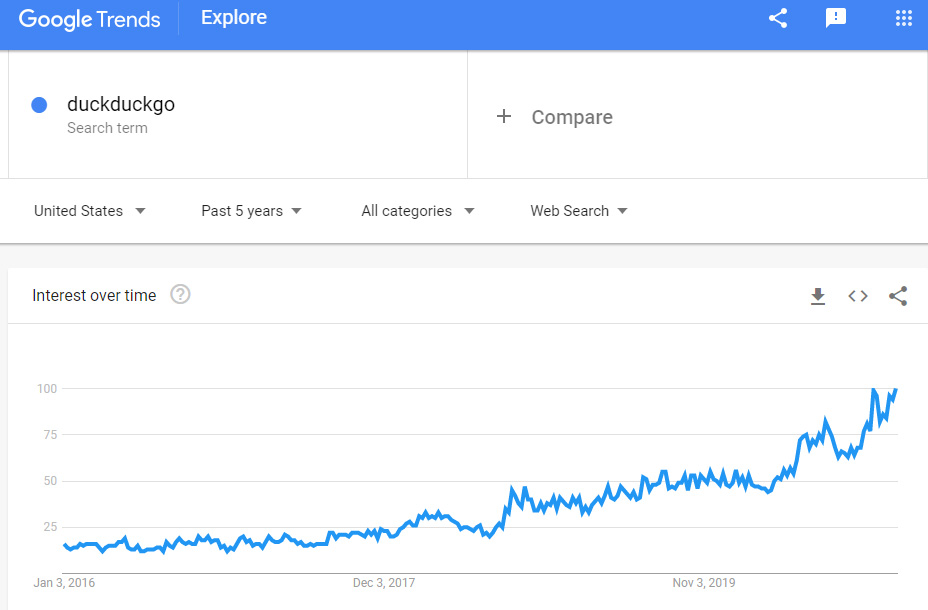 Settling that long battle by the two search engines has at least ended with the domain name "Duck.com, (created 02-22-1995)" effectively redirecting users to DuckDuckGo.com, (created 11-11-2007). The similar domain name DuckGo.com (created 12-12-2008) also redirects.
In my opinion, its time to do away with the redirect and move toward a total rebrand and have the Duck.com domain name resolve the site.
In 2020, DuckDuckGo.com recorded 23,414,809,216 search queries averaging about 64 million search queries per day.