NEW YORK – Google loves ads, especially when ads are just as relevant and helpful as organic search results. Think about it like this; if you owned Google, imagine a day where your search engine results were just as accurate, relevant and helpful as any of the other organic search results. You could literally have an entire page of results, which were all paid for through your auction system, and users wouldn't think anything of it. People would just continue to "Google" away, their every heart's desire, while you receive a 100% click-through rate for your customers. It's like a match made in heaven.
If you think things are not moving in this direction? Think again.
The Google AdWords system has become so complex nowadays, I wouldn't run an ad campaign without using a Certified Google Specialist. The intricacies of ad quality score, grouping ads and keywords, ad extensions, device adjustments, audience targeting, price extensions, ad-labels, and tons of other features and functions of the system have become so complicated that it seems an equivalent of search engine optimization for paid ads, and you have to do it just right, otherwise you'll waste a really lot of money trying to figure it out. The end result is that often times, if not every time, the actual price you pay to have an expert do it for you is far consumed and hidden within better results and increased ROI.
The reason for all of this is that ad quality and user acceptance to ads is critical to Google's future mission, which includes all ads, or all ad-enhanced results. People must approve of, engage with and click the ads while finding them just as useful as any other content, including organic results. When this is achieved, Google will possess, at minimum, the "opportunity", to include more and more ads, and no one will beg to differ; whether a piece of content is an ad or not, just won't matter.
Google Wants to Combine Paid Search Ads with Content
On April 17, 2018, a patent called "Combining content with a search result" was granted to Google, which appears to lay the groundwork for Google to begin a process of identifying a brand along with a potentially matching search ad for that brand, and combine the results into a "combined content item".
The example used in the patent applies to a specific brand, its official site, map, location information, search ads, coupons, and related pages. The end result is a large ad which appears to be a collaboration of knowledge graph, Google local and AdWords ads.
The official example in the patent appears like this:
 Actual Patent Application Image, Combining content with a search result, Patent Number, 9342839
It appears that Google would like to do away with what is shown below currently in the search results for a brand, and replace it with a combination of the organic results, maps and the paid sponsor links turning the entire result set into a jumbo-ad opportunity taking up half of the page. It will likely also give brands the opportunity to have more control over their maps listings and potentially, which other locations appear.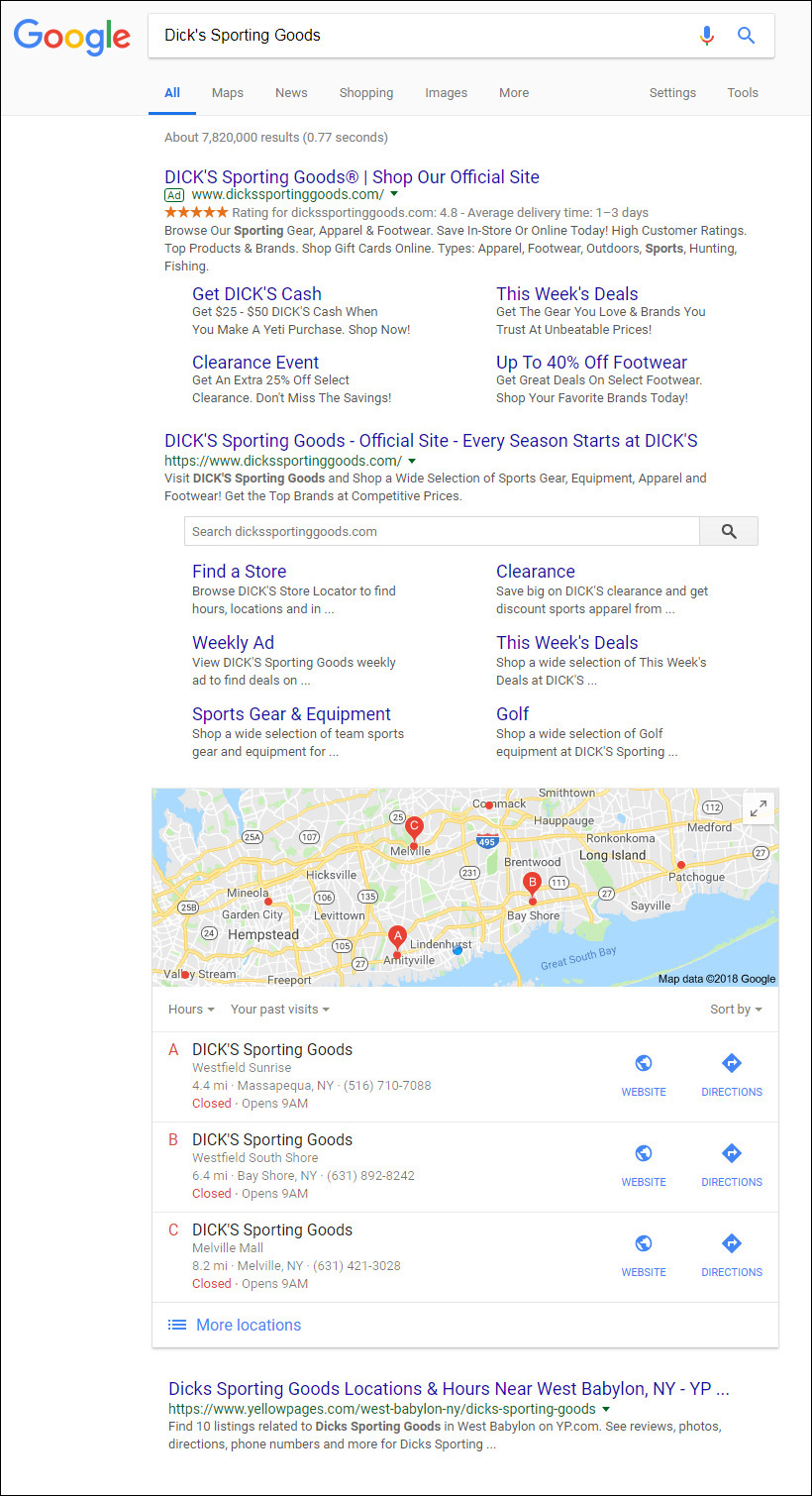 Actual search result, Dicks Sporting Goods, 6/23/2018.
This specific patent "Combining content with a search result" was applied for more than two years ago (May 12, 2016), so this is something Google engineers have been thinking about and working on for some time now. With its approval and registration, I would imagine Google will begin implementing it soon.
Once the search giant has approval – either consumer or regulatory – or both, to begin mixing certain content with ads, what's to stop Google from simply implementing all ads or all-ad-enhanced results?
When and if Google can capture enough data which shows typical search engine users don't mind ads, any less they do, organic search results, we might see something like the below Speculative Example in the near future. If users truly do not mind ads for their search results, I don't see what difference it would really make, outside of boatloads more cash for Google.
 Speculative Future Search Result, Dicks Sporting Goods, 6/23/2018.
Maybe Google would just come up a new tab for its search engine, such as "images", "news" and "videos"; the tab could be called, "research", at which point, only research and strictly information pages would be found, less any shopping results and/or brands.