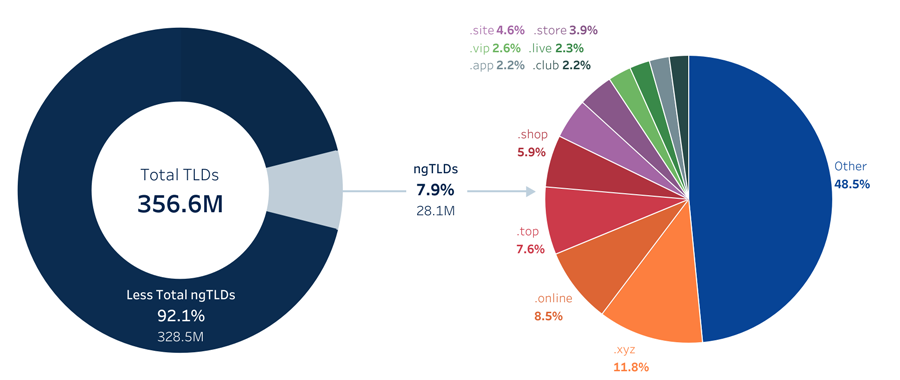 RESTON, VA – VeriSign Inc., a global provider of domain name registry services and internet infrastructure, announced that their total number of Top-Level Domain (TLD) registrations worldwide have reached 356.6 million as of the end of the second quarter of 2023, as per the company's latest quarterly Domain Name Industry Brief (DNIB).
Verisign, based out of Reston, Virginia, operates a diverse array of network infrastructure, including two of the Internet's thirteen root nameservers, the authoritative registry for the .com, .net, and .name generic top-level domains and the .cc country-code top-level domains, as well as the back-end systems for the .jobs and .edu sponsored top-level domains.
The company's second quarter DNIB notes that they experienced a 1.2 percent increase in the number of new domains registered year-over-year, which amounts to 4.3 million. As for the world's most-used TLD, .com, registrations increased from 161.1 million domains in Q2 2022 to 161.3 million domains in Q2 2023; in contrast, the .net domain saw a decrease from 13.2 million to 13.1 million during the same period of time. 
In addition, Verisign said the total country code top level domain registrations (ccTLD) had increased two percent to 137 million at the end of Q2 2023, showing an increase of 2.7 million domains year-over-year. The company noted that the top 10 ccTLDs in terms of number of overall registrations are as follows: .cn (China), .de (Germany), .uk (United Kingdom), .nl (Netherlands), .ru (Russia), .br (Brazil), .au (Australia), .fr (France), .eu (European Union) and .it (Italy).
As for new generic top-level domain (gTLD) registrations – Verisign's DNIB reports that there were 28.1 million of them at the end of Q2 2023, an increase of 0.8 million domain name registrations, or 3.0%, compared to the first quarter of 2023. ngTLDs increased by 1.1 million domain name registrations, or 4.0%, year over year.