NEW YORK, NY – Last week, news began to circulate the search optimization-spear that DMOZ.org, one of the oldest and most trusted web directories ever online, was discontinued forever (as of Mar 17, 2017). DMOZ was considered such an incredible resource, that Google itself mirrored it at directory.google.com, as did thousands of other sites across the net. However, Google discontinued the mirror on July 20, 2011, less than a year prior to announcing its "Google Penguin" algorithm update (April 24, 2012) targeting link schemes.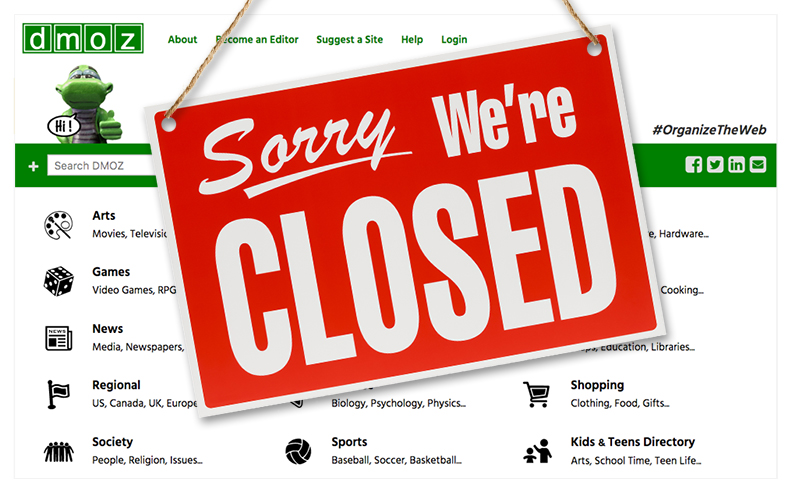 On December 27, 2014, five days earlier than announced, the Yahoo Directory, once found at dir.yahoo.com, was also retired. The service, which had existed for 20 years, was one of Yahoo's original core services considered by many, a secret to enhanced Yahoo search engine rankings. The inclusion in Yahoo Directory was fairly easy (in comparison to DMOZ and thus GOOGLE), so long as you had $299 to spend per year, and your site was at least half-way decent.
Fast forward to present time, DMOZ marks the third major website directory to be shut down in the last few years. What is significant about it is that the DMOZ directory is fundamental to what the web has expected from a directory of sites, at least, from the web of years past. It was also such a significant part of the web that it warranted its very own Meta tag, "NOODP" which would tell search engines not to rely on the DMOZ site for a description of a website for search results if no description Meta tag on the site was used.
For the time being, a mirror of DMOZ has been setup on the domain dmoztools.net. For how long and for what reason is unclear. Why it was even shut down to begin with is itself unclear as it was voluntarily edited and owned by AOL, which acquired it as part of its acquisition of Netscape for $4.2 billion in 1998.
So what does this mean for other website directory owners? It's likely a sign or signal that a directory serves little purpose in a world-wide web moving fast into another direction.
According to one of the editors of DMOZ,
It was a great idea when it was created, but over time the landscape of the web changed. DMOZ was founded before Wikipedia and even Google, back in the days that finding stuff was *hard*. DMOZ editors would curate lists of sites that would give a good overview of the topic, but it turns out that Wikipedia's approach to topic curation was better in the long run (and I think that many DMOZ editors are also Wikipedia editors). Directories also died a death as search engines got better, and in the end DMOZ was only really important for SEO purposes.
In 2011, there was word that BOTW.org, (Best of the Web) one of the oldest commercialized web directories, was working to acquire DMOZ, which would probably have been positive overall for the directory industry, but for some reason this deal did not materialize. Best of the Web would likely have continued DMOZ far into the future, at least to further its own survival in a changing atmosphere, but again, that did not happen.
Best of the Web, which I am sure has been feeling its own squeeze in the directory business as well, could be the single remaining directory of its caliber left. I'm not sure if that is good news or bad, but I am sure they too are watching all of this unfold pretty carefully. There are also many other directories out there that do a good job at categorizing the web, but at what point is a directory even necessary at all?
Unless it is going to result in real people, and not Website SEOs, but real consumers visiting a website, than what's the point?
So if you are a directory owner, and you're watching all of this unfold, my suggestion would be to continue finding reasons why someone might want to actually use that directory. If you're a website owner considering listing your site in a directory, then the single most important thing should be not what link benefits you'll receive from that directory, or how many of your competitors are listed in the directory, but will people actually visit your  website by being listed there. There are all sorts of lists online about the best web directories to be listed in, or the local website directories with the "strongest citation scores", or in-general the "strongest directories". So how do you know if a website directory is a good quality one, worth your time, energy and likely – your money?
If you still feel the need to build bridges to your website with web directories (and this is probably a fine idea for years to come as traffic does equal sales), the real questions to ask yourself are:
Will people actually visit my web site by being categorized here?
Does this site seem like people actually use it to find stuff online?
Can I expect some real traffic from this site?
If the answer is no to all of these questions, move on.