NEW YORK, NY – I received an email the other day about RegistrarStats.com being shut down next month in February (the 19th) and I took special interest in that email notification as I had just used the site the day before to point out some gTLD stats.
I never realized that the site was owned by Donuts Inc., but seeing the email notification, it's pretty obvious. Donuts is a company that has applied for hundreds of new gTLDs and is somehow affording to pay-for and renew at least 200+ new gTLDs listed on their website. Simply amazing. This company is either going to take over the entire planet or self-implode (in my opinion, of course).
Here is the email notification of the service shutting down: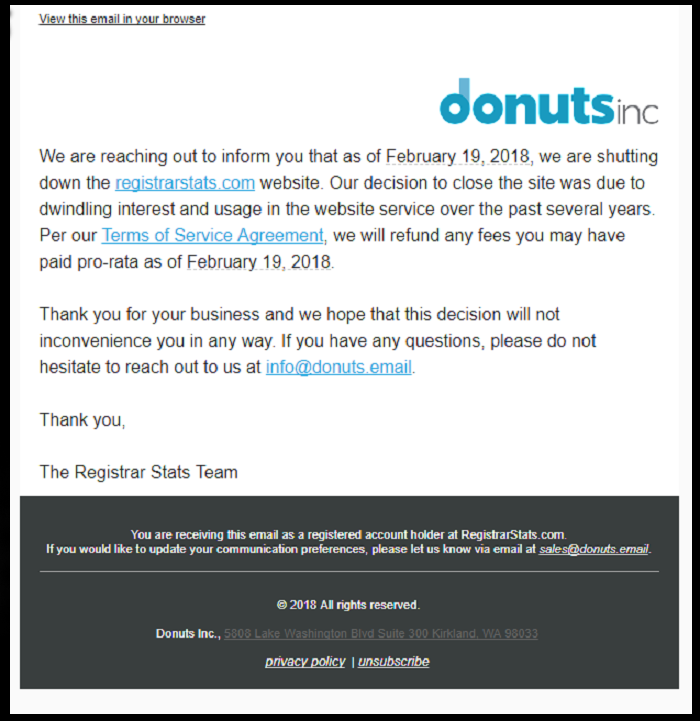 Anyway, I began to wonder about the reason Donuts was telling me that RegistrarStats.com was shutting down: 'dwindling interest and usage' which is surprising. The service seems great to me, and I'm not sure why it wouldn't be able to find a good number of consistent users.
Take a look at these Alexa signals/trends:
The site also ranks really well in Google for terms such as "registrar statistics", "domain name statistics" and "domain counts" and I'd bet it is receiving a great deal of organic search traffic. When you've got something that is showing those types of signals, in my opinion, you don't just close it down; you find a way to better monetize it.
I'm not sure how much it would cost to gather the data, but as registrars I would assume they have all the access, or would want it anyway for research, market and competitor analysis. Its costs, if any, could also be offset through the addition of advertising on the site if the subscription fees alone are not working out. I don't know, I think it being taken offline for some other reason.
That is too bad though, they did a great job making RegistrarStats.com, and it was a great service and I liked using it while it lasted.