PALM BEACH, NY – Wow, the New York Times has taken a firm and unique approach to the news and industry buzz surrounding the sale of the .ORG registry to private equity firm, Ethos Capital. Bash the domain in a hitpiece to level the playing-field in what it calls the domains' opportunity to be used by a host of bad actors, all whom reap the benefits of dot-org's "false association with credibility."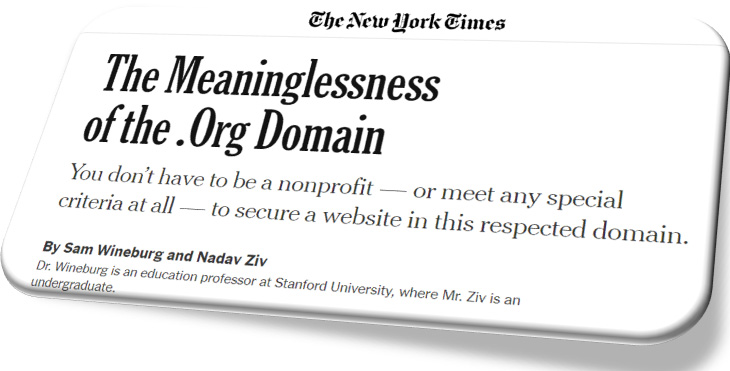 In an opinion piece published yesterday by Sam Wineburg and Nadav Ziv, an education professor at Stanford University and an undergraduate, "The Meaninglessness of the .Org Domain" you would think the two have now set out to police the Internet themselves.
Dot-org symbolizes neither quality nor trustworthiness. It's a marketing tool that relies on a widespread but false association with credibility."
The article also points to a 2012 international study which found that:
Nearly half of Americans, and larger percentages in France, Brazil and India, believed that an organization must meet "some criteria" before it could register under .org."
.ORG Initiatives & Innovations: BI-ANNUAL DOMAIN NAME REPORT ON PUBLIC INTEREST REGISTRY
The perception that.org is a closed top-level domain persists in nearly all countries surveyed. For example, in Brazil, 66 percent of the respondents believe that some criteria must be met in order to purchase a.org domain name. .ORG Domain Purchase Requirement (Must Meet Criteria) United states brazil India Germany France Uk Trust as a brand perception remains very high for.org. On all four measures of trust as listed in the chart below.org is rated the highest by India, followed by Brazil. Germany gave .org the lowest ratings on all four measures of trust."
The Times piece also brazenly suggests that Ethos Capital use some of its approximately $92 million in yearly registration fee revenue to educate the public's misconception around the dot-orgs shortcomings.