BERLIN – Thirteen people were arresting during a raid in Germany on September 27, 2019. According to Brian Krebs, a security journalist and investigative reporter for Krebs on Security, the raid targeted the physical premises of a Dark Web hosting operation that described itself as a "bulletproof" hosting provider that was willing to provide web site hosting services to any business, no matter how illegal or unsavory.
This past Friday, 600 military equipped officers stormed the temperature-controlled bunker, dubbed "CyberBunker," a 1.3-acre former NATO facility with iron doors that is buried five floors underground. The facility is in Traben-Trarbach, a town 60 miles west of Frankfurt, Germany.
A statement was released by what TheRegister.co.uk says is the company's "head honcho" Sven Olaf Von Kamphuis, aka "CB3ROB", where he placed a public message on Facebook describing the raid as an "act of war"
for clarification, ISPs such as the 3 or so front operations involved, have the RIGHT to take whomever-and-whatever-they-are-doing's money and provide them with servers or carrier services. the fact that most naive nerds prefer to pull plugs when they receive some threats or intimidation (Such as the recent act of war by the BRD), does not mean that front ops related to the republic cyberbunker should do the same as the cowards of the competition. ISPs do not need to know who the customer is, ISPs do not need to know what the customer does (and even if they do know, it doesn't make them liable – as long as there is no ACTIVE cooperation in the activity). all ISPs need to know is 'did the customer pay the bill and if so for how long in advance'. what we have witnessed thursday is nothing but intimidation, amtsmissbrauch and censorship. also slander. all ISPs are perfectly free to take -anyone's money- wether the client in question is the silk road or osama bin laden, and any ISP god damn should. fuck any regime that tries to censor shit. welcome to the free world you fucks…

Sven Olaf Von Kamphuis, aka "CB3ROB"
Among over 200 servers, documents, cellphones, disks and cash seized were the following two Internet domain names, Zyztm.com and Cb3rob.org.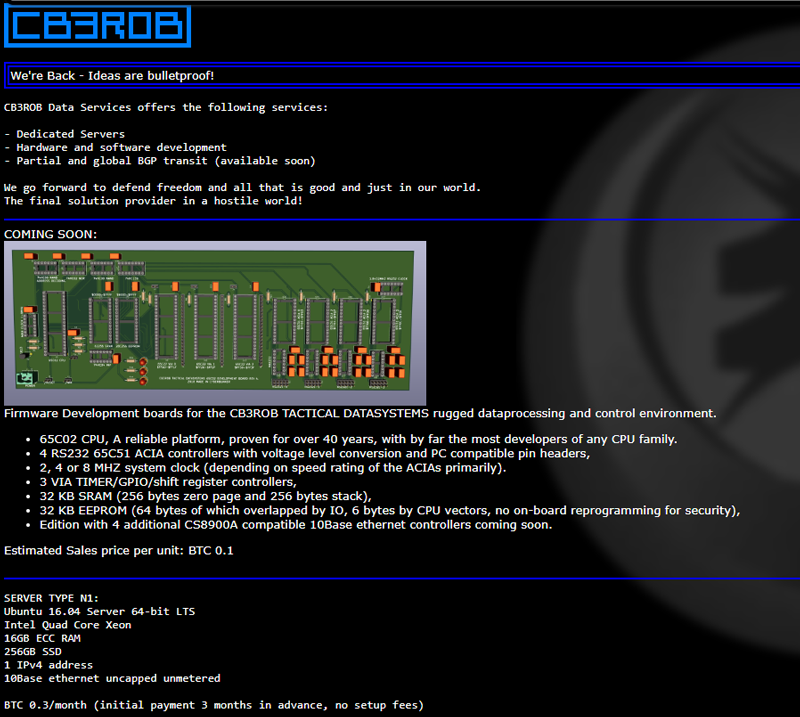 According to a prosecutor Juergen Bauer, more people are currently under investigation. German authorities say the servers were used to host child pornography, cybercrime, and the sale of illegal drugs.
According to Sarah Coble of Info Security Magazine, which spoke to Regional criminal police chief Johannes Kunz, authorities will have to prove the suspects arrested were aware of the illegal activity of the hosted sites which could take years of evaluating the data seized.