NEW YORK – A long-time battle to remove Backpage.com from the Internet has ended with the indictments of ownership and government seizure of its domain Backpage.com, which hosted a popular online classifieds site similar to Craigslist which allegedly was used heavily by escorts and massage providers far-bending the envelope between casual encounters, prostitution and human trafficking, according to investigators.
Since 2010, Backpage.com has come under fire for its alleged facilitation and conspiracy with its users and posters of online ads which were said to be used to setup meetings with underage victims forced into prostitution.
Indictments charge its operators with being complicit in the crimes committed through the site by offering 'work-arounds' to its users in-order to deter law enforcement by not using certain words in ads, often even editing the ads, to prevent criminality, and in some instances even training users to utilize alternative payment methods such as Bitcoin in addition to visiting cloned websites setup overseas specifically to complete payments after US credit card processors discontinued to service the site in recent years.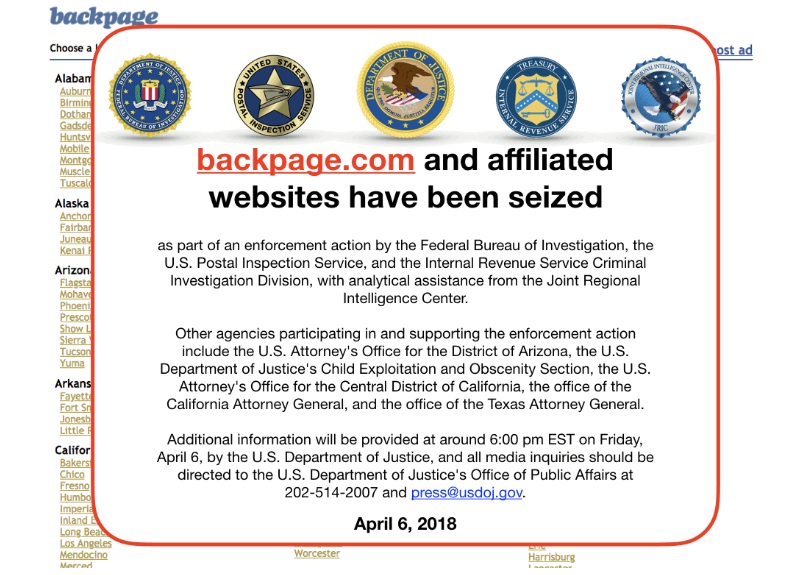 The site has been long protected by the Communications Decency Act of 1996, which prevents website operators from liability from its users so-long as they are not the 'publishers' or 'providers' of information which violates state or federal law. However, changes to this law by amendments from the "Stop Enabling Online Sex Trafficking Act" which were implemented last month in March shift liability specifically to 'the service itself' if and when sites are found to assist or support sex trafficking.
Craigslist, the leading online classifieds site in the world, swiftly addressed the changes in law by taking no chances and completely removing its personals section leaving only the following message to visitors of the section.
"US Congress just passed HR 1865, "FOSTA", seeking to subject websites to criminal and civil liability when third parties (users) misuse online personals unlawfully. Any tool or service can be misused. We can't take such risk without jeopardizing all our other services, so we are regretfully taking craigslist personals offline. Hopefully we can bring them back some day. To the millions of spouses, partners, and couples who met through craigslist, we wish you every happiness!".