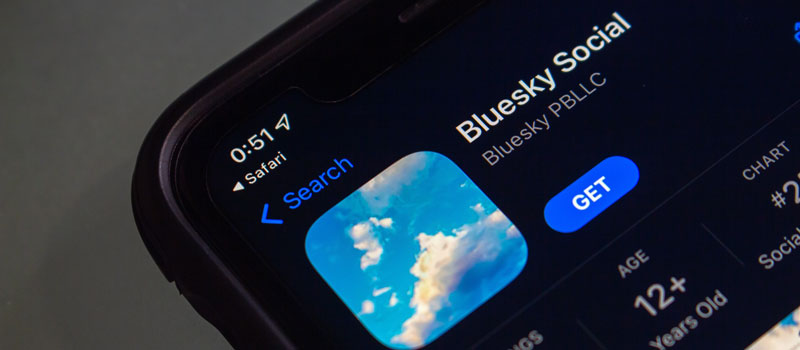 SEATTLE, WA – In the shadow of the impending launch of Meta's new Twitter competitor, Threads, another rival of the microblogging social media platform – Bluesky – announced on Wednesday that it has acquired $8 million in new funding in addition to implementing a new change to their business model- selling custom domains in a bid to keep the service ad-free for its user base.
In a blog post, Bluesky noted that they had raised additional seed funding following its conversion from a public benefit LLC to a public benefit C Corp this summer; they also revealed that they will be offering a new paid service that will provide custom domains for their customers who want to use them as their screennames on the social media platform.
The custom domains are being offered in partnership with the popular domain registrar Namecheap, according to the Bluesky announcement, and can reportedly be purchased, set up, and linked with a user's account within minutes.
The new $8 million in funding was acquired from a variety of investors, including tech firm Neo, Kubernetes co-creator Joe Beda, Bob Young of Red Hat, Amjad Masad of Replit, Amir Shevat, Heather Meeker, Jeromy Johnson, Automattic, Protocol Labs, Sarah Drasner, Katelyn Donnelly, Ali Evans, Stav Erez, Kris Nóva, Brad Fitzpatrick, Abdul Ly, and others. 
The new funding will be used to hire more members to add to Bluesky staff, as well as paying for operation and infrastructure costs and continued development and growth of the Bluesky app.
The news comes as Bluesky faces a plethora of competition in what is becoming a crowded microblogging internet landscape; in addition to Twitter and the impending release of Threads, the Jack Dorsey-backed venture also has to content with Mastodon, another popular up-and-coming app.
In order to help generate revenue to complement the new funding they have received, Bluesky is mulling over several different strategies and services – in addition to the aforementioned new custom domain sales – "to see what provides real value to our users and will continue to share what we learn as we build a sustainable social network," according to Wednesday's blog post.