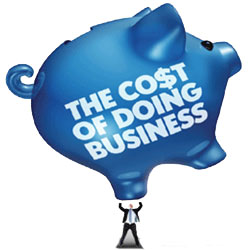 PALM BEACH – Get ready for a whole new batch of opportunity to boost your entrepreneurial spirits as you're not going to be able to contain your excitement – or keep your wallet in your pocket when I tell you about this new exciting development just announced today by the .INC domain registry.
Businesses across the Globe can now increase the cost of doing business by a whopping $2,000 per year simply by registering a new .INC domain name for their business. That's right, starting today you can register a domain name ending in .inc to show consumers that you're open and mean business; but don't take it from me, just read what the registry had to say about it in today's email announcement about the opening up of "General Availability."
Businesses across the globe, whether trademarked or not, can purchase .inc domains at our standard MSRP of $1,999 today. Show the world you mean business with a .inc domain. Get 1-2 character domains and valuable keywords on a first-come, first-served basis.
Businesses can go further by registering multiple domains; two, three, even five domains – thereby increasing their costs exponentially, building multiple yearly financial contract renewal obligations for those who desire to do so. Costs can be offset with member benefits from multiple companies participating in the launch, according to the announcement sent via email.
With every .inc domain purchase you gain access to over $2,500 in free member benefits from industry-leading brands like WeWork, LegalZoom, GlobeNewswire, Square, INC. Magazine, Google Ads and Delta Air Lines. More than a domain ending – .inc is a business solution.
According to the registries website, over 20% of Forbes "Most Valuable Brands" have already purchased their corresponding .inc domains to match their brand. Register yours today at these participating retailers:
https://get.inc/retailers