PALM BEACH, FL – The Internet Commerce Association, or known industry wide simply as "The ICA", a Washington, DC based non-profit trade organization that represents the interests of domain name investors and developers, has released the list of nominees for the 2020 "Lonnie Borck Memorial Award."
The nine nominees cover a wide array of domain community members ranging from domain attorneys to industry bloggers and conference organizers. The ICA Board will select the recipient of the Award from three finalists chosen from members of the organization and has dispatched its poll to membership. This is the first year where the three finalists will be determined by ICA members.
The Lonnie Borck Memorial Award will be presented at NamesCon Global in January of 2020.
And the Nominees Are:
Who Was Lonnie Borck?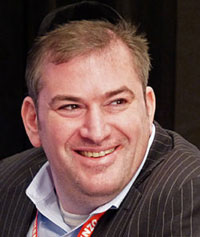 Lonnie Borck, who was the Baltimore based President of B52 Media, unexpectedly passed away in his sleep on October 22, 2016, leaving behind his wife, Ronit and 5 children. He was just 47 years old; his death was determined to be a heart attack. In his personal life Borck was widely known as a faithful and devoted Orthodox Jew who prioritized his faith in all he did always putting his faith and family first. In his professional life he was known not only as a serial entrepreneur, but an expert domain name investor and businessman, but most importantly, he was known as a man with a "loving spirit – the kind of person we need the most in this world", said by Ron Jackson in a memorial news story of his passing.
There is much more background info on Lonnie here: https://www.baltimorejewishlife.com/news/news-detail.php?SECTION_ID=1&ARTICLE_ID=80528
The Lonnie Borck Memorial Award was originally conceived to honor those whose work has protected the rights of domain name registrants. The industry coveted Award now recognizes the recipient for his or her contributions to the domain name community.