NEW YORK, NY – Canon Inc., a multinational corporation headquartered in Japan, is one of hundreds of global corporations which have applied to operate their very own domain extension on the Internet. These new web addresses, specifically, this one, .cannon, will serve as one of potentially several official sites for the Corporation for ensuring users are on the actual Cannon site as it is an internet address only Cannon will be permitted to use. Other more common addresses people typically expect end in .com, .net, and/or .org – those already well saturated in the minds of web surfers for years.
But could this attempt to legitimize the source of information with this new "official" web address only backfire and create more confusion among users as to where they ought to be in order to receive reliable, authentic, and/or trusted information about the company, which manufactures cameras, camcorders, photocopiers, printers, etc.
Thus far, the company launched a page to inform visitors about this new name and why it even exists to begin with. Maybe they read Elliot Silvers' post entitled "How Brands Should Market Their .Brand Domain Names" just before launching this new informative page. After all, that checklist actually included a recommendation to provide "Written instructions to ensure people know how to get to the domain name."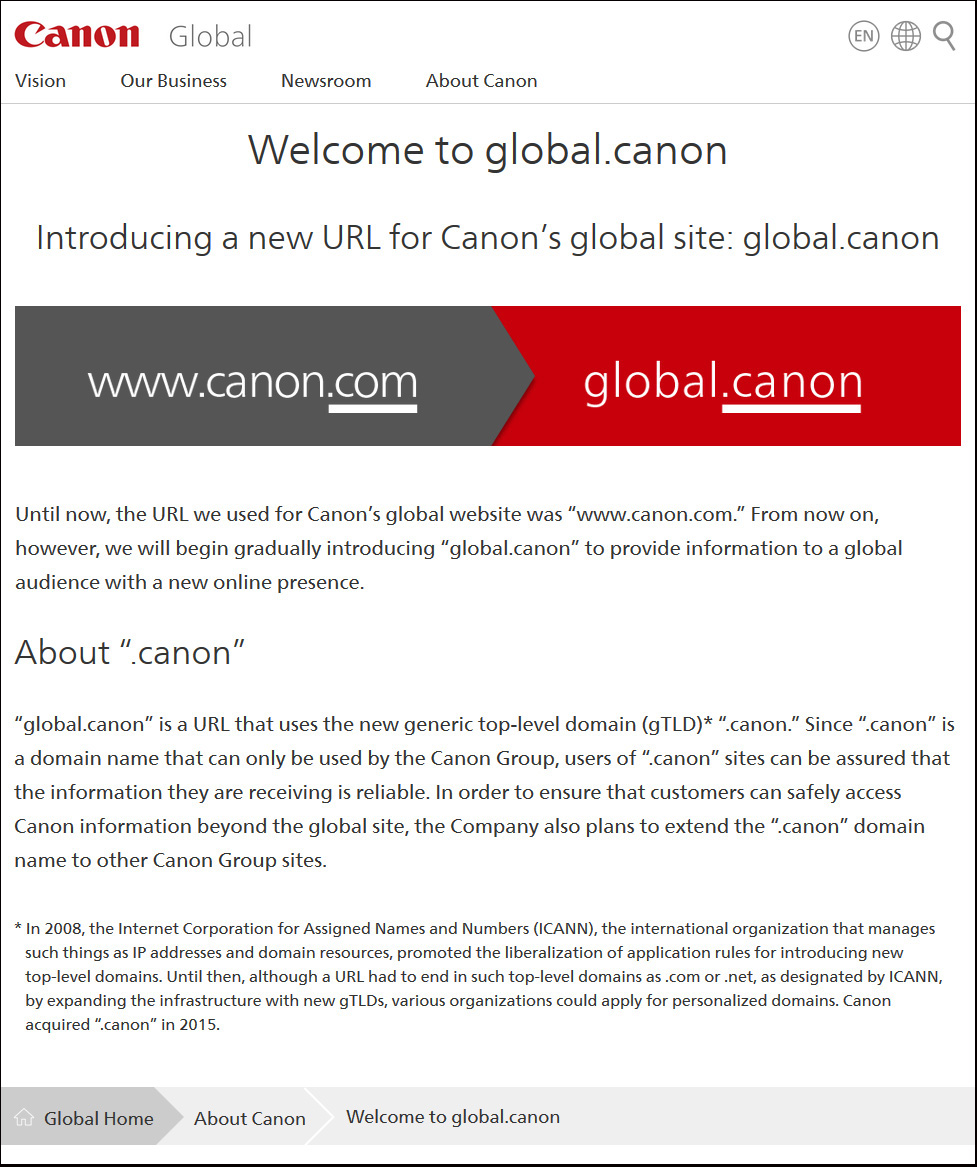 The page goes on to discuss the "liberalization" of domain name extensions by ICANN (The Internet Corporation For Assigned Names and Numbers), which prompted me to research this so-called "liberalization" leading to an article from years ago; appears to be 2009 – when the beginning information began to leak about the upcoming changes to internet URL extensions.
Here is a statement by Daniel Scocco (back in 2009) that sounds right-on-the-money:
I believe that the liberalization of domain extensions was a bad move by ICAAN. It will add a great deal of confusion on the web, as the end user won't know what extension means what. If I am not wrong companies interested in having their own extension will need to pay over $100,000 in fees, and this could have been the motivation for the whole thing.

After a while, though, I believe people will head back to the established extensions. Inside the mess of .nyc, .porn, .microsoft and .toys, people will just type .com or .org, because they know those will work. Interestingly enough, the liberalization of top level extensions could strengthen the .com majesty.

And this point raises the following question: would a company be better off spending $100,000 to buy its own extension or spending the same $100,000 to buy a premium one-word domain with a .com extension? I would take the latter any day.
Looks like back then Scocco was under the impression that it would be $100K but it's actually $185K plus a $24K yearly maintenance fee.Yea, that idea of purchasing your very own category-killer looks like a much better investment, at least you won't have to pay a quarter-of-a-million every ten years just to hold onto the same web name.
More interesting is the comments, on the page, 23 in all, none of which support the endeavor in a positive light (well actually one does) – and these are mostly just regular Internet users (and one obvious domainer). The comments are now closed but you can read them all here. Again, just a single commentator liked the idea, out of 23. Here is a sampling of the types of comments you'll see. (If for nothing else, some are a good laugh)
I agree with Acia. It becomes really hard to remember the domain keyword as well as the extension. I think they already have too many that are useless like .travel or .jobs – Tehseen June 16, 2009 2:32 pm
R they serious about liberalization???? How are we supposed to remember all extension when we confuse with these available few. – Vikason June 17, 2009 2:20 pm
I think this will be very confusing. I mean, I don't want to sit in front of my computer trying to find the correct website. Why don't we just stick with the common domain extensions? – Courtland
The corporate site's web address explanation page closes by letting users know that it will be introducing more global .cannon sites as time goes on so there should be more of these new .cannon sites coming soon – but just trying to find the site as it is now creates several different options for me listed on the first page of Google to choose from such as usa.canon.com, shop.usa.canon.com, canon-europe.com and now cannon. global.
I don't know about you, but I'm already getting confused. However, this is what's good about publishing websites on the Internet verses newspapers, it's never too late to make a change, and they can always just quit now and put it back.