SAN FRANCISCO, CA – Back in July of this year, Google abruptly announced that it would be ending its Google Domains service after nearly 10 years and would be selling the business and all of its assets to Squarespace, a New York-based website building and hosting company. This month, as the transition from one company to another continues, the soon-to-be-shuttered Google Domains quietly revealed that it has ceased the sale of any new domains going forward.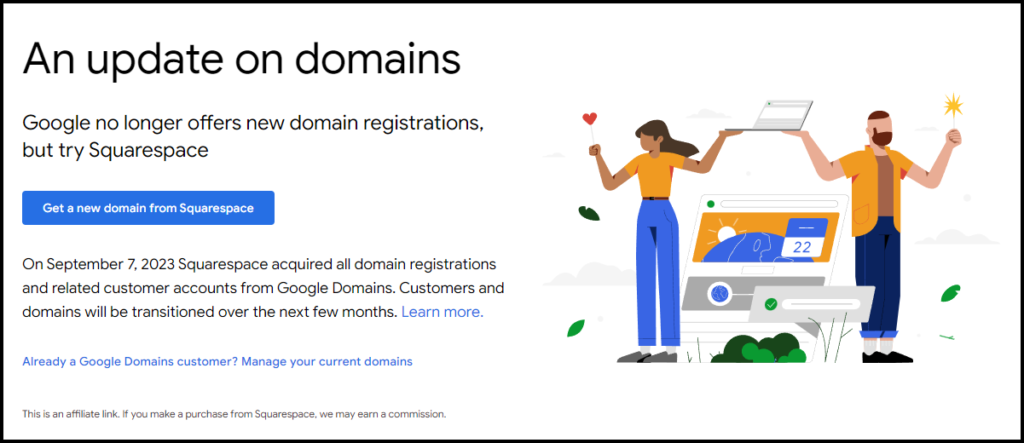 Google announced the change on their Domains website, although oddly enough the declaration only appears when users are either signed out of their accounts or using their browser's Incognito mode; reports indicate that Google never sent out any emails communicating the cessation of domain sales.  
In addition, the website features an affiliate link that takes users interested in purchasing a domain directly to Squarespace.
The message on the Google Domains website reads as follows:
On September 7, 2023 Squarespace acquired all domain registrations and related customer accounts from Google Domains. Customers and domains will be transitioned over the next few months."
Currently, Squarespace is selling domains with a starting price of $12 per year, which is the same price that Google had previously charged for what were considered "average" domains.
Currently, existing users are still able to utilize domains.google.com to manage the domains that they have purchased. All existing controls are still accessible, but customers are no longer able to add any new domains to their portfolios. The library of domains of Google's existing customers now features a notice at the top informing them that Squarespace is the registrar of record for their domain and that Google will manage their domain during the transition.
Squarespace's acquisition of Google Domains and all of its assets – which includes approximately 10 million domains that are owned by millions of customers – was finalized on September 7.