NEW YORK, NY – If ever you considered getting that "big name" in a .com extension, there may never be a better time than right now. The domain auctions are, for the most part, a 'wholesale market', so most people expect auction prices to be, well – better than average. However, most would not expect the "super–great" deals we all saw at NamesCon this year (2018), which were potentially better than any year past. And talk about "Great"… its .com version (Great.com) sold for $900,000.00 from a floor bid. Despite some sporadic chatter in the blogosphere of it not panning out, auction pioneer, Monte Cahn says "it's a done deal".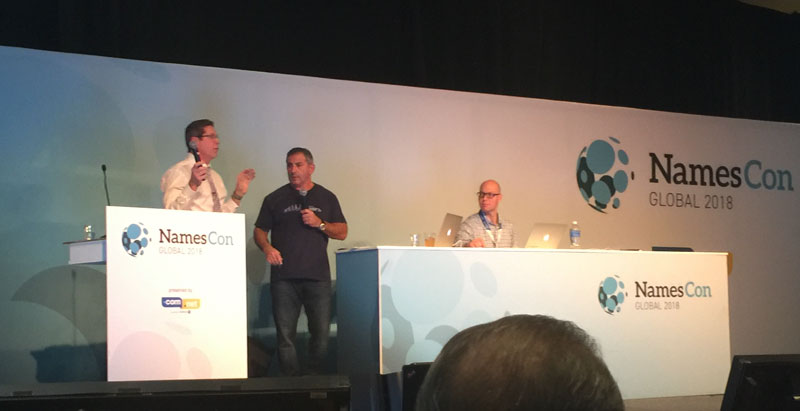 The scene at NamesCon 2018. World Famous Auctioneer Wayne Wheat (left), live auction pioneer Monte Cahn, from RightofTheDot (center) and NameJet's Jonathan Tenenbaum administer the live auction at the Tropicana in Las Vegas, Tuesday, January 30th,2018.
But aside from that big sale, things seemed kind-of-quite this year, with more than a few three character .com domain names such as IMK.com ($23,000.00) that were sold at what seemed to be record pricing accompanied by a fairly quiet floor audience. MVC.COM was another three character which sold for $28,000, BOJ.COM for $35,000 – while others (such as ROI.com, IBF.COM and SCU.COM were passed on. The dynamite name PayPerClick.com (which represents a super-lucrative business) sold for just $100,000.00.
I will sum up the entire live auction in this clip below where World Famous Auctioneer Wayne Wheat begins to question the crowd and states "Three Letter Name Guys, What's Going on Here?" check it out below.
Many names did not garner high-enough bids and they were moved to the online auction which will continue until February 8, 2018. If you are a .com seller, it's looking more and more like a good time to sit on your names and let the market bounce back. However, if you are a buyer, I would begin looking to hone-in and strike for some deals you may have expected would be too good to be true in years past. I've always felt that I am a good reader of expression, and many there, myself included, were shocked at the deals to be had.
Congratulations to all the winners and sellers.
A list of prices for the domains sold in the live auction is online at NamesPros posted by user Ategy.com