PALM BEACH, NY – In April 2011, a south Sweden based company called "Xcerion" changed the name of its cloud file hosting service to "CloudMe" and registered a U.S. federal trademark for the same moniker.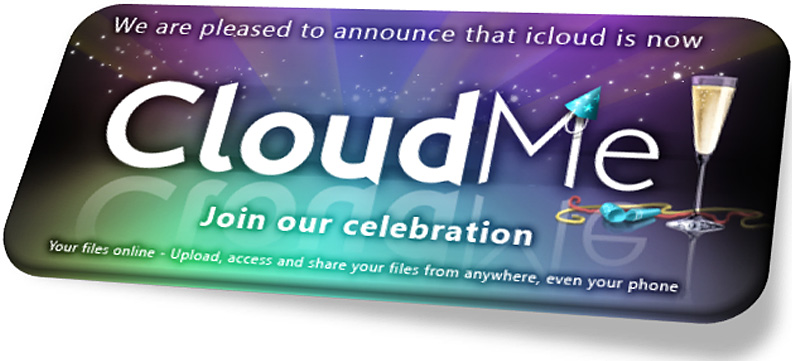 The company had purchased the domain name "CloudMe.com" just three to four weeks earlier; the service had been previously known as "ICloud" and had been operating on the Internet domain "icloud.com" holding a corresponding registered trademark for the term "ICLOUD" which it filed years earlier in 2008.
From the outside looking in (at the time), there seemed to be very little reason to abandon the name, and so quickly – but when speculation began to grow that Apple was about to launch a new Cloud hosting solution, some believed it was more than just a coincidence. Soon after, word began to leak from several "unnamed industry sources" that Apple purchased the domain name and planned to launch a subscription-based music service.
At the time, Apple also used "imac.com", "itunes.com", "ipod.com" and "iphone.com" – "icloud.com" would have been a perfect fit for such a cloud related service.
According to an online periodical called GigaOm, now available only through the Internet Archive, and which at the time ran a blog called the "Apple Blog" Om Malik wrote:
My source, who is familiar with the company, says that Xcerion has sold the domain to Apple for about $4.5 million. Xcerion hasn't responded to my queries as yet. At the time of writing, the Whois database showed Xcerion as the owner of iCloud."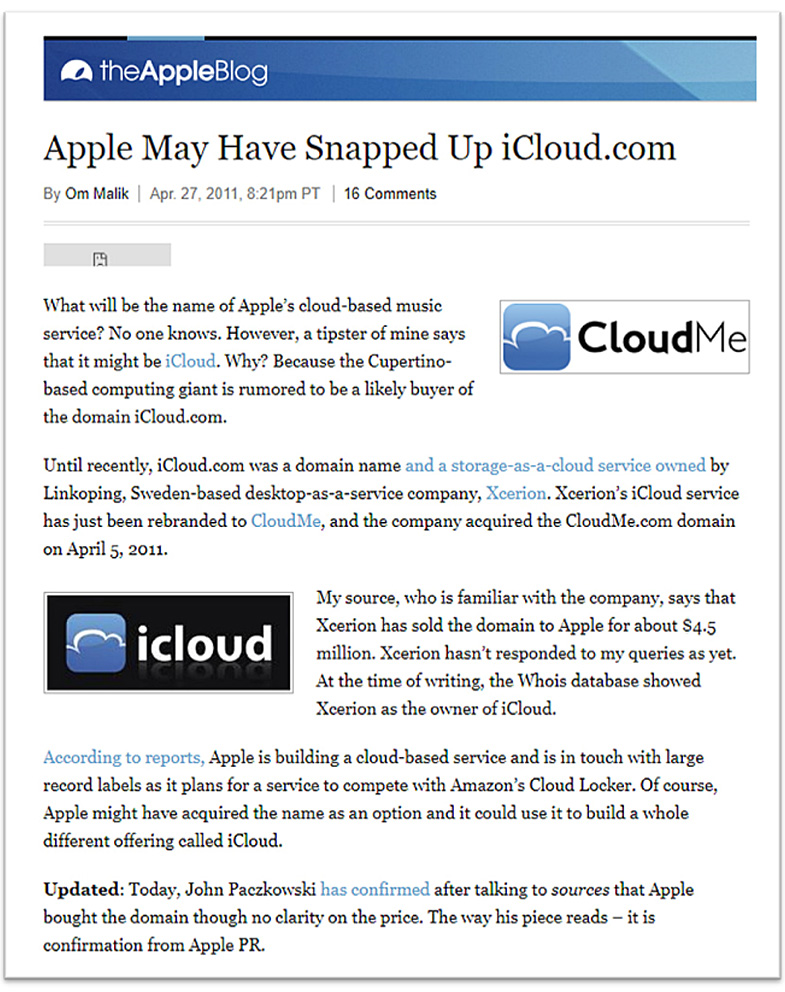 Other publications such as "AllThingsD.com", a site ran by the Dow Jones & Company, said the deal itself was corroborated by what then Wall Street Journal reporter John Paczkowski called "Sources in position to know" although the price remained completely speculative:
Apple has indeed acquired the domain name iCloud.com from Sweden-based hybrid cloud computing outfit Xcerion. Sources in position to know confirm that Apple bought the domain as GigaOm first reported Thursday, though they declined to say whether its rumored $4.5 million price tag was accurate."
Neither Apple or Xcerion ever disclosed publicly what the exact sale price was, and both were hammered for details by numerous journalists, yet due to what was likely confidentiality agreements, the price remained undisclosed. However, in 2016, it was revealed by BreakIt, a Swedish news service, that according to the company's annual report "47 million Kroner ($5.2 million)" was attributed to "sales of domains" which the company called, "the absolute majority" of its net sales that year.
For Daniel Arthursson who sold the iCloud domain to Apple, his cloud company had reached 1.5 million users within a few years of the sale. Today 47,000,000 Swedish Krona equals 4,949,947.41 United States Dollars.
Would you have renamed your software business for a cool $5.2 million?