NEW YORK, NY – As most of you have already heard, DNForum.com, has been purchased by domain name enthusiasts George Verdugo and Kevin Faler. The two now have their work cut out for them as they begin to rebrand the forum, once again, as "The Place to Talk Domains". But they have got competition – fierce competition as there are many other domain forums out there, one of which is the extremely popular NamePros.com.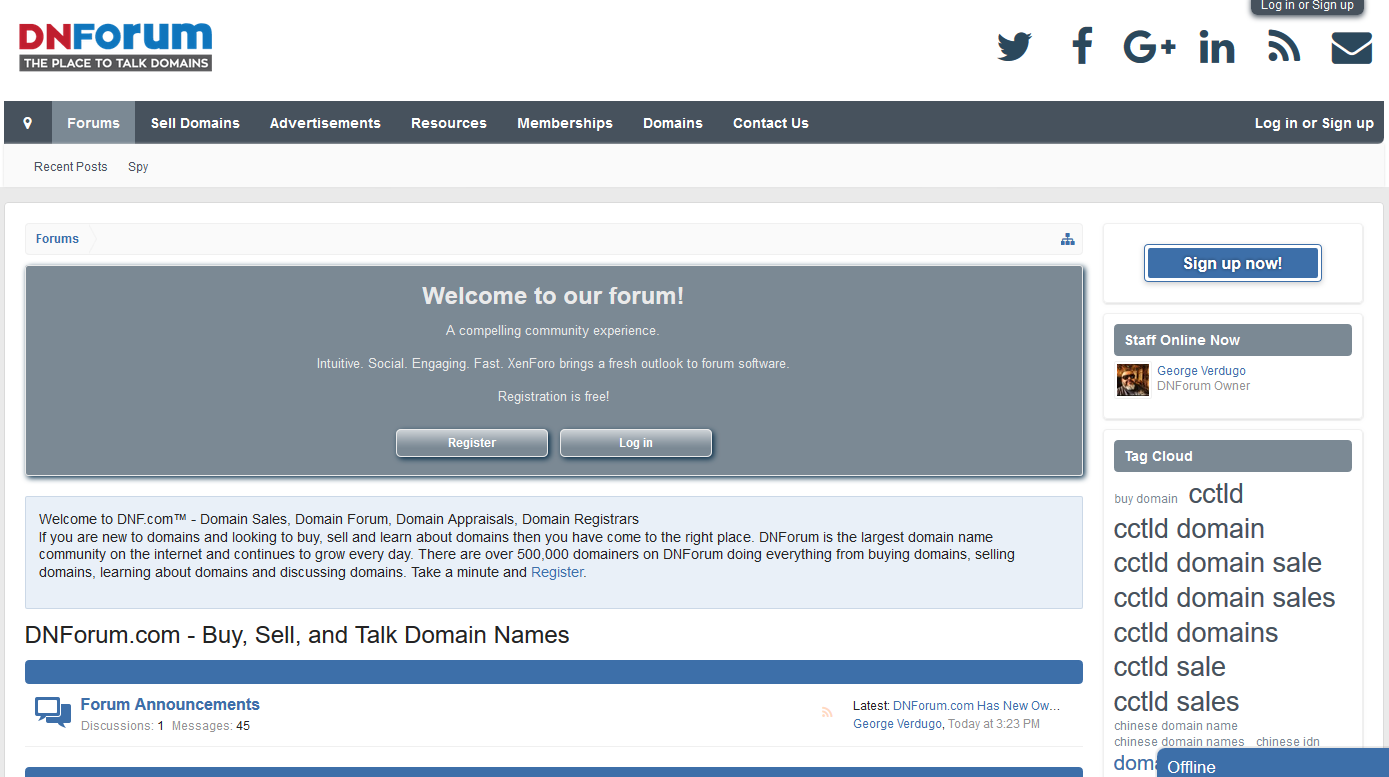 I ran into George at NamesCon and one of the first things I said to him was "Congratulations on the acquisition". The second? You guessed it. "Does the former owner have anything to do with the business now?" – George assured me that, the former owner, Adam Dicker, does not. George said  Adam has "Nothing to do with it". It is just himself and his partner Kevin.
I'd like to mention that I do not know Adam Dicker any more than any other forum member did and I do not want to get into any of the issues which have brought the forum down to begin with, (there seems to be hundreds of issues – some still open and unresolved). All I would like to say is that thank God I wasn't involved in any of it, as the issues were serious enough to hurt many people (allegedly), destroy the sites reputation and close it down completely (February 2016) for some time. It returned later (Back in May 2016) and then died again (December 2016).
 I had wondered why no-one had purchased it yet.
Now, with it relaunched, its new owners have to look at what has and has-not historically affected brands over time.
Here is why I think the forum has a great chance at beating-the-odds of many domainer comments that it is "forever dead" and "un-revivable".
Most of the members who were affected by whatever scams there were going on by its past owner will probably never return, BUT, that number is likely minuscule to the amount of total members which remain in the database.
Many members have paid for membership on the site and were frustrated when the site closed. A number of these members will return, because they paid for the rights to be there with whatever features were included in the membership.
Members of the site are domainers and domainers want to buy and sell domains. They're addicts. They will gravitate to where the audience and the eyeballs are regardless of what may or may not have happened in the past. Especially those who had no first-hand experience in the past negativity. If the site becomes busy again, little else will matter. (Look at DigitalPoint with over 800,000 members, you practically get robbed just logging on [IMO] and the site is busier than ever.)
Additionally, here is another historic reason to consider:
Time + Good Public Relations Heal
Now, keep in mind that I know these are major brand examples below, with near limitless resources, but we're talking about brand recovery, and is it possible to recover? The answer is yes.

A textbook case of dealing with brand crisis can be examined by looking at Johnson & Johnson's 1982 recall of its best-selling Tylenol painkiller after SEVEN PEOPLE DIED from cyanide-laced capsules. PBS refers to it as the Tylenol Murders while Time Magazine the Tylenol Poisonings. Today, Johnson and Johnson have successfully restored the Tylenol brand image as a respected pain medication. About 50 million Americans use it at least once per week.
In the year 2000 word got out that Firestone tire failures had caused THO HUNDRED AND SEVENTY ONE DEATHS. You might remember SUVs, in particular, the popular Ford Explorer, was the most heavily affected, in yet another Firestone Tire deficiency which also caused Ford SUV use to slightly decline. Today, Firestone Tires continue to be sold worldwide and the name has spun off into several different divisions such as "Firestone Racing" and "Firestone Complete Auto Care".
Taco Bell restaurants has been implicated in hundreds of cases over the past two decades including multiple different public health investigations such as a Hepatitis outbreak (Hepatitis A Green Onion Outbreak – 2000), a Salmonella outbreak (Salmonella Outbreak – 2010) and an E. coli (E. coli Lettuce Outbreak – 2006). Some of the victims even had kidney failure as a result. Today, Taco Bell serves more than 2 billion customers each year in 7,000 restaurants; revenue is near 2 billion and it has over 175,000 employees.
Again, the above examples of branding recoveries are from major brands and do not necessarily compare to a niche website forum, but they are indeed examples that people could be severely hurt and/or even be killed, (in high numbers no less) from a brand and that brand can still recover.
So in my opinion, I feel the purchase of DNForum.com was a good one. I would suggest that George and Kevin read up on as much brand recovery stories as possible as they begin to re-brand and strategize on how to build back the forums good name with not only long time domainers, but new users as well. I'd figure spending about 50-75% of its income over the next year on just that. I wish them luck with it; building a brand is not easy, and I am sure re-branding one isn't any easier, but its better, in my opinion, then starting from scratch.
Overall its hard building a name in any business niche, and DNForum.com already has one, albeit, a bad name, but if you ask any public relations expert, they will tell you sometimes bad press is good press.
"Evidently this boils down to increased awareness: The mere act of introducing something to a broader public — even by saying that it stinks — increases the chances that more members of that public will want it anyway," the Times said.