PALM BEACH, FL – Over fifteen years ago I founded my business as your average hopeful entrepreneur and created it without any startup capital at all. I didn't even really have any experience in the market I was entering but I was determined. Within the businesses first few years I was able to grow the business mostly on my credit cards which helped me put in place the foundation, processes and systems that were required to get the business off the ground. At some point within that first ten years I finally qualified for a real deal business loan, after being denied by the Small Business Administration.

My first loan was a term loan for $70,000.00 which I paid back over 36 months. I also qualified for a business line of credit in the amount of $15,000.00 which I still have available for withdrawals today. I don't use the line of credit anymore even though it is there and available, but there were times where the line of credit was extremely helpful when I needed it. Funds where able be moved from the line of credit account into my bank account immediately (upon login and selection of the amount I needed) and weekly payments where automatically withdrawn from my business checking account. I can't tell you how many times this came in handy.
If your business has been operating for at least a year and is, in general, a healthy business which shows a potential likelihood for sustainability or even growth, you may qualify for a small business loan up to as much as "$500,000.00" (paid back over 3 – 36 months) or a line of credit for up to "$100,000.00" (paid back over 6 – 12 months).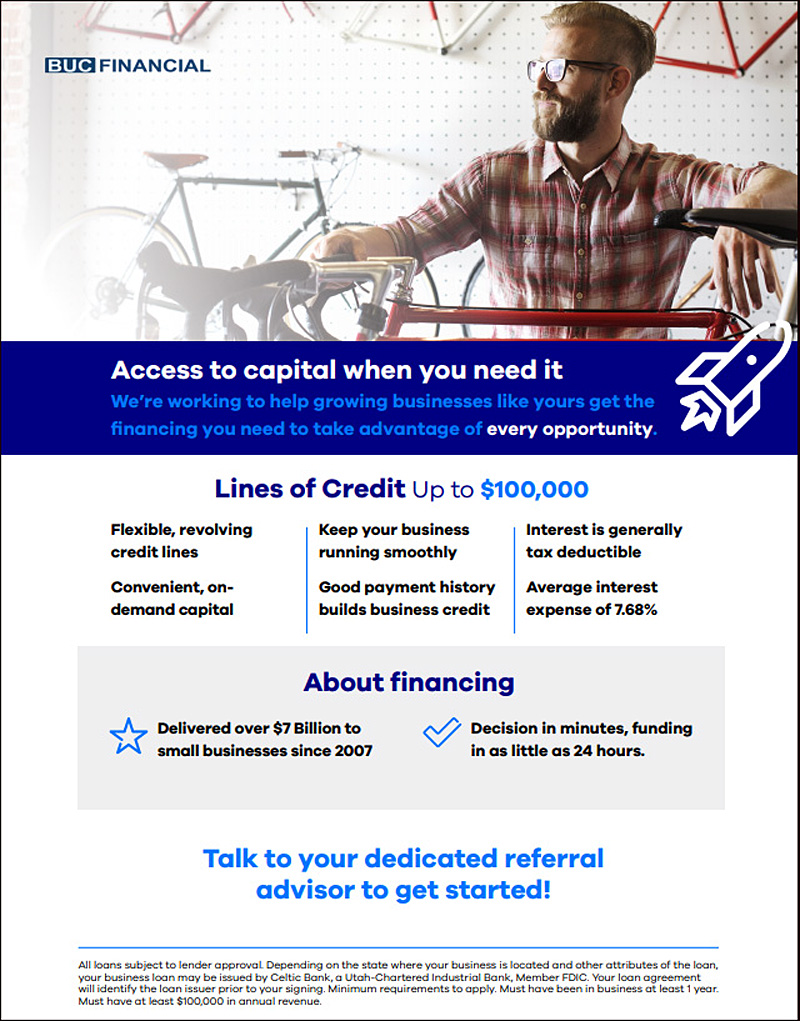 The majority of businesses which are approved for these types of loans usually have:
A minimum of $1,000.00 in their business checking account at all times.
A minimum of 1 year in business.
An owner of the company with at least a 500 FICO score (decent).
No bankruptcy or foreclosures filed in at least the last two years.
The business brought in at least $8,500.00 in the last 90 days.
These types of loans are generally expected to be used for the following:
Acquire an existing business or competitor.
Purchase inventory.
Invest in new technology or equipment.
Expand or renovate facilities.
Advertise to increase sales and traffic.
Hire new staff.
Support day to day operations.
Meet short term obligations.
Pay taxes.
Handle unexpected expenses.
Businesses that will be, in most cases, immediately declined for financing are the following:
Adult entertainment and materials.
Drug dispensaries.
Firearms vendors.
Government, non-profits, or public administration.
Horoscope and fortune telling businesses.
Lotteries, casinos, raffles, gaming and gambling businesses.
Money services businesses.
Religious or civic organizations.
Rooming and boarding houses.
Businesses that are ideal for this type of small business financing are the following:
Administrative Management and General Management Consulting Services
All Other Miscellaneous Store Retailers
Automotive Parts and Accessories Stores
Automotive Body, Paint, and Interior Repair and Contractors Maintenance
Beauty Salons
Beer, Wine, and Liquor Stores
Caterers
Child Day Care Services
Chiropractors Offices
Commercial Screen Printing
Computer Systems Design Services
Cosmetics, Beauty Supplies, and Perfume Stores
Custom Computer Programming Services
Dentist Offices
Drinking Places (Alcoholic Beverages)
Dry-cleaning and Laundry Services (except Coin-Operated)
Electrical Contractors and Other Wiring Installation Contractors
Electronics Stores
Fitness Recreational Sports Centers
Flooring Contractors
Full-Service Restaurants
Furniture Stores
Gasoline Stations with Convenience Stores
General Automotive Repair
General Freight Trucking, Truck loading
Gift, Novelty, and Souvenir Stores
Home Health Care Services
Janitorial Services
Jewelry Stores
Landscaping Services
Limited-Service Restaurants
Marketing Consulting Services
Nail Salons
Offices of Physicians (except Mental Health Specialists)
Other Clothing Stores
Other Personal Care Services
Other Specialty Trade Contractors
Painting and Wall Covering Contractors
Pet Care (except Veterinary) Services
Physical, Occupational and Speech Therapists and Audiologists
Plumbing, Heating, and Air-Conditioning Contractors
Residential Remodeler
Roofing Contractors
Snack and Nonalcoholic Beverage Bars
Software Publishers
Sporting Goods Stores
Sports and Recreational Instruction
Supermarkets and Other Grocery (except Convenience) Stores
Tobacco Stores
Women's Clothing Stores
I have now partnered up with the company that gave me both of these loan types and am referring businesses to them in exchange for a commission on the loans. If you are in need of one of these loans for your established business, you can visit my website which I created specifically for these referrals at Business Union Capital or BUC Financial.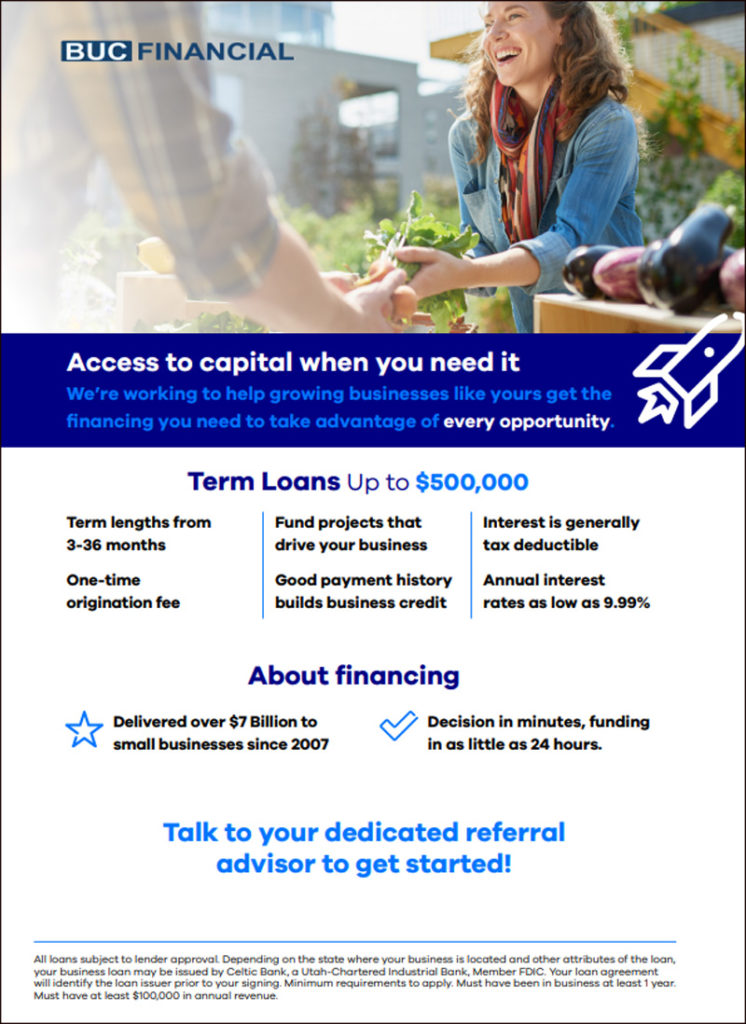 To qualify for one of these loans it depends not only on the business owners credit worthiness but also on the sales volume of the business.
Businesses which wish to see if they qualify need to provide:
The owners name (first and last),
The owner's email and best phone number
The company name and company phone number
The number of years in business
The monthly sales volume,
Three recent bank statements.
I am also creating a referral program that will pay out 2% of the amount of the loan to the referrer, so even if you do not need a loan, if you know someone who meets the basic qualifications you could refer that person for a 2% commission of their approved loan amount. Feel free to contact me if you have a referral you would like someone from my team to contact.