PALM BEACH – A multi-million-dollar domain portfolio owner has given some personal advice on domain name parking, and it's not good. If you had not yet heard, Brent Oxley, the guy behind the creation of one of the largest and most successful [in my opinion] web hosting providers, HostGator.com, has recently put his entire and very extensive domain portfolio up for sale using the platform, Efty.com.
What I found most interesting, more than his unique and super high-quality list of domains, is his personal experience with the domain monetization process through domain name parking; according to Oxley, it's just not worth it anymore, saying that even with his extensive list of over 100 super high quality domain names, his earnings were just $28 a day.
Where does that leave the average, or even slightly above average domainer when it comes to domain name parking?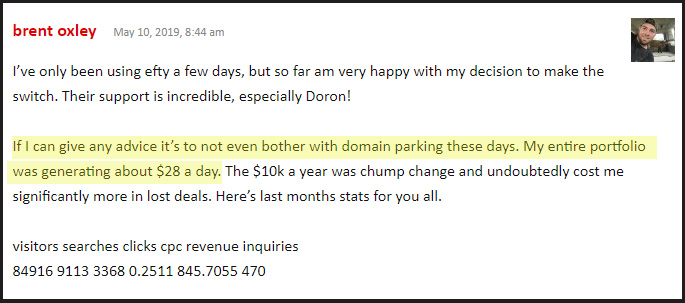 This isn't just any advice.
This is the advice of a guy who knows premium domain names; a guy who built a massive Internet company and sold it for $300,000,000 US; a guy who holds a domain name portfolio which is likely worth well in excess of the conservative $25,000,000 range suggested.
To view the extensive list of domain names which were collectively earning this $28 per day, you can see the entire list or even make an offer, at https://oxley.com/search/