WASHINGTON, D.C. – A website that was online only a few days published the identities, including email and home addresses of various Republican and Democratic leaders as well as related employees of people the site claimed are responsible for "aiding and abetting the fraudulent election" against President Trump.

The site, which has now disappeared, listed the personal details, including maps to the homes as well as headshots of the individuals inside crosshairs with an accompanying description of their alleged involvement in what remains a fictitious scheme to defraud Americans through voter fraud.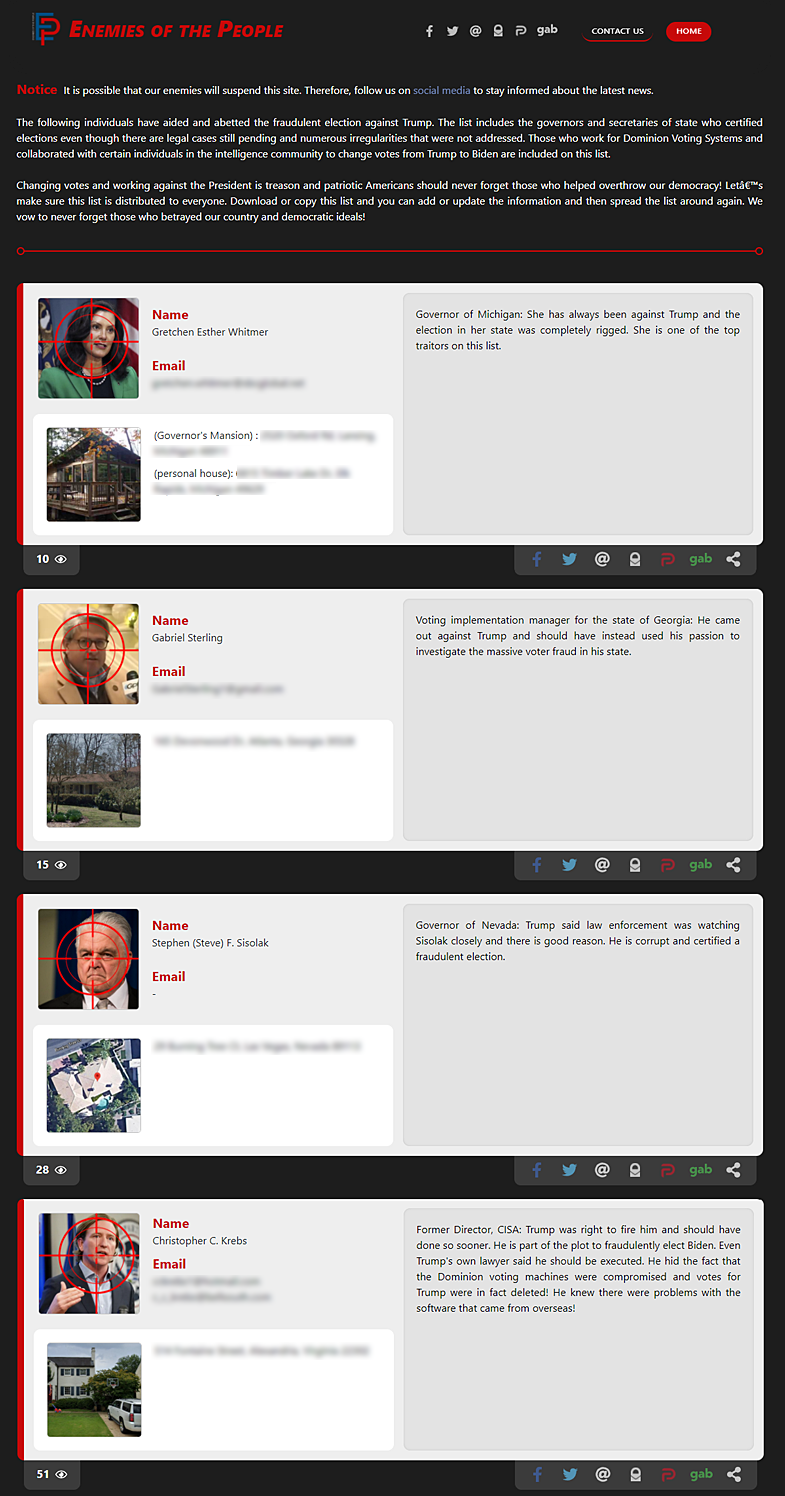 Included in the list, along with a contact form to provide information on any "new targets" were Gretchen Whitmer, Governor of Michigan, Gabriel Sterling, Voting Implementation Manager in Georgia, Stephen Sisolak, Governor of Nevada, Chris Krebs, Former Director CISA, Douglas Ducey Jr., Governor of Arizona, Geoffrey Duncan, Lieutenant Governor of Georgia, Nick Mantzios, Dominion employee, Nicole Nollette, customer service manager for Dominion, Stephen Owens, Managing Director, Staple Street Capital, Christopher Wray, Director, FBI, Douglas La Follette, Wisconsin Secretary of State, Kathleen Hobbs, Secretary of State of Arizona, Brian Kemp, Governor of Georgia, and Brad Raffensperger, Georgia Secretary of State.
According to a spokesperson for the Federal Bureau of Investigation who spoke with The Daily Beast, the FBI is aware of the matter, but declined to comment further.
Joe Slowik, a senior security researcher at DomainTools, a domain name data company, believes the now defunct site "enemiesofthepeople.org" was registered by individuals using the Russian email service Yandex, and the website's IP servers were hosted in Russia, however, a threat intelligence researcher at ThreatConnect said that "publicly available information was insufficient to attribute the website to any foreign actor."
The site stated that its enemies would likely cause the site to go down and to follow updates on social media but those profiles are also wiped clean.