PALM BEACH, FL – Not that the name needed it, but when an auction for a web address is featured in the New York Times, you can rest assured that it is a pretty desirable name. That's what happened last month when "Democracy.com" went up for sale in a "sealed auction" where none of the bidders would see the dollar amount of other participating bidders.

The auction was originally to close on Oct. 25, 2019 but was then extended to November 7, 2019 based on what was said to be "a lot of interest globally" and more time was needed to "spread the word." The auction abruptly ended when a message appeared on the seller's site, Heritage Auctions, stating "This item has been withdrawn from auction. The consignor and Heritage have accepted an unsolicited private offer for this item."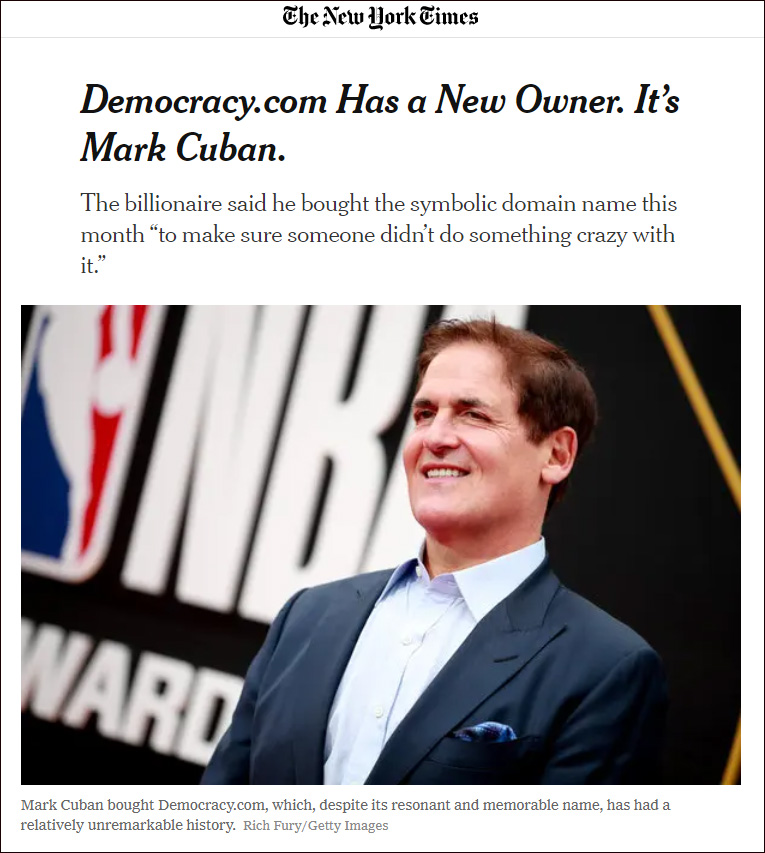 According to the New York Times, that offer came from Billionaire Owner of Dallas Mavericks, Mark Cuban who stated he received a cold email and decided the purchase the domain name before something bad happened with it [like getting in the hands of the Russians].
"Someone sent me a cold email. I gave them a price I would be willing to pay. They said yes." Cuban added, he wanted "to make sure someone didn't do something crazy with it."
The seller of the domain, who listed it with Heritage, was Talmage Cooley, entrepreneur, filmmaker and founder who said:
"I just made it super succinct and talked about the importance of this name being used for good,"
Neither party disclosed the price; only saying that the offer exceeded the auction's minimum bid.
Thanks to Howard Fellman for tipping me off on the most recent New York Times piece.