PALM BEACH, FL – If your business employs more than 15 people, it might be a good time to ensure your website complies with the rules required by the Americans with Disabilities Act (ADA). These standards state that all electronic and information technology must be accessible to people with disabilities.
The Americans with Disabilities Act was signed by President George H.W. Bush in 1990. Over the past few years, thousands of lawsuits have been filed against websites for failure to be accessible to the blind or visually impaired. Previously ADA related lawsuits focused on "physical access barriers to businesses", however, these new lawsuits challenge the accessibility of websites and mobile applications.
On October 7, 2019, the US Supreme Court denied a request by Domino's Pizza, who has been victim of such a lawsuit, to review a past decision holding that Domino's must make its site accessible to persons with visual impairments. The decision allowed a lawsuit to continue against Domino's and the company took the decision all the way to the Supreme Court to get this decision reversed. The suit was originally filed by Guillermo Robles, a blind man, who is seeking damages against the pizza chain (in Robles v. Domino's Pizza) after he was unable to order food on Domino's website and mobile application.
Very often, a single Plaintiff's attorney and sometimes the same disabled individual will file dozens or more lawsuits against many different companies alleging technical violations of Title III, and seek injunctive relief (e.g., for the company to make its website ADA accessible) and attorneys' fees that are authorized by the statute.  These lawsuits have targeted businesses across a number of industries, including retail stores, restaurants, health care providers, and e-commerce companies. This glut of litigation over alleged technical ADA website compliance violations has frustrated the courts,[1] and, thus far, neither Congress nor the Department of Justice (the "DoJ"), the primary federal government agency responsible for enforcing the ADA, have adequately clarified the scope of the ADA in terms of website accessibility compliance for private companies.

The Muddy Waters of ADA Website Compliance May Become Less Murky in 2019
The decision, last Monday, October 7, to not grant the case a review is seen by many litigators as a loss for the pizza chain and a win for disability advocates; one in which should further spike additional suits around the country.
According to Seyfarth Shaw LLP, a law firm with more than 850 attorneys on staff says "if the lawsuits continue to be filed at the current rate, the number of federal ADA Title III lawsuits filed in 2019 will top 11,000 and it will be yet another record breaking year."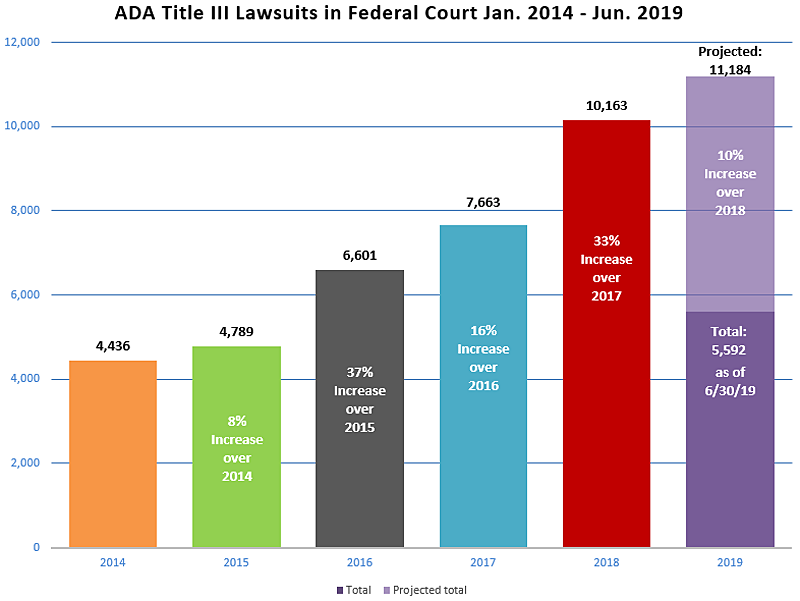 Making a website compliant involves encoding web based on best practices outlined by the W3C organization's Web Content Accessibility Guidelines (WCAG). This can be quite complicated to fully implement; however, some items are as simple as ensuring your site works with a screen reader and that all images incorporate defined ALT tags (accessibility checklist). The W3C has a dauntingly long-list of tools to check accessibility here, with two of what seems to be the simplest ones as https://www.webaccessibility.com and https://color.a11y.com
The Department of Justice is considering revising the regulations in order to establish specific requirements but have not done so yet so these suits continue to be filed with little guidance on standards from federal agencies.
When the ADA was enacted in 1990, the Internet as we know it today—the ubiquitous infrastructure for information and commerce—did not exist. Today the Internet, most notably the sites of the Web, plays a critical role in the daily personal, professional, civic, and business life of Americans. Increasingly, private entities are providing goods and services to the public through websites that operate as places of public accommodation under title III of the ADA. Similarly, many public entities under title II are using websites to provide the public access to their programs, services, and activities. Many websites of public accommodations and governmental entities, however, render use by individuals with disabilities difficult or impossible due to barriers posed by websites designed without accessible features.

Nondiscrimination on the Basis of Disability; Accessibility of Web Information and Services of State and Local Government Entities and Public Accommodations (B. Legal foundation for Web accessibility)