PALM BEACH, FL – Sometimes they say "where there is smoke, there is fire," and the room keeps getting hotter for ICANN, The Internet Corporation for Assigned Names and Numbers, for its poor, super-controversial and extremely suspect decision to allow the Registry Agreement with Public Interest Registry to renew without price-caps in place.
The whole situation is turning into a hot potato / can of worm's scenario where -if- any backroom deals or funny business exists; it's all going to come out in the wash.
I've not been much of a fan of California politics in the last few years, but, there is one political figure who seems to be a little more levelheaded then I had thought, and its Attorney General Xavier Becerra, who wrote a letter to ICANN dated January 23, 2020, making dozens of serious inquiries and demands, effectively a subpoena to ICANN, for any and all documents, information, correspondence, emails, etc., related to both the decisions around price cap removals of the .org domain name, and the whole PIR to Ethos Capital deal.
The list of items requested is so extensive, that if ICANN could just disapprove of the whole PIR / Ethos Capital deal to make the entire inquiry go away, it might actually be a safer and more realistic response.
The Office of the Attorney General has the duty to supervise charitable organizations under California Corporations Code section 5250, and Government Code sections 12580 through 12599.8. The Internet Corporation for Assigned Names and Numbers (ICANN), as a registered nonprofit in California, is subject to regulation by the California Attorney General. It is my understanding that ICANN is in the process of reviewing for approval the proposed transfer of Public Interest Registry (PIR), a Pennsylvania nonprofit corporation, to Ethos Capital, a for-profit corporation.

According to Zak Muscovitch, General Counsel to the Internet Commerce Association, it is the "greatest pressure that ICANN has faced to date."
"The [California] AG is apparently looking into ICANN decision-making, governance, the Ethos deal, and ICANN's removal of price caps in particular. This appears to be the greatest pressure that ICANN has faced to date and has caused ICANN to request that PIR delay further delay the deal approval process."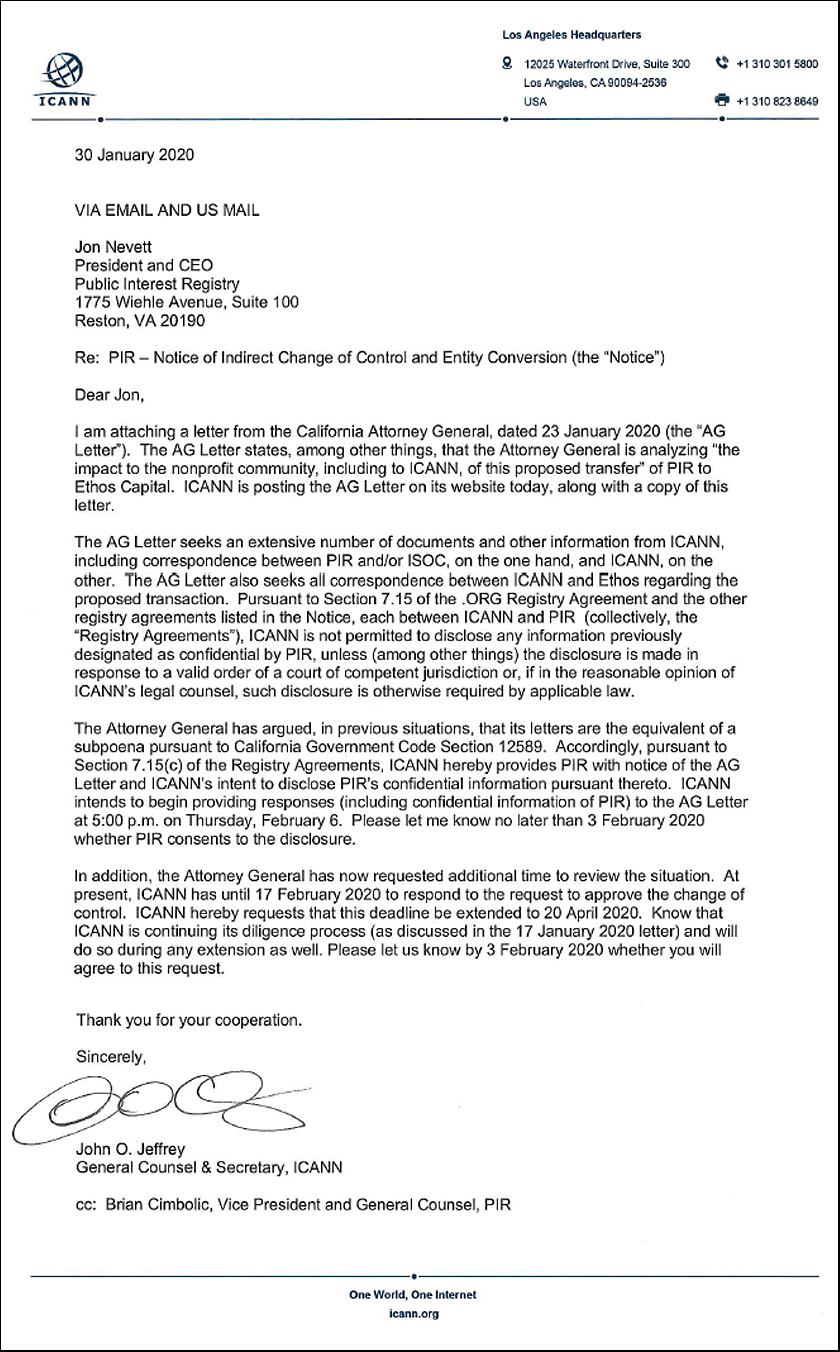 In December, a letter signed off by four U.S representatives, one of which is presidential candidate Elizabeth Warren, was delivered to Ethos Capital, Internet Society and Public Interest Registry posing what appeared at that time as a laundry list of questions. This list is quite a bit longer and a whole lot more serious.