WASHINGTON – Senator Ron Wyden, an Oregon Democrat, has introduced
legislation, called the Mind Your Own Business Act, that would make it more difficult for online platforms to collect and use customer data.

The bill is in some ways similar to the European Union's General Data Protection Regulation (GDPR). Among other things, the bill would:
Give the Federal Trade Commission the authority to establish minimum privacy and cyber-security standards.
Allow the FTC to issue fines, of up to 4% of annual revenue, on the first offense for companies and allow for 10- to 20-year criminal penalties for senior executives who knowingly lie to the FTC.
Create a national Do Not Track system that lets consumers stop companies from tracking them on the web, selling or sharing their data, or targeting advertisements based on their personal information. Companies that wish to condition products and services on the sale or sharing of consumer data must offer another, similar privacy-friendly version of their product, for which they can charge a reasonable fee.
Give consumers a way to review the personal information a company has about them, learn with whom it has been shared or sold, and to challenge inaccuracies in it.
A copy of the 47 page bill text is available here. A one-page summary of the bill is below.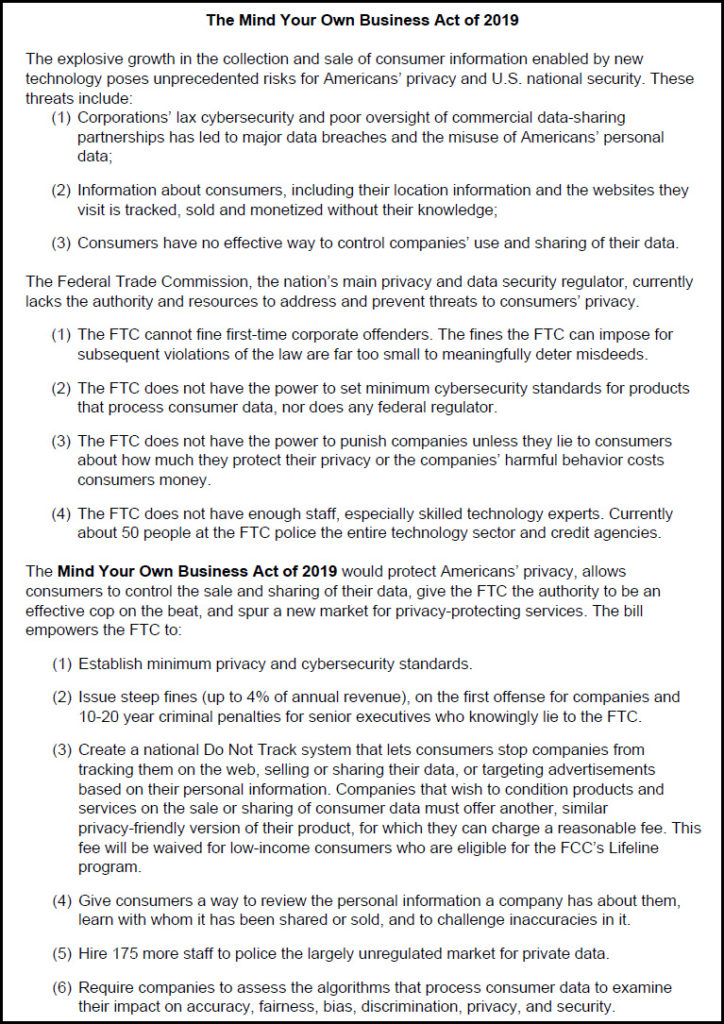 The bill, introduced on Oct 17, 2019, would have to be referred to a committee as its next step. You can track its progress here.