PALM BEACH, FL – Few people know the "power" of a good .COM domain name better than Rick Schwartz, widely known as the "Domain King", a federally registered trademark which represents his insight and experience in the domain name business, and more specifically, according to USPTO (TESS), the leasing of Intellectual Property.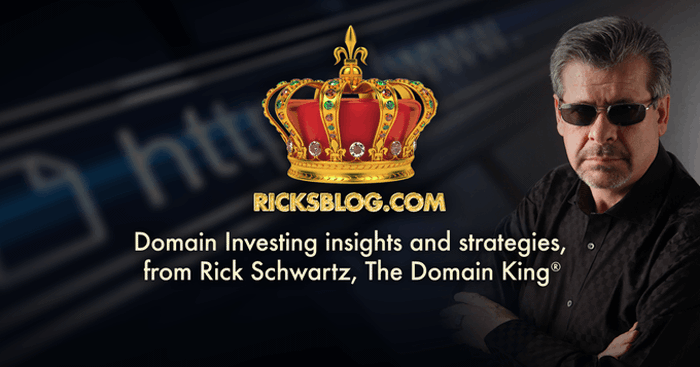 Most people who follow Rick and his domain name advice, which as of late, includes lots of video postings where he shares everything from trade practices and ideas to general recommendations, also know that he is widely known for his criticism of using domain names which are not .COM domains, however, he does have some favorite alternatives including .TV where he had contemplated using it since 2012.
Personally I wanted to develop Rick.TV. But each time I think of doing it I just refer back to what I just wrote. I don't own Rick.com. That means much of the fruit of MY labor will end up somewhere else. That's a bad equation.
So, it seems this is something that's been on his mind for some time now. I agree with domain blogger Eliot Silver; I would have just used either domainking.com/video/ or ricksblog.com/video/ as the home of those videos. Throwing another site into the mix in order to play "cat-and-mouse" with [Evil] Google on search rankings is enough as it is with two sites, now there will be three used.
But what's different about this is that Rick has a following, and when you have a following, as one of his latest domain acquisitions reads, "NoOneCares.com" – (Listed on his site under Most Recent 2016-2019 Acquisitions)
No one cares what it's called.
When you have a true following, you really don't "need" a good domain name. People are going to go out and look for your content, video, images, artwork – wherever it is, and whatever it's called, because they already know that they WANT IT and there really isn't any competition to worry about. They need YOU as no one else will do.
Unlike most, Rick could have successfully hosted his videos on www.e68rJi37440.ru; – although clearly inconvenient, I'm confident that his followers would find it, bookmark it, and visit often for updates.
If you haven't had the chance to watch any of Rick's videos, as mentioned, they are not always just about domains. I've conveniently included one for you above which I took the time to watch today. It offers some very basic, yet good advice. Believe it or not, many people need basic advice such as this. You would think it goes without saying.