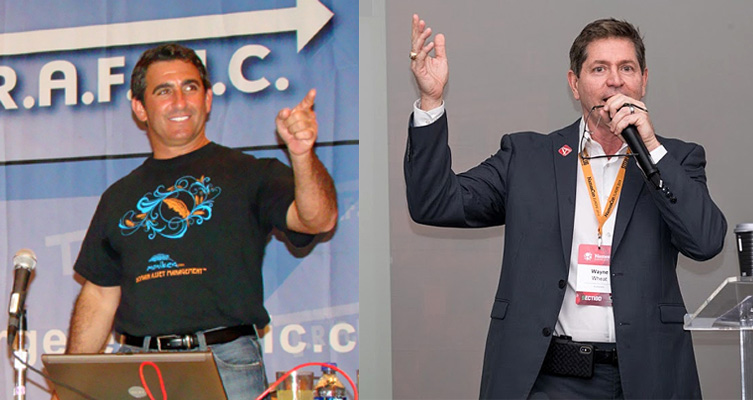 PALM BEACH, FL – A big domain auction is coming up in less than ten days and pre-bidding is now open for the event which will be held from a live video production studio in College Station, Texas, beginning at Noon (12:00 PM CST) February 25, 2021. Like most of Monte Cahn's RightoftheDot major auction events, World Champion Auctioneer Wayne Wheat will be rattling off the names of virtual property to change hands for what will likely be, some big sales.
Wheat is an exceptional host for such an event as even the most novice viewer or someone who may not know anything about domain names at all, can immediately tell that something 'big' is in the works as they hear that famous voice hollering words often accompanied by exceptionally large dollar amounts.
Well over 400 exclusively available "super-premium domain names" have already been released for open bidding with more names being added daily.
What I believe is somewhat unique about this coming auction, aside from the event having what RightOfTheDot's Scott Pruitt says are "some of the best names ROTD has auctioned" in recent times, if not ever, is that with most travel limited, and COVID restrictions peaking recently, I'd bet there will be a very large pool of eyeballs peering-in from home or work, wherever people have begun to get cozy working from.
Thanks to "the China virus," which has undoubtedly wreaked havoc around the globe, virtual events are sadly becoming the norm – or "The New Normal," that is. This time, no one will be seen rushing to the next session, panel or being pried away by free dinner and cocktails in a nearby restaurant party. This will be a totally 100% LIVE simulcasted auction which is expected to last at least, a couple of hours.
While the event will be streamed live on both ROTDs Facebook.com page and ROTDs new YouTube page (which is still being set up), if you are bidding, you'll want to be on "HiBid.com" where there will be little chance of any time delay so be sure and bookmark: rotd.hibid.com.
HiBid.com is a rapidly growing auction bidding system where millions are facilitated week after week. For instance, HiBid.com facilitated the sale of over $100M in gross auction proceeds for various assets in a recent four week period; $26.5 million between January 11th-17, $26.2 Million from January 18th-24th – $28.5 Million January 25th-31, and $21.7 Million February 1st-7th according to recent press releases from the company.
Some of the domain names being offered in this auction include: RESTAURANTS.COM, NAMES.COM, SORORITY.COM, CATS.COM, ASIAN.COM, SHORTS.COM, AUTOLOANS.COM, SMARTPHONE.COM, BRONCOS.COM, ADVERTISINGAGENCY.COM, PUBLISHING.COM, DATASTORAGE.COM, AUTOMOBILE.COM, SHOPPING.CLUB, COLLEGE.ORG, FINALSCORE.COM, EXCHANGERATES.COM, VACCINATING.COM and hundreds of other names.
Previous auctions hosted by Cahn and his team have netted more than $550 Million in revenue with such names sold as SLOTS.COM $5.5 million, CREDITSCORE.COM $3 million, COMPUTER.COM $2.2 million, AUTOS.COM $2.1 million, SENIORS.COM $1.8 million, DATING.COM $1.7 million, SCORES.COM $1.2 million, SUPER.COM $1.2 million and more over the past 25 years.
Be sure and bookmark: rotd.hibid.com.