NEW YORK, NY – Recently I submitted a request to verify my Twitter account through the online form Twitter makes available for those who want to request verification. Verification isn't available to all users but those who are either public figures, journalists, celebrities and some media outlets will often be the types of accounts Twitter will verify, depending on the circumstances.
Verified users have that cool little blue badge next to their names so Twitter users know this is the official account for that person or brand associated with the page; being that I am a writer, author and media person, I figured I would give it a shot at getting my account verified.
It didn't work. Apparently Twitter feels that I am not important enough to warrant a little light-blue badge, but I found out something very interesting during the process; verification take place oversees.
Being that I am Internet marketer, I pay pretty close attention to my website statistics, for pretty much all of the sites I manage, for myself and for some select clients. This morning at about 6 AM I received an email from Twitter letting me know that they checked my request and unfortunately were not able to verify my account. This means either I do not warrant the badge on my Twitter page or my profile is not setup according to their requirements or does not comply with all of the information they require in order to verify that certain people, are in fact, the person or brand represented on the page.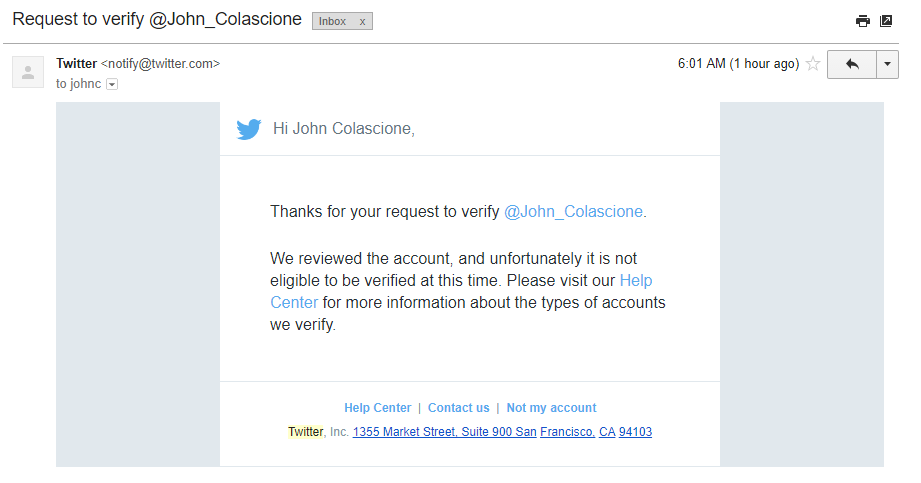 After receiving the email I went right to my stats to see if they actually took the time to check me out and low-and-behold, they did visit my sites, for about 5 minutes. I was able to see that they visited both www.johncolascione.com and www.websitemonetization.com, both sites that I listed for them to check, along with some articles and interviews which I have done; I'm sure they visited those as well.
What I was able to ascertain from the visitor logs is that Twitter made their decision in about 5 minutes and whoever was performing the verification was using some sort of Twitter dashboard built on a .biz domain and was visiting my sites from the city of Las Piñas, Philippines (At 5:55 AM they were checking the sites and by 6:01 AM the email arrived).
So if you are ever wondering if these requests actually get reviewed the answer seems to be YES. If you are ever wondering about how much time they take making their decision, the answer is ABOUT FIVE MINUTES. And if you were ever wondering who in the world even makes these decisions on which accounts to verify and which ones not to, the answer is likely, SOME GUY OR GAL IN THE PHILIPPINES.
2/28/2018 Update: Submissions are now paused.
We've paused public submissions for verification.? https://t.co/0KZd4Kxkp9

— Twitter Verified (@verified) February 26, 2018
2 / Verification has long been perceived as an endorsement. We gave verified accounts visual prominence on the service which deepened this perception. We should have addressed this earlier but did not prioritize the work as we should have.

— Twitter Support (@TwitterSupport) November 15, 2017
So there you have it; I guess I'll just wait until they let me know my little blue-badge is ready.