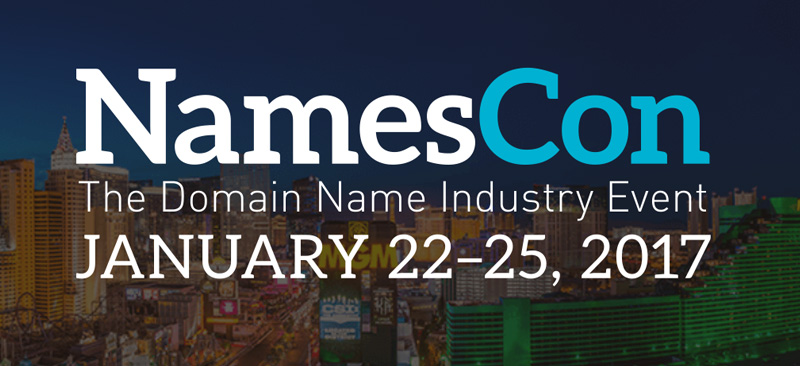 In just over two weeks the largest domain name conference in the World will take place in Las Vegas, Nevada, from January 22 to January 25. Over 1,400 guests are expected to visit the Tropicana Las Vegas on the south end of the Las Vegas Strip, specifically for NamesCon. The hotel has a 50,000-square-foot casino for night time fun and more than 72,000 square feet of meeting and exhibition space which the event will take great advantage of. Most everyone, who has anything to do with the domain industry, will likely be there,  including those operating registries, registrars, domain investors, entrepreneurs, enthusiasts, etc.
The event will include tremendous opportunities for networking directly with industry veterans, educational speeches and seminars on domains, marketing, building your business as well as lots of food, fun, and last, but not least, the NamesCon Domain Auction which is being administered and run by and between RightoftheDot.com, LLC, and NameJet, LLC. The auction, which will be held live, takes place on Day 2, January 23, 2017 at 3pm PST. Pre-bidding has already begun and post-auction extended bidding will run for some names through February 8, 2017. If you would like to get a look at the types of names which will be made available visit this link: http://www.namejet.com/featuredauctions/liveauction
There is at least one domain name which is already over 1,000,000.00 in bidding with its runner up having 187 bids. I won't list the names here as things will change rapidly the closer we get to the main event, but just visit the NameJet link if you would like to take a looksee.
There will be many great speakers at this year's event, many, and it will be important to take some time to schedule your trip which I myself did after reading a great post by Elliot Silver, 5 NamesCon Tips – (Please Share Yours). After all, this is, in fact, Las Vegas, and it is very easy to get distracted when visiting what people call the Adult's Disney Land, so you will want to take note and actually write out what you would like to accomplish at NamesCon before you arrive. There are also some other great tips there worth reading as well and others have left their opinions and experiences in the comments so I suggest you check that out. But for me, these items I have on the list as "must attend" events and speeches are the following:
These are just a few of my picks (from the agenda) to not miss, or at least try and ensure I wake up for.
January 22nd ( Day 1 )
————————————-
11:00am – 11:30am Welcome to NamesCon
12:00pm – 12:45pm Domain Investing 101: MICHAEL CYGER, DOMAINSHERPA
3:00pm – 3:45pm How Can I Monetize My Geo-Targeted Domain Names? STEVEN KAZIYEV, NEWYORKMEDIA.COM
4:00pm – 4:45pm Excited for the 2017 Domain Auction? MONTE CAHN
6:00pm – 6:15pm NamesCon Group Photo
7:00pm – 11:00pm Rightside Opening Reception
January 23rd ( Day 2 )
————————————-
9:00am – 9:45am How Can I Monetize My Geo-Targeted Domain Names? FRED MERCALDO, CITYBRANDMEDIA
10:00am – 10:45am FRANK SCHILLING, UNIREGISTRY The Evolution of Domaining
11:00am – 11:45am Dominate the Drop: Learn how drop catching works
12:00pm – 12:45pm Always Be Closing: Case Studies of Recent Negotiations
3:00pm – 6:00pm NamesCon Domain Auction 2017: Presented by RightOfTheDot
6:45 PM to 9:45 PM ICA Dinner The Foundation Room at the House Of Blues
January 24th ( Day 3 )
————————————-
10:00am – 10:45am – WordPress MATT MULLENWEG, AUTOMATTIC
11:00am – 11:45am DomainSherpa Review, Live! domainsherpa.com/namescon
1:00pm – 1:45pm The Cart Before the Horse: ANDREW HAZEN
1:00pm – 1:45pm The Google Chrome Effect: SSLs will Radically Change Domains
If you are still yet to pick up your ticket and plan your trip it is certainly not too late to do so. I suggest booking your flight no closer than ten (10) days out for the best price. I like JetBlue if you would like a recommendation. The flights seem very cheap at this time of year, at least from New York they were.  I'm not a huge traveler but I was able to score a round trip ticket for a few hundred dollars. Your event ticket can be purchased here:  http://namescon.com/register/ – If you would like to reach out to me a may have a coupon code for you to use if it is still valid.
There is also a discount on the hotel rooms at the Tropicana if you use the NamesCon page right here: http://namescon.com/hotel/ but if the Tropicana is not your style or just want to find something out of the limelight of the event and/or something much cheaper, Circus Circus is on the other end of the strip and probably has the cheapest rooms you'll find anywhere in Vegas to at least stay in a Casino Hotel. It's also right near Fremont Street which is known for the Fremont Street Experience, a 24-hour pedestrian mall featuring just about every nutty street performer in Vegas and if that does not keep you entertained I do not know what will.
I am looking forward to seeing everyone from past events and meeting many new people at this event so if we haven't met yet, or even if we have, be sure to tap me on the shoulder and/or pull me aside and say hello. So book now, get ready to have some fun and see you at NamesCon.