NEW YORK, NY – Let me begin by saying I am a big fan of GoDaddy.com and have been doing business with them since I began working on the Internet. I'm also a Wild West Domains reseller and believe it or not, I may not have even found this fantastic industry if it were not for Godaddy's "Website Tonight" product which is now called "Website Builder" as it resulted in me building my very first website.  In my opinion, GoDaddy.com is one of the best registrars for domains and I have used them for a very long time, not for all my domains, but for a great deal of them. I even met Bob Parsons in person back in 2011 at the Wild West Domains Reseller Conference in Arizona.
With that said, you could imagine it would take a great deal of frustration for me to vent about something with Godaddy, but an issue I am having, specifically with the Aftermarket, fairly consistently I might add (three times), seems to be a larger issue likely effecting a wide range of domainers; I'm curious just how large an issue it actually is.
Here is how the situation plays out.
You list a domain name in the Godaddy Aftermarket called "Godaddy Auctions", if you're lucky, you will eventually receive an email like this one below received (1/4/2017) which indicates a domain name listed for sale has in fact, sold.
Very shortly after this email arrived (1/4/2017), the next one was a follow up, to be expected; by Escrow.com, sending the initiating transaction.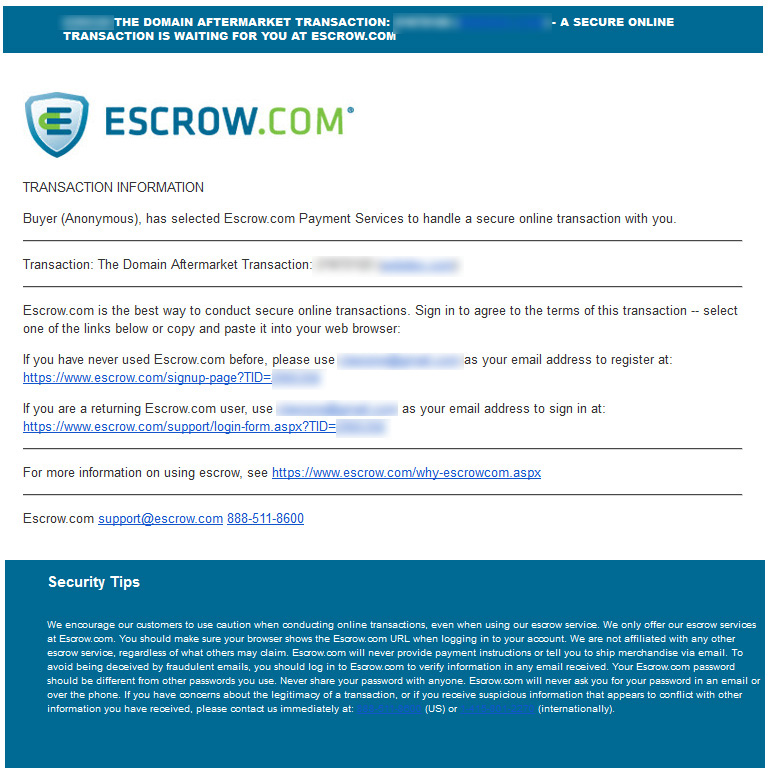 A second email then comes, again, from Escrow (1/4/2017), indicating the buyer has agreed to the terms.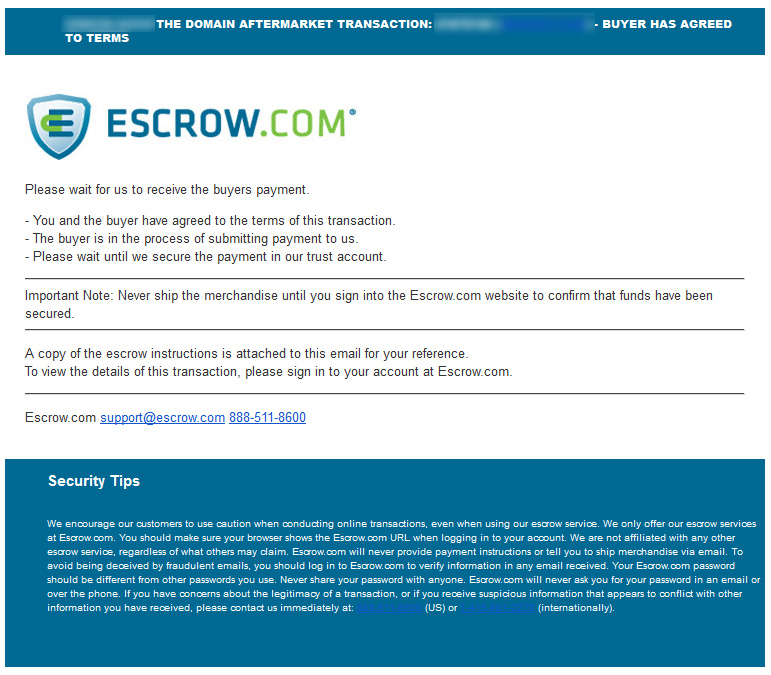 Things are looking good; seems like a motivated buyer; this transaction should move right along – or will it? Let me go see how much the domain sold for because now I am expecting the transaction to follow-through; the buyer seems to know his or her way away around the process and is moving the transaction right along, so it seems.
Now I will go check inside Godaddy to see what the sale price was.

Great; looks like a good one. I will just wait for my cool $45,000.00 to be delivered, less any escrow fees of-coerce.
Now, the last couple of times this happened, it was a non-paying bidder. That couldn't possibly happen again because that was about a year or so ago. Just to be proactive though, I'm going to call in to Godaddy.com and see if they can tell me the buyers account looks like an active one and ask if they can tell me the likely hood of the transaction being completed. It is 45 grand…. So, I'd like to at least take a minute and check on it. Based on the last few that did not follow through and complete I'd like to see what I can find out about this one.
While we're at it, this is what the sold notification looked like last time (4/9/2015).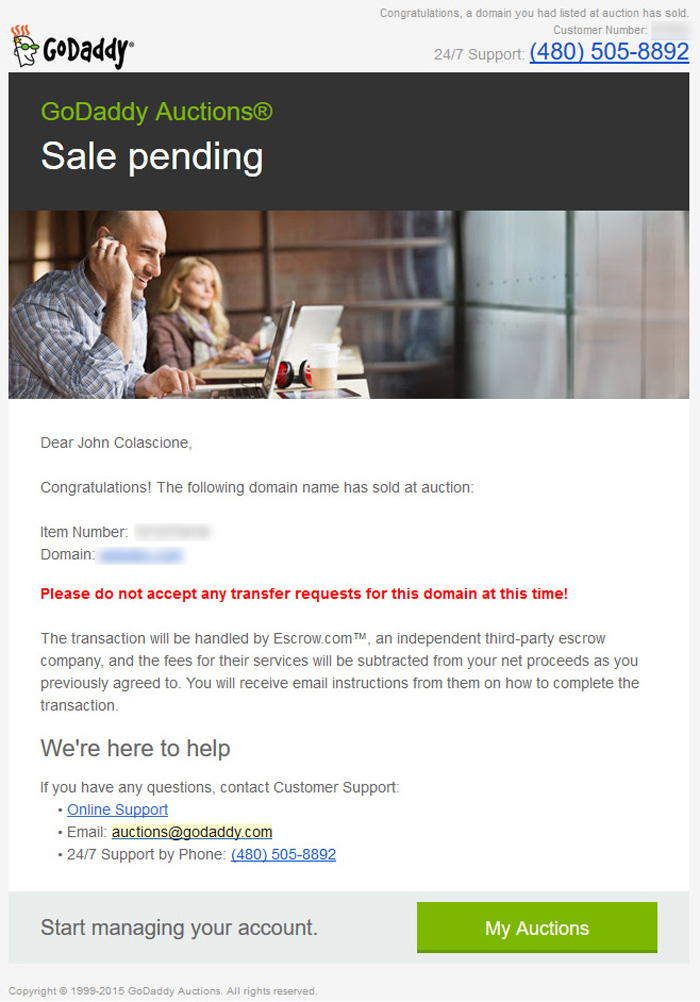 This is what it looked like when it was determined to be a non-paying bidder on 4/19/2015.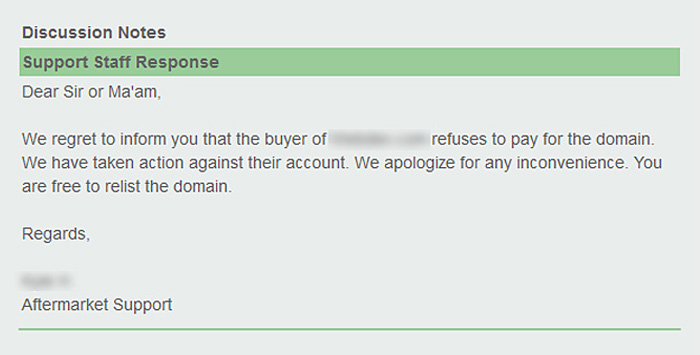 Actually couldn't believe it back then because it was the second time it happened. Again, we're up to three times now. This was later on 4/19/2015 where I basically was asking WTF? This was reiterating that it was the second time.

They explained that they took action against the account and that's all they could do.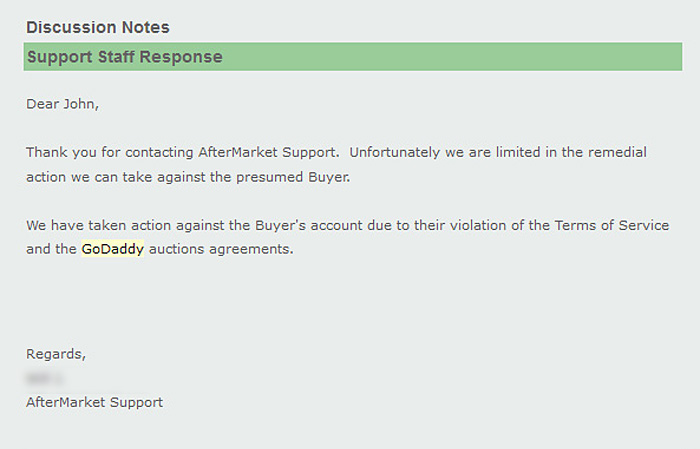 An improvement I notice from the process today verses the process in the past seems to be they changed the email alert from saying that the "domain sold" to the domain is being "processed for sale". That's a start.
Anyway, so this time I call in and I cannot find out anything about the buyer or the transaction. The customer support person says I should just wait on Escrow.com and see what happens, so I politely remind them I had a few transactions not go through on the marketplace and it would really be a turnoff to the whole Godaddy Aftermarket if this is just another nonpaying bidder again. He acknowledges my concern and mentioned that the best thing I could do would be to wright-in to the auctions support people.
Meanwhile, let's examine another classic Godaddy Auctions response from 11/3/14. This happens to be on a different domain (now sold already), but this one suggests I just go ahead and list the domain again; fantastic.
So that is exactly what I do. I'm thinking, yep, this is probably going to be the same old Godaddy go-nowhere sale. So I look up the last transaction that failed to go through and I open up the support discussion with that other Incident ID because Godaddy and myself had a lot of back and forth about it, what it meant for the marketplace' reputation and how it was not very good that the last two deals died and went nowhere, so I revive the discussion now that I have a new transaction to work with and ask about.
Here is my Aftermarket Inquiry for this new transaction which is again, now the second time this particular domain name has been purchased on the venue (my third time total for non-paying bidders). This email support ticket was sent in on the day of the transaction 1/4/2017.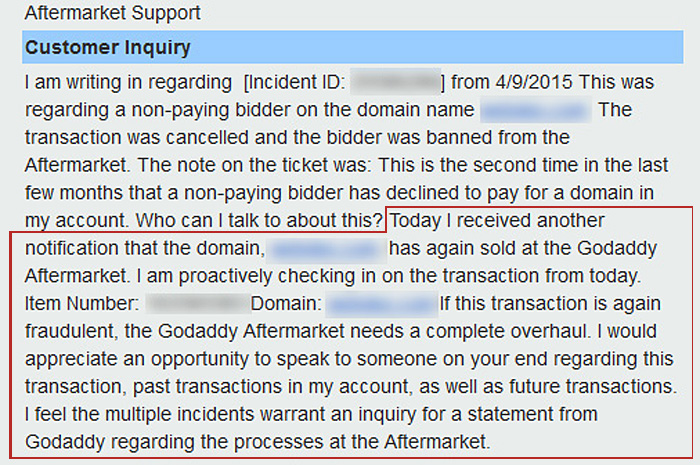 Meanwhile the transaction does in fact just sit there at this point with no updates from Escrow on buyer making payment.
The next day Godaddy Auctions responds and they agree with me this time. They 'agree something needs to change' the system needs improvements which are supposedly 'already underway'.
But again, the last two transactions that failed to go-through were near two years ago now that I look at the date.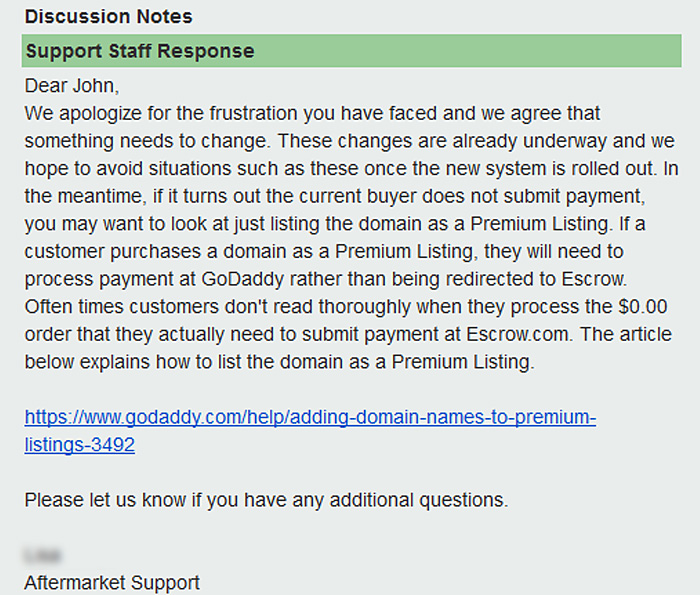 Seems weird, although they do agree with me and suggest I list the domain in another way, as a "Premium Domain". I suppose I could try that in the future, but this is now the third time I've sold a domain on the Godaddy Aftermarket only to find out the buyer was another non-paying bidder [Sort of spoils the entire motivation to even list anything there at all]. Checking the Year to Date Sales Charts at DNJournal shows just two sales attributed to Godaddy.com, and just one of those to the actual Auctions Marketplace.
Here is another response I received yesterday, 1/7/2016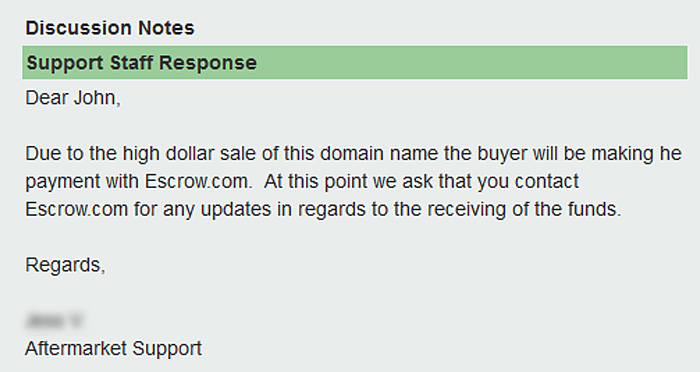 So although I feel it really has nothing to do with Escrow at this point, as the purchase was facilitated at Godaddy.com, not at Escrow.com, I did follow their recommendation and check with Escrow.com just to see what they would say and according to Escrow.com, since this transaction was created from partner GoDaddy, there is no time-frame for the transaction to go inactive. All I can do is wait and if it never closes – that I should contact Godaddy.com directly to cancel the transaction for me, as it was created on their end and I have no way of cancelling it myself.
Here is all I see in Escrow (this will like just sit like this till the end of time – or until Godaddy.com cancels the transaction):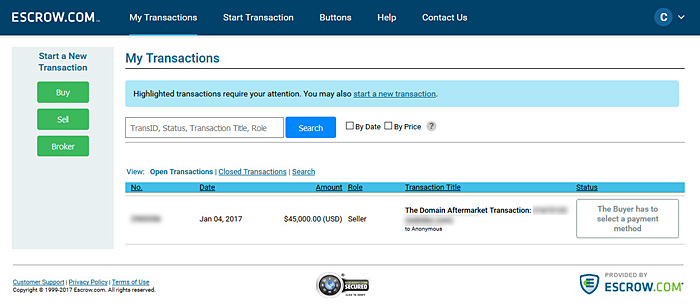 Fantastic system they have here. I will just wait… 🙂
So, in order to round-up this semi-quasi investigation-venting of the Godaddy Marketplace experience and scanning through all of my past emails to catch up on what an unreliable mess Godaddy Auctions has been through the years, I was able to find one successful Godaddy.com auctions transaction where I was actually the seller. The rest of all of the transactions I could find are from me purchasing domains and all of those look to have gone through pretty well (except for one), but as a seller, just one time I was actually paid for a domain name through the sale via the Godaddy Auctions platform, so I can't say that it has never-ever happened, but it sure does not happen often.
Here is what one of those looks like from 2013 when the service actually probably worked well.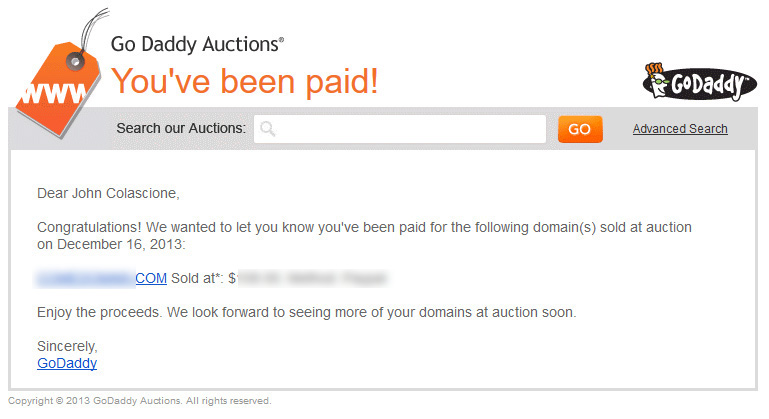 So what has been your experience with Godaddy Auctions?
Is this the reason I don't see Godaddy Auctions much on the list of venues responsible for selling domain names on the Year to Date Sales Charts at DNJournal? Let me know about your experience. Maybe this is just a freak-thing with a few bad apples trolling the auctions place. I'd like to still use the venue if it still works for other domainers; just need good reason to do so. I've kind-of written-the-place-off for now as an Ebay-type venue when it comes to domains, with no real action and just a bunch of dreamers. I tend to follow a fairly simple rule: Three-Strikes-Your-Out. What do you think? Anyone actually make any good transactions happen at the Godaddy Auctions Marketplace? I read that Godaddy Acquired Afternic in 2013 and I would assume that would have improved the venue by now, not made it worse. What say you?