PALM BEACH – They are everywhere and becoming more and more annoying. It is now all too common to be presented with messages on each website you visit; they all want you to opt in to their cookie and privacy policy due to the new General Data Protection Regulation or GDPR. It seems like an unnecessary distraction; you hit the button to accept the policy and you carry on. No big deal.
But is that all there is to it? 
Today I sent someone an article to read. They didn't read it. They didn't read it because a cookie and privacy policy popped up and they didn't know what to do. They didn't know what they would be agreeing to and what they were opting in for so they chose "Reject" and left the site. They did not read the article on the website even though they themselves have submitted articles to be published on the site. 
Below is what this particular user had to say about passing up on the content.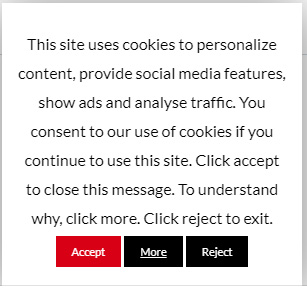 When I tried to access the piece you sent, "Cookies" pop up appeared and I had to decide if I wanted the site to receive my private info. I clicked "reject" and couldn't read the article. One day, I would appreciate it if you explain how to navigate these issues."
This is a huge problem.
This shows that some Internet users are so concerned with these privacy and cookie policies that some Internet users, even if a small minority, will not visit or opt-in to certain policies and thus avoid certain online content all together. As if we needed even further deterrents from users reading content, now it is even the mundane situations which will steal traffic. 
Again, this is a person that I sent a link to in order for them to check out an article on a site that they too contribute to, and when the cookie message popped up, they chose to decline the policy and left the site.
Monumental problem if you ask me. But what do I know?