NEW YORK, NY – From time to time I like to point out some phishing scams that are out there in hopes to help some people not fall for these email-traps; today is one of those day. This email stuck out not for its sophistication but for more of its non-sophistication, and recurring delivery. For instance, I've received these at least 4 times in the last couple of days.
This scam pictured below is trying to capture FedEx users regarding the non-delivery of their package; a package that is never really set to ever arrive. Thankfully I use Google's Gmail product which is able to spot these to more quickly allow be to identify them as spam extremely easily.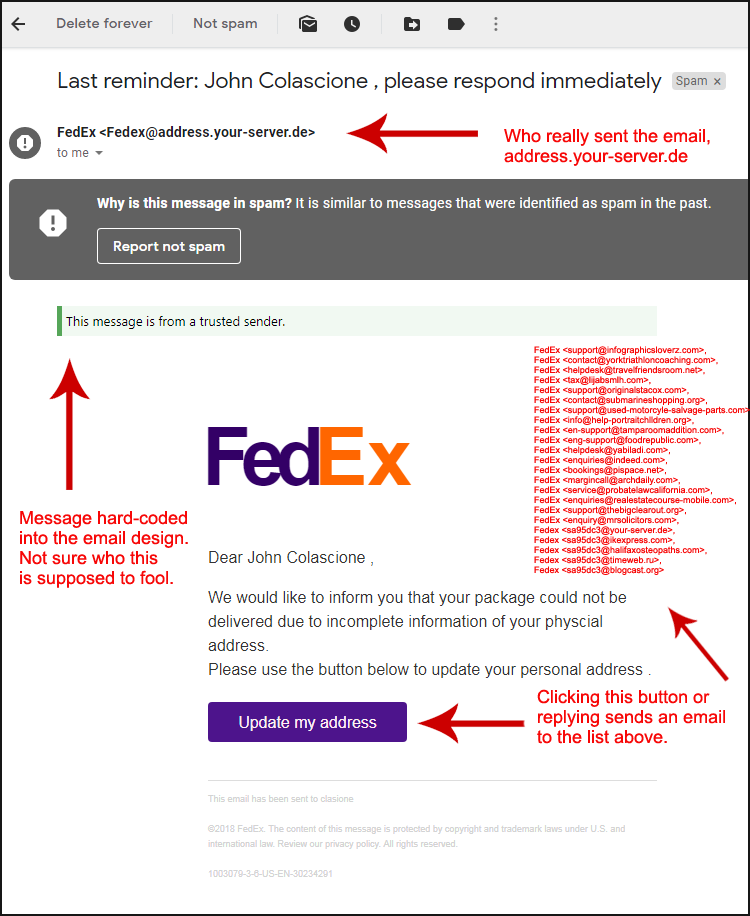 I'm not sure what this one is trying to get away with here, but I'm sure it is something nefarious.
Actually, I do believe I've experienced an increase in emails that seem they are looking only for a reply to the email sent, with several other email addresses copied. Most of these are looking for an email to 'unsubscribe' to something. The only goal I could think of is that once someone reply's, the sender actually subscribes the person into a spam blasting machine and also subscribes those who are copied (or cc'd). It's the only point I could see in trying to get someone to reply to something; to actually mark them as valid emails or to subscribe them – not unsubscribe them – to something.