NEW YORK, NY – About a week or so ago I signed up for an EFTY (https://www.efty.com)  30-day trial account to test the platform as a way to have a domain store for some of the domains I would like to eventually sell. I already tried SEDO to sell names as well as DomainNameSales.com and some other places too but what I found interesting about EFTY was the store portion of the platform – and it is responsive (mobile friendly).
As a side-note: Back in the old days when the domain forums were busy, you didn't need a store to sell a domain name; you would just post a thread in a busy domain sales forum and offers on your domain where usually a few hours away, sometimes just few minutes. Again, that was the old days; now you actually have to put some effort into selling domain names. Times have changed.
So, I'm near half-way through the trial and I believe I am going to upgrade to an EFTY account package and keep it for a while if not indefinitely. The cost seems extremely reasonable (It's like $5 or $10 a month or something minimal depending on how many names you have) and I haven't found anything I don't like about it yet. All I know is that I am pretty certain I don't want to lose access to it yet – so that means I am going to have to upgrade.
To see what it looks like see the image below; to actually click around and check it out visit the domain I am using for my store for the time being: http://www.valuableaddresses.com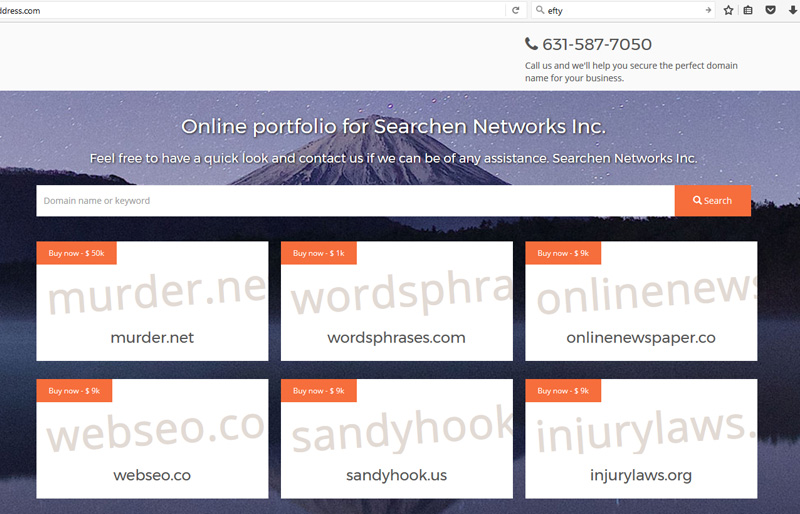 It's very much like hosting your own online store, but everything seems done for you and instead of having to create the site and take-care of it, you just choose which domain you want to use and update the domains' A record; super-simple.  It's also ridiculously easy to change the domain name used for your store to another one (I did that once already as soon as realized I liked it) – you just change the A record on the domain you want to use and enter the domain inside the panel.
What most domainers probably prefer about this EFTY platform over any others out there is it gives you the ability to sell your domains without sharing a commission with a broker. Believe it or not, that's the last reason I choose to use it as I would actually prefer to have a broker because the broker is the one that can haggle back and forth with the buyer on offers and a final price, but keeping the entire sale is an obvious advantage. I will have to see how it goes after an offer, or even better, a hopeful immediate check-out of a domain (it hooks up to Escrow.com automatically) which I also like.
I'm not going to go into all the features of the platform because there seems to be a lot of them, some I have not even used yet, and I'm sure I would forget to mention some great ones, or not even know about some yet, but the basic idea behind EFTY seems to be to simplify the management and sales of your domains without sharing any commission with anyone. There are also some financial statistics and renewal reminders and such.
So if you are looking for a simple way to have your own domain store without having to build it yourself, I would give EFTY a try. Seems like a great tool and hopefully it is going to help me manage my own domain sales more effectively – it actually might cause me to buy more domains which I do not want to do but hopefully it will at least help me sell domains quicker than I buy them.
And one last thing; they have good support too. I emailed them a question about my marketplace domain (the one I use to host the store portion of it) and they emailed me back in a couple of minutes. I felt this was worth mentioning because I was impressed with that too. (I hate when a support email request takes till the next day which is pretty common with some other places).
If you use EFTY and like it, or dislike it, or have any opinion on it, or just would like to share your favorite features, etc… feel free to do so in the comments below. It could help me or others.