WEST PALM BEACH, FL – I recently wanted to see what was going on with the ". Cars" domain name, so I tried visiting a site I thought would probably be one of the best names; "used.cars"…. Not much is going on there; the page just fails to load. Same thing with "used.car", "new.car" and "new.cars".
A ".cars" domain name costs $2,499 per year to register, renew, or transfer at Dynadot, one of the largest domain name registrars in the world. Same thing with ".Car" which was released together with .Cars, and .Auto, first to trademark holders, between December 9th and January 12th, 2015. Other registrars have slightly different prices, but for the most part, they are all in the same general range.
You might think you would have to be absolutely crazy to register a domain name at the price.
At one time it was believed that ".cars" domain names were particularly valuable because they are relevant to the automotive industry, a large and very profitable industry.
This turns out to be far from reality.
According to ntldstats.com, a site I'm glad to see is still around since I last used it at least a year or so ago, shows that there has been stagnant growth for the ngTLD (New Generic Top-Level Domain) over the years and under three-hundred (300) ".cars" domains are registered – 300 in the world.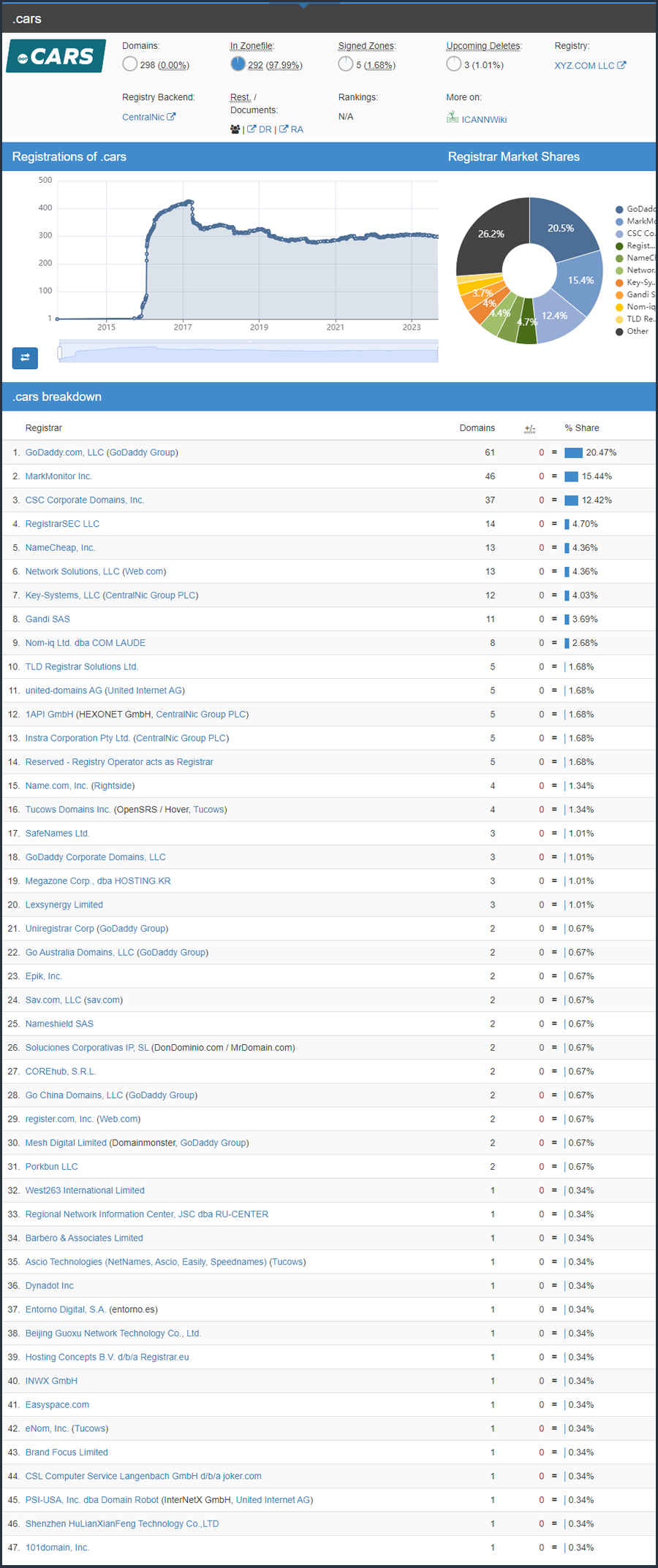 That's not good to look at seven (7) years later.
Roughly seven years ago I registered "find.cars" for what I believe was $2,100 at the time (Name.com was running a special – regular price was $2,800 – so I got a deal [supposedly]). Giving new generic domains the benefit of the doubt, I registered three ". cars" domains at the same time. If you think that was crazy, I even paid to renew them at least once. Today they are all dead as can be.
I think the new emoji expression would be SMH.
Even "Cheap.cars" as of today doesn't work. Not to mention "ABC.Auto" and "STL.Cars", two flagship examples of strategic use in the registries original press release, are both out of commission (One fails to load, and one redirects to a .com). Certainly, no success story to talk about.
I think the registry operator would be wise to drop the price to $40 or $50/year and maybe there would be some hope in sight. Not doing so will likely just add more headstones to the ".Cars" graveyard.