(New York, NY) According to a press release by IAB, the Interactive Advertising Bureau, Internet advertising revenues have continued their climb hitting $10.69 billion for the third quarter of 2013. This number reflects an increase of 15% over the previous year and a 4.2% increase over the previous quarter.
That's $10,690,000,000.00. This record breaking growth shows that more and more businesses are moving their ad dollars towards the Internet and those companies seeking to reach consumers must adapt to a changing digital platform or eventually fail. Search engine optimization companies will become more and more important as online visibility becomes absolutely critical to success for 2014, which is just around the corner, and well beyond.
"These figures reflect marketers' trust in interactive to deliver," said Randall Rothenberg, President and CEO, IAB. "It is indicative of the digital age in which we live, and within which advertisers need to effectively reach targeted audiences wherever they are consuming information or entertainment — often on several screens at once."
"Continuous growth has been a hallmark of the digital advertising space for several years now, and these numbers support the fact that interactive has become crucial to the marketing mix," said Sherrill Mane, Senior Vice President, Research, Analytics & Measurement, IAB.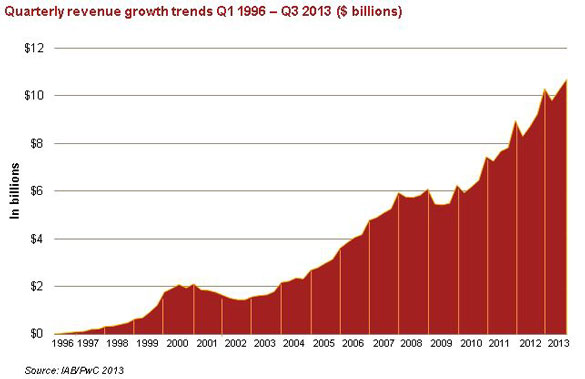 While advertising and specifically, 'net revenues' continue their climb, local state and federal agencies look to find more and more ways to claim their 'fair share' of the action. Two such changes greatly affecting the online advertising industry are working their way through legal channels now including 1) a change to the way  'advertising taxes' are handled and deducted from businesses returns, best explained by Association of National Advertisers' Daniel Jaffe; and 2) an Internet sales tax, or the Marketplace Fairness Act, an act related to the long disputed decision against Amazon.com, and its smaller competitor, Overstock.com, as well as all companies shipping products to states which require sales tax, to collect them.
The two companies challenged a 2008 state law that required the online companies to collect sales taxes on purchases made by New York residents due to online affiliates who were promoting products qualifying as physical presences for the online retailers. In 2008, Overstock dumped NY affiliates over the sales tax issue. In 2011, Amazon dropped California residents. "We oppose this bill because it is unconstitutional and counterproductive," Amazon wrote in its letter to associates. "Similar legislation in other states has led to job and income losses, and little, if any, new tax revenue."
The Marketplace Fairness Act has many of the nation's largest big box retailer's as supporters, and its list of opponents is just as broad. Only time will tell what will come of it. During the previous, Congress, the bill (S. 1832) was considered but expired without enactment.  It is now being considered as H.R. 684.
"The world has changed dramatically in the last two decades," Chief Judge Lippman wrote, "and it may be that the physical presence test is outdated. An entity may now have a profound impact upon a foreign jurisdiction solely through its virtual projection via the Internet. That question, however, would be for the United States Supreme Court to consider."
Tax issues are not the only dispute driven through online ads either. Data brokering and data collection are being implicated as "worse than the NSA when it comes to privacy violations" because targeted advertising sells more products.
For years, privacy advocates have raised concerns about the use of commercial tracking tools to identify consumers and target them with ads. Commercial tracking tools use "cookies" for identification of web surfers. A cookie is a small piece of data (text files) sent from a website that is stored in a user's browser. Online stores and advertising services employ browser cookies to better target ads by storing and collecting information about users.
Google, Facebook and other major online sites are tracking users more than ever, tracking them even when the leave the websites' services. Facebook in particular has recently been noted as tracking user's curser movements and shockingly, even what users begin to type and then have second thoughts about and remove. Facebook has the ability and has used the ability, to monitor what a user had written, and then erased before pushing submit, provided that the text had sat in the input box for at least 5 seconds. Talk about getting into someone's mind.
Information about shoppers is big business which is why there has been such a tremendous increase in consumer loyalty programs in the last few years. The data about whom you are, what you like, and more importantly, what you're likely to spend your hard earned money on is critical in targeting you. What kind of a buyer are you? What are you willing to pay? How much are you worth? It's not about saving you money or attracting you back in. It's about the information. It's about the information collected from your past purchases to better predict your future.