NEW YORK, NY – I often get questions about our TurboListings™ auto posting software and what makes it better and/or different then everything else on the market. Specifically, the questions most often circle around our Craigslist classifieds API bulk posting solution, which is just a portion of what TurboListings™ can do. Without giving away all of our secrets, listed below are just a few of the reasons it works so well and why TurboListings™ is in fact "The Superior Craigslist Automotive Posting Solution".
What makes your CL

software

better than all the others?
Our Craigslist posting software solution has built-in search engine optimization for each individual listing. We're not talking about your regular search engines' optimization such as Google, BING or Yahoo; we're talking about the search function on Craigslist when people are searching for cars and trucks for sale. We designed the software and no-one else has the optimization features we have.
For instance, if we post a GMC Acadia, we will discuss the extreme similarities to the Chevy Traverse, right within the post, because we built a proprietary database of vehicle similarities. This causes our ads to come up for both vehicle searches and can drive someone originally interested in one model, into another they may not even have been aware was so similar, but indeed would want if they only knew about it. This makes a huge difference if a dealer had the Traverse in stock, yet did not have the Acadia, or vice-versa. More opportunity to sell based on better available information. We do not use spam junk unrelated keyword-stuffed content like our competitors which only leads to ghosting and flagging anyway. We have found that strategic vehicle similarities cause our listings to receive four to six more inquiries per listing, sometimes even more. If and when you are posting a lot of vehicles for a dealership, this turns into a much – much higher call volume and a lot more eyeballs than listings from individual dealers or our competitors.
In addition to this difference, our software, unlike our competitors, is designed to be used in conjunction with a human reviewer; it is not designed to operate on its own. This results in a much higher level of quality control and better optimized ad, because after the software posts the vehicle, a human reviewer goes over each post and ensures that the ad is ideal including its first image being the best image; a computer cannot realistically do this. The human reviewer will also look to see what advanced options a vehicle has, such as 'chrome wheels', 'third row' or 'navigation', something that ordinary software often just does not pick up on, and then the human reviewer will add these key features to the vehicles title. They may also add that the vehicle has "Third Row Seating" in addition to writing "3RD ROW" to get people's attention while capturing both possible ways of writing the desired options.
If a user searches for a "GMC Acadia with Third Row" or "GMC Acadia 3RD ROW" our postings will capture both variations. Same strategy applies for popular models such as "Chrysler 300C" "300 C" "Lexus RX 350" "RX350" "BMW 3 Series" "330i" "330 i" and/or highly popular generic terms such as "Minivan / Caravan" as additional examples. Users search for things in all sorts of ways and you need to capture all variations.
This results in hundreds more shoppers seeing your vehicles in search results; wouldn't you want to have this covered?
Yes, you would, and this is exactly why our listings experience a much higher number of views including higher click-through rates, again, increasing overall call volume even further.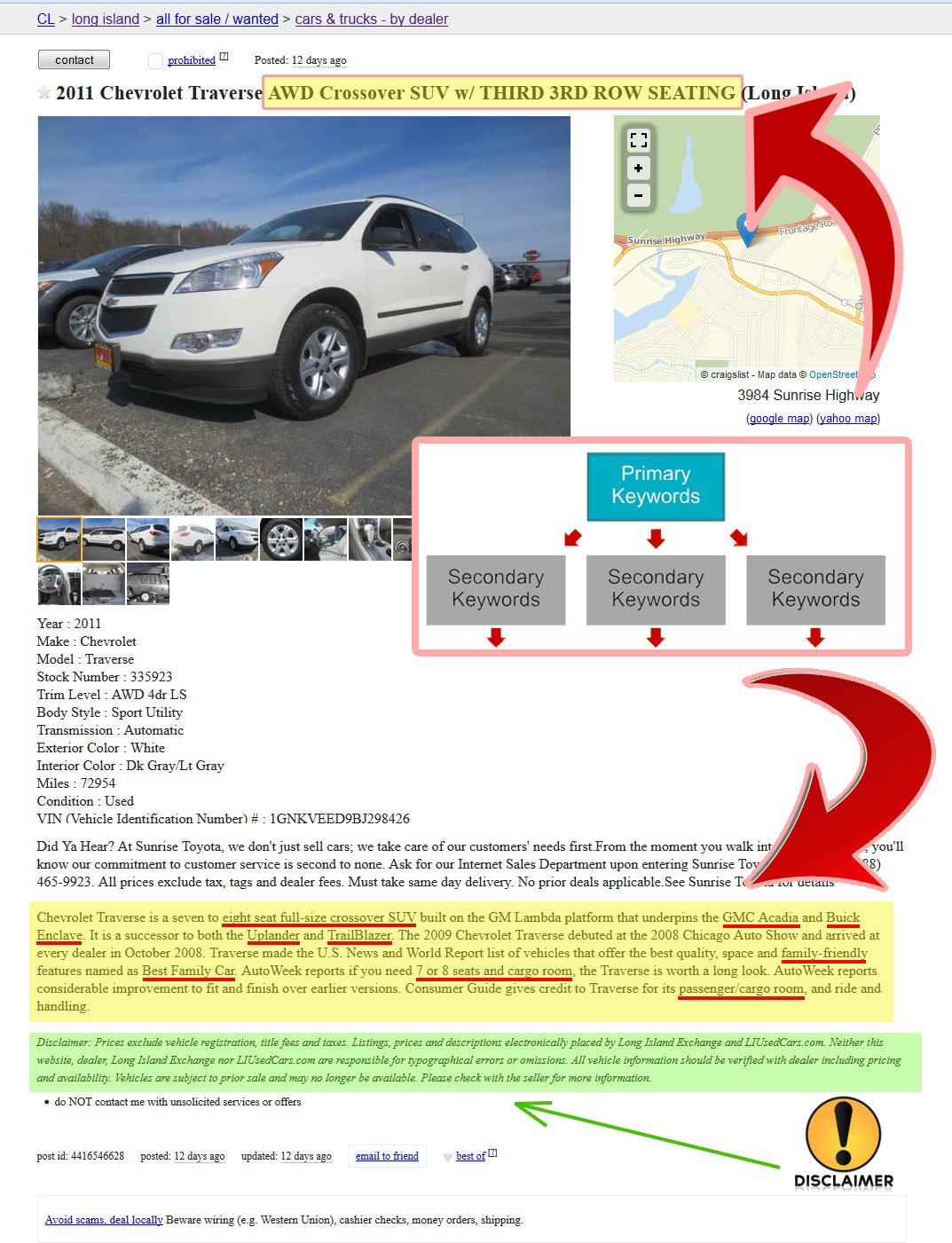 Aside from your regular make and model searches, the following 'out-of-the-ordinary' BUT RELEVANT keywords would generate ads such as the above ad: AWD Crossover, SUV Cargo Room, SUV 7 seats, SUV 8 seats, SUV Third Row, SUV 3rd Row, 8 seat crossover, family friendly crossover, family friendly SUV, SUV for Family, Full Size Crossover, Full Size SUV, GMC Crossover, Best Family SUV, Trailblazer, Buick Enclave, etc.. etc…
This is why it is impossible to experience the same result with a different service. – John Colascione, Developer
In addition to this difference, our software is designed to act as a virtual Craigslist BDC person, and when a cloaked hidden private Craigslist user email inquiry comes in from a posted vehicle, our human reviewer will attempt to answer the question with a limited response intended to both answer the consumer while not giving-away too much information which would limit the opportunity for the sales team to interact with the prospect. This helps trigger a phone call to the dealership for additional details as the consumers answer always includes a message to call the dealership at the tracking number provided. This again further increases the number of inbound calls to the dealership.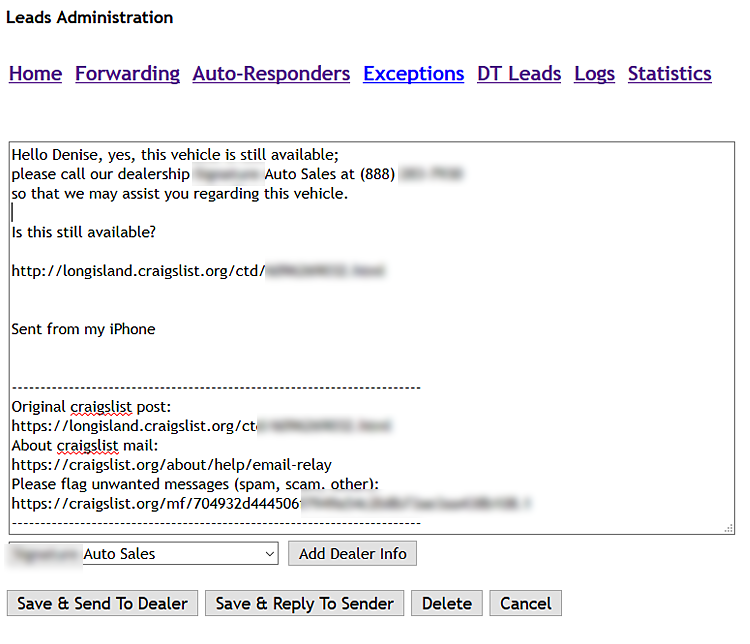 In addition, our software acts as a virtual Craigslist BDC person helping trigger a phone call to the dealership for additional details as the consumers answer always includes a message to call the dealership at the tracking number provided. This again further increases the number of inbound calls to the dealership.
Below is an example of a competitor ad: (SO DISGUSTING!!)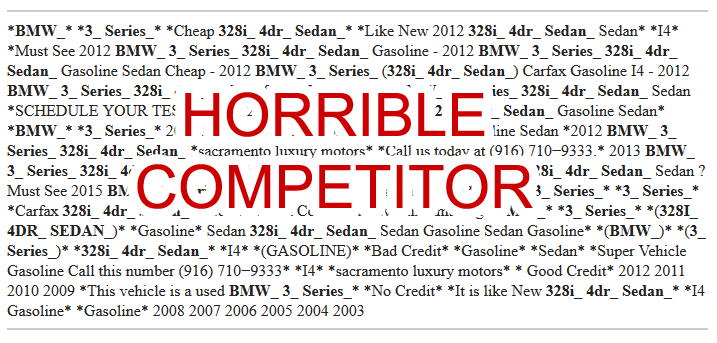 The above competitor adding this to the bottom of your vehicle posts is just going to get you spammed-out, ghosted and flagged!
There is nothing cool or innovative about the above example that just spams Craigslist. Not only does it make your ads look terrible, but it will also annoy users (and Craigslist admins), while getting your listings filtered out of results (Ghosted), have your posts marked as spam, flagged, etc.. Remember this: innovators win while copiers loose!

Can you do TurboListings™ for the same price as the competitors?
Our software is designed to be the absolute best; it is not designed to be the cheapest. If you are looking to maximize your lead volume opportunities from your Craigslist automotive postings and you are looking to see the maximum amount of inquiries on each vehicle, you use our hands-off full service Craigslist posting service to get the job done. If you are looking for mediocre results, something you can work on yourself, or only for the cheapest solution you can find, use one of our competitors.
For a bit more information about TurboListings™ software visit www.TurboListings.com.