Just when the automotive industry is in need of something fresh and new to help move vehicles to consumers, here comes Find.cars, Why Search When You Can Find, an automotive advertising service that helps consumers quickly and easily locate cars for sale near them.
Dealers signup on the service and import a feed for their store (wherever it comes from, often DealerTrack, AutoFunds.com, CarsforSale.com, DealerCarSearch, DealerSocket, vAuto, etc… We work with all automotive DMS vendors). Once we pull the inventory for the first time, we schedule the inventory to update every evening. We then set up (888) tracking phone numbers as well as unique email addresses to track and route calls and email leads to the appropriate store. Our team at Find.cars does all art work to create banner ads which are placed above featured vehicles for sale and point to a dealers website.

Find.cars operators and agents will then list and assign an in-house staff member to oversee and post vehicles onto Craigslist. The ads are optimized for performance by a machine and then checked for accuracy by a live staff member once live. The ads are modified if need-be to include important keywords necessary to stand out, such as SUV, Crossover, Navigation, Third Row Seating; images are checked and potentially swapped out if the lead photo is not ideal.
WHY SEARCH WHEN YOU CAN FIND?™ Trademark Serial #87163350
Next is where the fun really gets going!!!
Find.cars operators and agents will then use our own proprietary software, TurboListings.com, to export and release a dealers vehicles on national automotive shopping sites which are within the Turbo Listings network. These vehicles appear based on an auction bidding system, whereas, the higher the bids we place on a dealers behalf, the better and more prominent inclusion they will receive. We export vehicles to each of these sites, however, we do not guarantee specific placements, rankings or inclusion on these sites. If a dealer's budget accommodates a high bid, which we place, on their behalf, above-the-fold inclusion is likely and lead generation fruitful.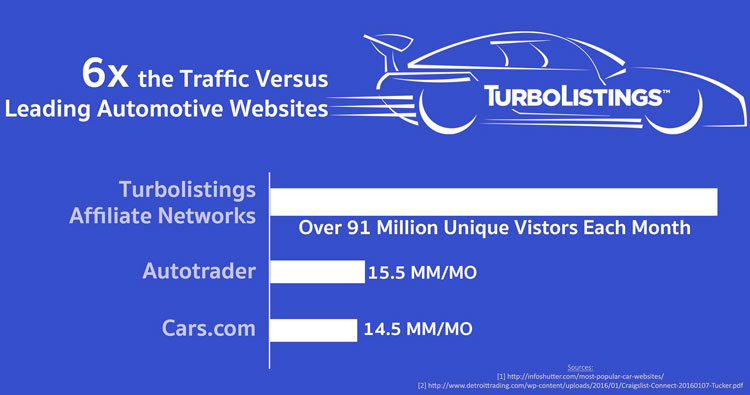 Return on investment is easily tracked by phone call and email volume which is delivered monthly, weekly, or daily. This automotive advertising program is simply the best automotive advertising program available, which is why it has grown from a small local resource for used car dealers on Long Island to a national program competing and beating the best of the best in automotive advertising, not just on Long Island, but nationally.
TAKEAWAY: DEALERS RECEIVE EMAILS AND PHONE CALLS FROM A VARIETY OF SITES BRINGING IN A VARIETY OF CONSUMERS ALL WITH ONE AGENCY TO WORK WITH AND COLLABORATE. SIMPLE, EFFECTIVE, AFFORDABLE.